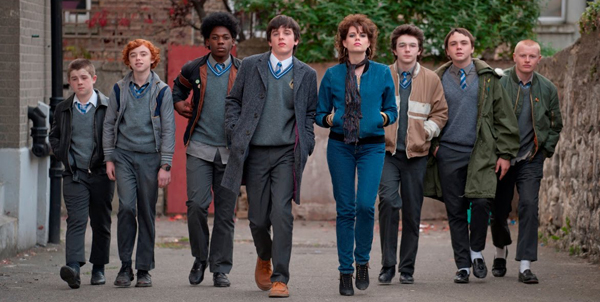 Catching Up on 2016: Josh Reviews Sing Street
In Dublin in 1985, Conor is a quiet boy whose getting-divorced parents have moved him into a free Catholic school.  In this rough new school, Conor is lonely and bullied.  When he meets a beautiful girl, Raphina, Conor tries to impress her by telling her that he's in a band, and he asks her to appear in one of their music videos.  When she agrees, Conor must now actually form the band he claimed already existed!  What follows is a lovely coming-of-age story as Conor tries to figure out just who he is and what he wants to be, all the while struggling with a group of newfound musician friends to create music that is actually good.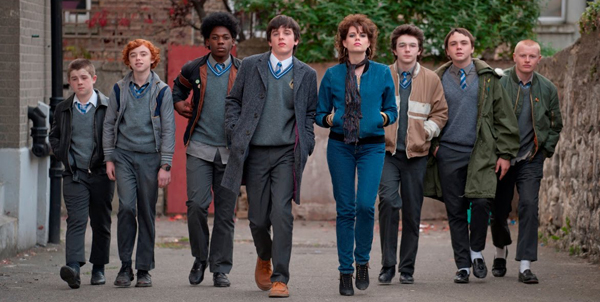 Writer/director John Carney, who wrote and directed the marvelous film Once (which was then made into a Broadway show) returns with another fantastically entertaining music-centered film.  La La Land has gotten all the attention this year, and I really enjoyed that film, but Sing Street is, I think, the superior musical film.
Like Once, Sing Street is an endearingly low-budget, low-frills affair, with nary a famous movie-star in sight.  The only well-known actor in the film is Aidan Gillen (The Wire, Game of Thrones), who has a small role as Conor's father.  But this isn't a story that needs big swooping crane shots or famous movie-stars.  In fact, it's perhaps more-effective as a far smaller-scale undertaking; the film's rough edges give it a ramshackle charm.
Mr. Carney has assembled a wonderful cast of mostly unknown young actors.  I love all of these kids!  (And it's great to see a film about teenagers in which the kids actually look and act like teenagers!!)  Ferdia Walsh-Piro is great in the lead role as Conor, with a gentleness and an earnestness that shines through the screen.
Conor's best mate in the film is Eamon ( Mark McKenna), a talented musician.  I love the way the film depicts Conor and Eamon's collaborating to write songs.  In the early going, I thought the film's story was heading towards a feud between these two budding musicians for control over the direction of the band, with Eamon's perhaps feeling that Conor's infatuation with Raphina was a distraction.  That would have been an expected route for the story to take — thank heaven Mr. Carney didn't go in that direction.  I love that the film depicts such a strong, unbroken friendship between these two boys.
The romance between Conor and Raphina (Lucy Boynton) is sweet and nicely underplayed, without too many BIG DRAMATIC MOMENTS.
I was surprised by the degree to which the film focused on Conor's relationship with his older brother Brendan (Jack Reynor).  Brendan was a terrific character, well-played by Mr. Reynor.  I love the closeness of his relationship with his brother, and I love the way the film slowly peels back the onion of what Brendan is thinking and feeling about his life and family situation.
The music in the film is great.  I loved the way the film shows Conor and the other kids' development as musicians and as a band.  Some of their songs wind up being pretty good!
Most of all, I loved the way Sing Street tells a story about growing up, and about the struggle to create art.  This is a story about finding oneself — figuring out who you are and how to create art that isn't derivative, but that expresses who you are and your individual point of view.  I can't imagine anyone who has ever tried to create art not engaging deeply with these themes, so wonderfully brought to life by the film.
It's hard not to fall in love with these kids and this story.  I certainly did.  Sing Street was one of my favorite films of 2016.  If you missed it, I encourage you to check it out without delay.