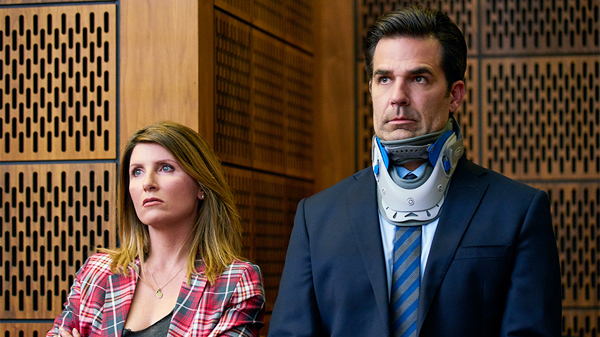 Josh Bids Farewell to Catastrophe!
Sharon Horgan and Rob Delaney's brilliant, brutally funny series Catastrophe gripped me from the very first episode.  And now, after four short but nearly perfect seasons, it's gone, way too soon to suit me.  I miss it already!!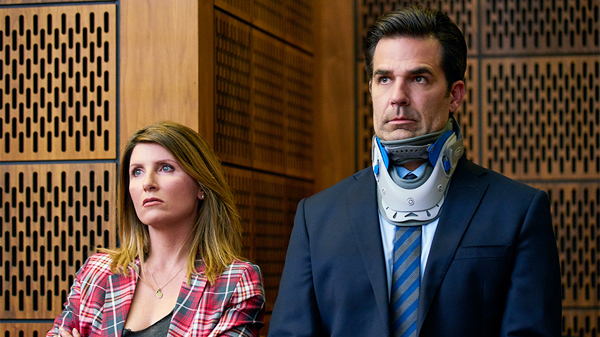 The series was created and is overseen by Sharon Horgan and Rob Delaney, who also star as Sharon and Rob.  In the pilot episode, the two meet when Rob is in England for a week for business.  After a torrid few days of enthusiastic sex, Rob goes home and neither expects to see the other again… then Sharon discovers that she's pregnant.  So Rob moves to London and he and Sharon decide to make a go of being a couple.  The four seasons that follow depict the ups and downs of their adventures in parenting and in their relationship.
Season four is pretty much perfect, in my opinion.  We get six new episodes that unfold in the classic Catastrophe fashion, with moments of painful emotion right next to moments of outrageously hilarity.  This series is as funny as anything else on television these days.  It's also blisteringly profane.  Four seasons in and I am still shocked (in the best possible way) about some of the things that the characters on this show (especially Sharon and Rob) say and do.
Sharon Horgan and Rob Delaney are both spectacular in the lead roles.  They have written themselves roles for which they are each absolutely perfect.  I adore their chemistry.  There is a magic to seeing them on-screen together, especially when they are lobbing outrageous comments back and forth to one another.  The show has not avoided showing rough patches in their marriage, but in my opinion the show is at its best when Rob and Sharon are on the same side, together against the world.  This is the case, thankfully, for most of season four (somewhat of a relief after season three), at least until the finale which I will discuss in a moment.
Season three ended on a worrisome note, with Rob having been in a car accident and admitting to Sharon that he'd fallen off the wagon.  The start of season four picks up the story from right that cliffhanger ending, but thankfully the tone is one of high comedy rather than lugubrious drama.  Rob and Sharon's appearance in court (and the way in which Rob immediately throws Sharon under the bus) is hilarious, a high mark in the series.  This was a terrific way to start the season.  What a joy it was to have Catastrophe back in perfect form!  Throughout the six episodes, the one-liners come fast and furious.  I need to find time to watch all these episodes again soon, because I know I missed a lot of jokes due to my laughing so hard at the previous line.  (A standout line for me: Sharon's lamenting how hard she has it when Rob has to work so many late nights: "Now I have to watch Game of Thrones by myself like a pervert!")
I was interested to see this season wrestle with #MeToo issues, in a particularly Catastrophe-like way.  I was pleased to see both Rob and Sharon attempt to do the right thing in difficult situations (Rob refuses to accept a promotion over his female boss from the bro-like head of the company, while Sharon calls her school's new principal on his demeaning behavior) and then immediately regret it.  (Sharon to Rob: "We just can't afford to be idealistic, what with our mortgage and credit card debt, and you said you wanted to get your teeth whitened.")
I was pleased that all of the main supporting players had a chance to shine in this final season.  I was happy to see Sharon's brother Fergal back, along with Chris, Dave, and Fran.  I'm glad that Chris and Fran reunited before the end of the show; it's nice to see them get a happy ending.  (On the other hand, whuff, Dave was sure left in a bad place, after his wife left him and took their child.  I was surprised we didn't get one last check-in with him before the end to see how he was doing.)
I was delighted that Michaela Watkins joined the ensemble this season as Rob's sister.  She was so great!!  A perfect addition to the show's ensemble.  (I was so happy to see her again in the finale.)
I was happy to get one final joke about how Sharon is listed in Rob's phone, one final appearance by Tobias Menzies as Sharon's doctor, and one final joke about their child's impossible-to-pronounce Irish name.
The finale was, for the most part, very satisfying.  I figured the show would have to deal with the passing of Carrie Fisher, who played Rob's mother Mia.  They made us wait until the end, but it was worth it.  I was glad to see the show pay its respects to Ms. Fisher, and I enjoyed the way her passing — and Rob and Sharon's trip to the U.S. for her funeral — turned into a pivot point for Rob and Sharon's relationship.  It was interesting to see an episode of the show set in the U.S. (though I wish they'd answered the question as to whether or not the couple would move to the U.S. following the events of this episode!  That was something I really wanted to know as I wonder about where these characters will go following the events of the finale).  It really makes me wish we'd get another season of the show, this one set in the United States.  What a hoot that would be!
It was an interesting and surprising choice to see Rob, in the finale, be as mean to Sharon as we'd ever seen either of them be to one another.  The show hasn't shied away from depicting how unhappy Rob has been living in the U.K., and I had sympathy for his desire to live in the U.S.  But, wow, it's hard to come back from how awful he was to Sharon in that moment.  I was pleased that, in the end, the show did attempt to walk that back, and that the show ended on a moment of happiness between the two.  But I find Rob's words ring in my ears a little more than, I think, they intended them to.
The final moments were surprisingly ambiguous.  There's a lot I like about the ending.  I'm pleased that we ended on a moment of conciliation and happiness between Sharon and Rob, and I understand the impulse not to suggest that everything will be smooth sailing for the couple moving forward — that'd be too easy or saccharine a way to go, which would be out of character for the show.  At the same time, I found those final few minutes had a surprisingly ominous tone that didn't quite work for me.  The sign warning about dangerous rip currents in the water was a bit on the nose, and prompted my wife to be very concerned that something terrible was about to befall the characters.  Thankfully nothing like that happened (it was just a metaphor!), but as I was still unsettled by Rob's angry outburst a few moments earlier, it left me feeling surprisingly unmoored when the final credits ran.  I think I like to see things resolved a little more definitively when I'm bidding farewell to a series, and characters, who I have been following with love for years.  On the other hand, I can see why Ms. Horgan and Mr. Delaney made these choices, and I'm pleased that they were able to end the show on their own terms.  (Click here for a fantastic interview with them, conducted by the great TV critic Alan Sepinwall, in which they discuss the show's ending.)
I am going to miss this wonderful show!  I can't wait to watch it again from the beginning someday.  If you haven't yet seen Catastrophe, give season one a watch immediately.
Please support MotionPicturesComics.com by clicking through one of our Amazon links the next time you need to shop!  We'll receive a small percentage from any product you purchase from Amazon within 24 hours after clicking through.  Thank you!