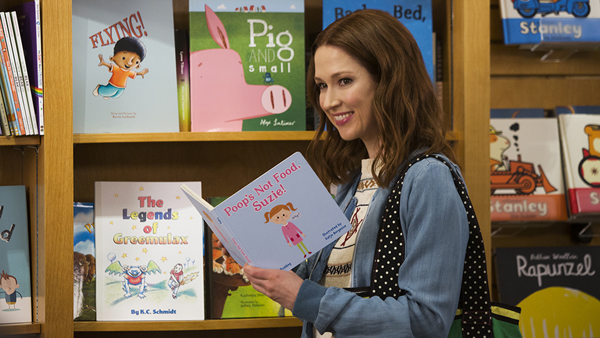 Josh Bids Farewell to Unbreakable Kimmy Schmidt!
I wasn't expecting to enjoy Tina Fey's 30 Rock nearly as much as I did.  (That first season, it was Aaron Sorkin's Studio 60 on the Sunset Strip that was the "behind-the-scenes at an SNL-like show" that I was most interested in.  But Studio 60 was gone by the end of the year, whereas the joys of watching Jane Krakowski say "the Rural Juror" cemented my love for 30 Rock.)  When 30 Rock ended, I was eager to watch Ms. Fey and Robert Carlock's follow-up series, Unbreakable Kimmy Schmidt.  Right from the beginning I knew that Kimmy was something special.  I wish the series had run as long as 30 Rock.  Sadly, these final six episodes conclude Kimmy Schmidt's fourth season and, it seems, the series.  (However, rumors of a follow-up Netflix movie persist, so hope springs eternal!)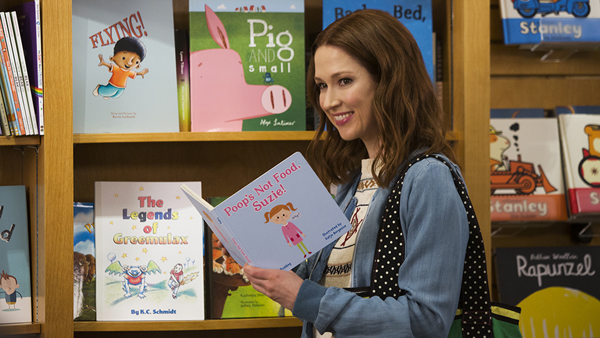 Unbreakable Kimmy Schmidt is a wonderfully endearing, original creation.  I feel like the show has been under-appreciated while it was around; I hope and expect that its renown will grow in the years ahead.  The show is hilarious.  It's as stuffed-full with jokes as the very best TV comedies of the modern era, shows like The Simpsons, Arrested Development, and the previously-mentioned 30 Rock.  This is a show with gags piled upon gags piled upon gags.  (For one tiny example, just look at the fake titles of the kids' books around Kimmy in the image above!)
At the same time, Unbreakable Kimmy Schmidt is an unwaveringly positive, life-affirming show.  The show believes fully in its core messages of niceness and positivity.  Kimmy herself is one of the most positive, joyful lead characters on a TV series in recent memory, and the show has gotten a lot of mileage out of showing how Kimmy's unbreakable core of moral strength and sunniness have positively affected every character with whom she interacts.  I love that about the show.
This season, the show has focused itself on the issues of how women are treated in today's society.  This has always been an aspect of the show, as the premise is about how Kimmy and other women were kidnapped and half captive by the Reverend (Jon Hamm, in a hilarious and disturbing series of guest appearances).  So this show has always dealt with how women are (mis)treated by men.  But, energized by today's #MeToo movement, the show has found a new energy in addressing those issues head-on.  This finale batch of episodes dealt with a number of stories that explored those issues in different ways.  Most primarily, there was Kimmy's transition into becoming the J.K. Rowling-like author of a fantasy book series called "The Legends of Greemulax," which was all about teaching boys how to be good people.  (In the series finale's final moments, a boy tells Kimmy that reading her books made him feel safe.  It feels like Kimmy's — the character's and the show's — ultimate triumph.)  But this season also gave us the story of reformed "Men's Rights" activist Fran (Bobby Moynihan), who learns to stop hating and fearing women; a very funny Ronan Farrow cameo (I was shocked to learn that was the real Mr. Farrow!); and, of course, the story of Titus' struggle over whether or not to come forward and reveal publicly that he was harassed by a powerful and famous puppet, Mr. Frumpus.
The first batch of season four episodes began with a very funny version of the opening credits and theme song for Kimmy's life; this second and final batch opens with a similar version of Titus' imaginary opening credits and theme song (in which all the other characters are listed as simply "not Titus").  That was a great way to start this final batch of episodes, which were very strong.  I enjoyed Jon Bernthal's guest appearance as an Israeli spy sent to honeypot Titus in order to prevent him from spilling the beans on Mr. Frumpus (echoing the accusation that Harvey Weinstein used ex-Mossad agents to spy on Rose McGowan).  Exploring yet another #MeToo storyline, Jacqueline and Mimi Kanasis (Amy Sedaris, so funny as always) find a HomeGoods-like store where all older women go to seduce young men.  The women are in hog heaven until Jacqueline that she's been flirting with Mimi's son. "They're all someone's son!" she screams — "How are men okay with doing this??"
Other great things from this season:
Titus' mnemonic for remembering how to spell his own last name: "Apples Need Ducks Rarely, Oranges Make Every Duck Oranges Need!"
I loved the episode in which Kimmy started dating a boy because she loved his parents.  Mark Linn-Baker ("Cousin Larry" himself!!) and Joanna Gleason were absolutely perfect as the parents.  The whole staging of this episode, in which it was as if Kimmy was having a secret affair with this older couple, was so clever and so funny.  But, as is often the case with this show, there was also a core of sadness, as this was really all about Kimmy's need for a strong parental figure in her life.  I was so happy to see the great Mark Linn-Baker back on TV.  Someone needs to give him a starring role (just like this show did for the amazing Carol Kane!!).
I loved the show's suggestion that the show Cats is made up anew each day by wannabe-actors jumping onstage.  (The only thing funnier than seeing Titus' joy at being accepted into this club of bizarrely-dressed scam-artists was seeing Greg Kinnear's!)
I'm not sure I ever found Kimmy's robotic co-worker C.H.E.R.Y./L. quite as funny as the writers did, but I have to admit, she'd grown on me by the end.  (The revelation at the end of the season that she's been adjusting her personality to match whoever she's speaking to was a great surprise — for Kimmy, she's been emulating "broken, unstable personalities.")  I will miss her!
This description of Kimmy's hometown of Durnsville as "a sleepy little town, due to runoff from the NyQuil factory."
Mikey and his fellow construction workers' "union-mandated spaghetti break".
I was happy that Artie's rich and spoiled daughter Sheba, played by the great Busy Phillips (Freaks and Geeks) popped up one last time, attempting to fulfill her dream of opening a year-round Halloween store ("I found the perfect space! It's a year-round Christmas store that went out of business for some reason…!")
The most memorable episode from this final batch was probably "Sliding Van Doors," a Sliding Doors parody/homage in which we see what would have happened had Kimmy never been kidnapped by the Reverend.  (The van into which he threw Kimmy are the "Sliding Van Doors" of the episode's title.)  It's fun to see Kimmy as a successful go-getter of a reporter — well, at least until 1) she's run over by her bumbling Durnsville sheriff father (Tim Blake Nelson, making a welcome return) and 2) her husband leaves her for the maid (Donna Maria, not a mole-woman in this timeline!).  Titus, meanwhile, winds up sucked into "the Church of Cosmetology," where he's forced to do all of Tom Cruise's stunts, while Jacqueline somehow winds up married to poor, gay Mikey, living under the thumb of their gangster land-lady Lillian.  (I loved Jacqueline and Mikey together!  Lots of great comedic energy in that odd-couple match-up.)
The series finale was excellent.  I enjoyed seeing Titus finally get a happy ending, as we got to see a lovely, sweet conclusion to his romance with Mikey.  I was happy to see Xanthippe (a major supporting character back in season one) one last time.  (Watching Xanthippe gradually realize that Kimmy wrote her new favorite book was a joy.)  Zachary Quinto was terrific as a guest star in these final two episodes, playing an agent, Eli, challenging Jacqueline.  Who knew he was such skill with comedy??  His and Jacqueline's squatting challenge (in which they each stubbornly pretend to sit in invisible chairs) was amazing, and the montage in the finale revealing that he's been blind all along (and that he navigates by echolocation) had me howling with laughter.
In the episode-ending flash-forward to 2023, we see that everyone gets a happy ending.  Titus' success is a bit unlikely, but it makes me happy nonetheless.  It's satisfying to see all the characters happy at last.  I found it interesting that Kimmy isn't depicted as having wound up with any of the many great love interests she was with over the course of the series.  Instead, the show focuses on her creative and professional success, and how her Greemlax book/amusement/park/etc. has positively changed minds.  I was happy that Kimmy's mom Lori-Ann (Lisa Kudrow, always the best) popped up in the final moments.
It was a lovely, satisfying ending… but the icing on the cake was that final "Dammit" at the end!  Perfection!
I'm going to miss this show a lot.  Ellie Kemper gave the performance of a lifetime; Tituss Burgess made me a fan forever with his endlessly hysterical performance; Jane Krakowski made us forget Jenna Maroney (her previous fantastic TV role on 30 Rock); the great Carol Kane was back in our lives on a weekly basis… wow, what a main cast.  The show's bench of wacky and memorable supporting players was remarkably deep.  This was a show that was one of the funniest, fastest-paced comedies that has ever been made, but it also paid attention to developing its characters, and it's a show that always had something worthwhile and interesting to say.  Thank you Tina Fey, Robert Carlock, and all the other maestros of comedy in front of and behind the camera who brought this show into existence.  I am sorry it's gone.
Dammit!
Please support MotionPicturesComics.com by clicking through one of our Amazon links the next time you need to shop!  We'll receive a small percentage from any product you purchase from Amazon within 24 hours after clicking through.  Thank you!