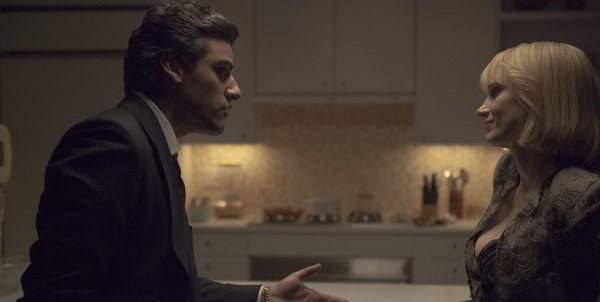 Josh Reviews A Most Violent Year
In the ripping crime yarn A Most Violent Year, Oscar Isaac plays Abel Morales, the owner of a Brooklyn-based oil company.  As the film opens, in 1981, Abel and his friend and attorney, Andrew Walsh (Albert Brooks), have just secured a great deal: the purchase of an enormous fuel terminal near the East River which will give Abel an enormous leg up on his competitors.  But as Abel's company has grown, so too have his troubles.  His oil trucks are being hijacked (likely at the hand of one of his competitors) costing him an enormous sum of money and problems with the Teamsters who represent his drivers, and his company is being investigated by the State government for criminal activities.  Abel's wife, Anna (Jessica Chastain), pushes Abel to fight violence with violence, but Abel has prided himself on not being a criminal like Anna's father.  As Abel's situation grows increasingly desperate, what will he be forced to do?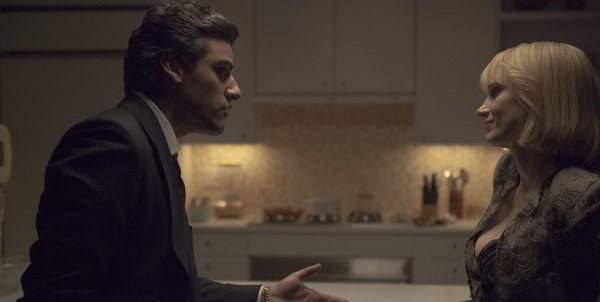 First of all, wow, who knew that Oscar Isaac would be in basically everything I've watched this month??  Mr. Isaac grabbed hold of my attention with both hands back when I first saw Inside Llewyn Davis (click here for my review), but in the past few weeks he has blown me away with his work in Show Me a Hero (click here for my review) and Ex Machina (click here for my review) and now A Most Violent Year.  (And, of course, Mr. Isaac also has a major role in the upcoming Star Wars: The Force Awakens!!)  Mr. Isaac's power as an actor is demonstrated with full force with his tremendous work here in A Most Violent Year.  This is a movie-star performance.  This film rises because of Mr. Isaac's commanding work, in pretty much every scene of the film.  Mr. Isaac has created a hugely compelling character in Abel, a smart and magnetic personality whose talent and charisma has taken him far from his humble immigrant origins… perhaps too far?  As I watched A Most Violent Year, I was captivated in wondering where the film, and Abel's story, was going.  Would Abel prove to be the hero of the piece… or the villain?
A Most Violent Year was written and directed by J.C. Chandor.  I didn't realize until after watching the film that Mr. Chandor had also written and directed the terrific 2013 film All is Lost, the near-silent movie starring Robert Redford, about a man alone at sea in escalatingly calamitous circumstances.  (Click here for my review.)  Wow, Mr. Chandor is clearly an enormous talent.  This is a filmmaker to whom I will be paying very close attention from now on!
A Most Violent Year is a wonderful drama, a tense story filled with fascinatingly complex characters.  The film never unfolds the way I'd expected it to.  After the film's opening scenes I began to imagine in my head the cliche way I expected the story to unfold, but Mr. Chandor's film continually surprised me.  I love that.
Jessica Chastain also seems to be all over the movies I've been watching lately, including Crimson Peak (click here for my review) and The Martian (click here for my review).  She's terrific here.  Her character at first appears to be Lady Macbeth, but the way her story unfolds is a great example of what I just mentioned, that the film cleverly avoids following the obvious story-path that I might have expected.  The film hints at Anna's past, and her father's position in the criminal world, but Mr. Chandor thankfully leaves much of this as subtext, a not-that-veiled threat hanging over Abel that if he's not able to make things right and protect his family, that Anna's father will.  As with many of the characters in the film, Anna shifts from being intensely unlikable, an obstacle for Abel to overcome, to an enormously sympathetic figure and one who is a perfect partner for Abel.  This is the product of Mr. Chandor's sharp, nuanced script, and Ms. Chastain really sinks her teeth into the role.
Albert Brooks has been killing it, recently, in dramatic roles (see: Drive), and every moment he is on screen here in A Most Violent Year, he elevates the film to new heights.  I absolutely adore Mr. Brooks, and it's fascinating to see how fiercely compelling he is even in these dramatic roles.  I wish Mr. Brooks was in every scene of the movie.
David Oyelowo is always phenomenal (I've loved him in everything from Selma to Dawn of the Planet of the Apes), and he elevates the supporting role of Lawrence, the District Attorney investigating Abel and his company.  This is a fairly simple, minor role in the film, but Mr. Oyelowo gives the character a full breadth of personality.  Elyes Gabel had a small role as a Dothraki in the first season of Game of Thrones, but he really gets to show his acting chops here as one of Abel's young drivers, who gets beat up when his truck is hijacked as the film opens.  This character feels like a minor supporting character at first, but the development of his story proves by the end to be a central piece of the film's narrative.  Mr. Gabel is dynamite in the role.
Mr. Chandor is clearly an enormously talented writer, but he's also a tremendously talented director.  The film looks gorgeous.  The widescreen frames of the film are staggeringly well-composed.  (The movie is a surprising love-letter to New York City, even as it depicts a horrifyingly lawless period of the city's history.)  The film is a period piece, but the movie doesn't fall over itself to remind you of that.  It strikes just the right tone, visually.  I also have to complement the costuming in the film.  I particularly love the look created for Anna (That hair!  Those Armani outfits!  Those nails!) and Abel (that camel-haired coat is instantly iconic).
I really loved this film.  It's a very small-scale story, but I love these sorts of small-budget, adult-aimed dramas.  Don't let the title scare you away — A Most Violent Year is not a violent shoot-em-up.  There are a few moments of violence in the film, but for the most part it is a tense character drama as we watch the screws slowly get tightened on Abel.  This film certainly fits into the pantheon of great crime stories.