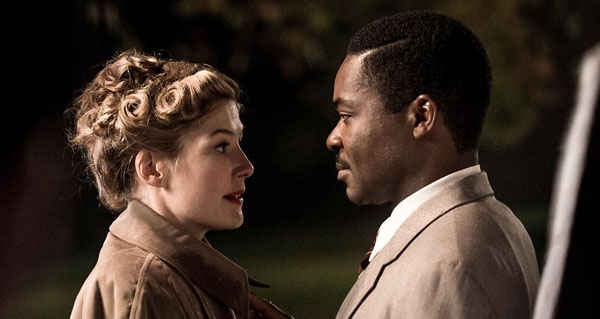 Josh Reviews A United Kingdom
A United Kingdom tells the true story of the marriage between Sir Seretse Khama and Ruth Williams.  The two meet at university in London in 1947, and sparks quickly fly between them.  But Seretse is the heir to the throne of Bechuanaland, and the political ramifications of his marrying a white woman are enormous.  Seretse's uncle Tshekedi Kham, who was acting ruler of Bechuanaland until Seretse returned home, insists that Seretse annul the marriage. Meanwhile, Ruth's father refuses to have anything more to do with her, because she had married a black man.  And the British Government, who at the time controlled Bechuanaland as a protectorate, bow to pressure from Apartheid South Africa — who objected to the interracial marriage — and exile Seretse, preventing him from returning home to be with his now-pregnant wife.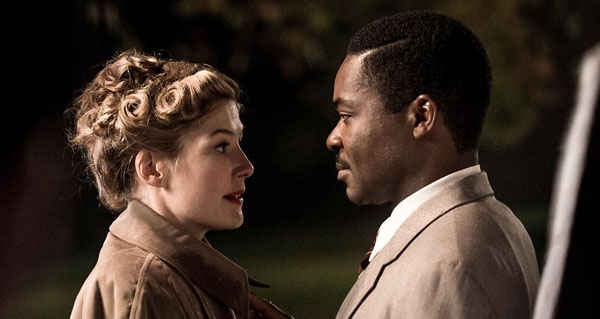 This is a fascinating true story. I feel about A United Kingdom similarly to how I felt about Hidden Figures, in that this extraordinary true story deserves a better movie.
The main reason to see A United Kingdom, other than to learn about this amazing true story, is to bask in the wonderful performances of David Oyelowo as Seretse and Rosamund Pike as Ruth.  Both actors do terrific work, and they have a lovely chemistry together.
Mr. Oyelowo is working in a similar key as he was in Selma, in which he was extraordinary as Martin Luther King Jr.  He is just as good here, playing the charismatic Seretse.  The characters are different, of course, but the similarities are striking, particularly when Mr. Oyelowo, as Seretse, launched into several moments of stirring oration in the second half of the film.  I love seeing Mr. Oyelowo deliver a speech.
I've been a fan of Ms. Pike's ever since Die Another Day, a terrible Bond movie in which she was nonetheless terrific.  I've enjoyed seeing Ms. Pike's recent run of high-profile roles, and she effortlessly carries her half of this movie.  She's skillfully able to draw the audience into her character.  The film tells a fairly simple story, at its heart — Ruth is the "every-girl" swept up in a larger adventure when she falls in love with a king.  Ms. Pike is able to find the emotional truth in her scenes, and to breathe life into her story.
The problem with A United Kingdom is that the movie is fairly flat.  There's not much excitement or dramatic tension in the film.  When you compare the film to Selma, it falls far short.  A United Kingdom has none of the riveting drama that film had in spades.  I enjoyed the early goings-on in which Ruth and Seretse meet and fall in love.  But then the film falls into a pattern in which Ruth and Seretse are happy, something bad happens, and they are sad.  Then they regroup and are happy, and the whole cycle starts again.  They go through those motions over and over again for most of the movie.  As soon as I recognized this pattern to the story, it really irritated and bored me as I watched the second half of the film.
The result is a movie that is perfectly fine and enjoyable, but that just sort of sits there.  It doesn't grab the audience, it doesn't surprise or thrill us.  I wanted to more deeply feel the stakes — both the emotional stakes to these two people in love, and also the political stakes regarding the fate of Seretse's country, caught up in a game of global chess being played between England and South Africa.
A United Kingdom is a perfectly OK movie, but I think it had the potential to have been much more.