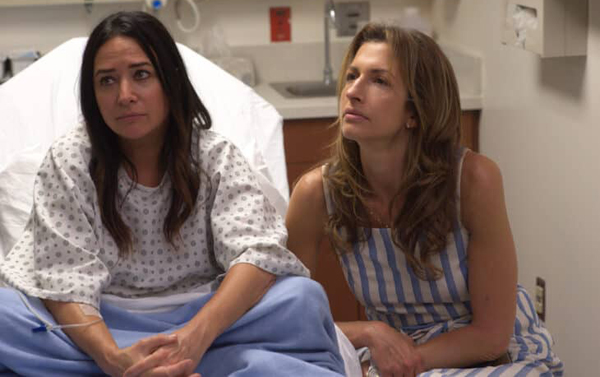 Josh Reviews Better Things Season Three
Pamela Adlon's show Better Things continues to be one of my very favorite TV shows currently being made.  I recently caught up with season three, and it's every bit as magnificent as I had hoped.  (Click here for my review of Better Things season one, and here for my review of season two.)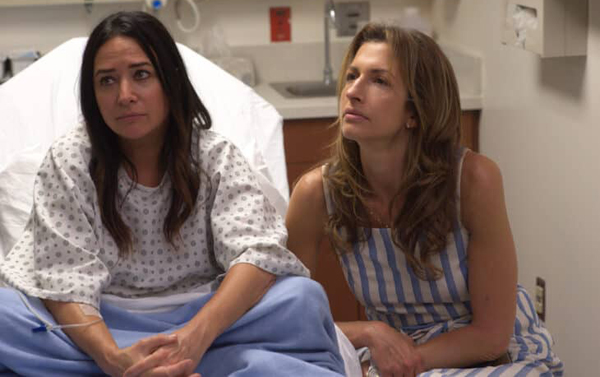 Better Things was co-created by Pamela Adlon, who also plays the lead role, writes most of the episodes (she wrote or co-wrote eight of the twelve season three episodes), and directed ALL of them in season three.  This is a magnificent showcase for Ms. Adlon's talents, and I love that she has created a show that is idiosyncratic and unique.  Better Things is unlike most other television.  The show zooms from comedy to heartbreaking drama and back again at a moment's notice.  It has a loose approach to narrative structure, with some episodes containing several vignettes that have little to nothing to do with one another, and some story-lines carrying through multiple episodes while other single episodes represent completely stand-along mini-movies or tone poems all their own.  There are many reasons why I love this show; one of the best is that, from episode to episode and moment to moment, I never know what I'm going to get.
I love that the show's focus is firmly on Sam (Ms. Adlon's character), her three kids Max, Frankie, and Duke, and the other women in their lives.  There are male characters on the show and many of them are great and interesting.  But this is a show that is about these women and their experiences.
Ms. Adlon seems focused on honesty, on depicting the real-life joys and struggles and sorrows of life as a working single parent of kids.  She seems to revel in showing the audience real-life moments we've never seen on TV before.  (As a prime example: episode seven, "Toilet," chronicles Sam's preparations for her colonoscopy.)
There are times when the show seems to idolize Sam a bit too much.  ("Your mother may be the greatest mother in the world," Sam's brother Marion (Kevin Pollak) tells her young daughter Duke at one point.)  But on the other hand, the show again and again shows Sam's flaws and bad behavior.  So it works that the show is structured so as to put Sam's hard work as a parent up on a bit of a pedestal.  Sam is a great mother not because she is perfect.  Far from it, she screws up and makes questionable decisions in nearly every episode.  But her effort day in and day out, and her unconditional love for her kids, and her stubborn refusal to stick to the path that most others follow makes Sam a figure worthy of praise.  I sort of love the show for the way it sets Sam up in this way.  We can look up to her and cringe at her flaws, all at the same time.  This is the genius of the show.
The ensemble cast is superb, and I was pleased that season three gave many of the show's supporting players a chance to shine.  All three kids are terrific: Mikey Madison as Max; Hannah Alligood as Frankie; and Olivia Edward as Duke.  What a terrific collection of young actors, and bravo to Ms. Adlon for the way she is able to help draw such wonderful performances from this group of kids.  I love the group of adults who Sam has gathered around her, in her collection of friends and makeshift family: Celia Imrie as Sam's British mother Phil; Diedrich Bader as Sam's close friend Rich; Rebecca Metz as Sam's manager Tressa, and many more.  Season two introduced Kevin Pollak as Sam's brother Marion, and I was thrilled that the great Mr. Pollak recurred in season three.
Season three introduced some new players into the mix.  The most notable addition was Matthew Broderick as an old friend of Sam's from summer camp who is now her therapist.  Mr. Broderick was a fun addition to the show.  His style is so different from Ms. Adlon's.  Their scenes felt weird and awkward (as they were intended to be), and there was an interesting energy between the two.  In an interesting choice, at the same time as the show was introducing Mr. Broderick's character David, who had a crush on Sam… and was exploring Sam's confused emotional and sexual feelings towards her ex-husband Xander… we also met Marsha Thomason (Naomi from Lost!) as Mer Kodis, a talent manager who had the hots for Sam.  It was interesting the way the show danced around this exploration of Sam's sexuality.  She'd been presented as straight but this season seemed to suggest that she might be open to Mer's advances.  I enjoy the way Better Things presents characters with fluid sexuality and gender identity; I think this is a strong aspect of the show.  In terms of other new characters, I was also very happy to see Scrubs' Judy Reyes appear as Sam's friend Lala.  I hope we see more of her character in the future!  I also loved seeing the great Doug Jones (Hellboy, The Shape of Water, Star Trek: Discovery) as Sam's movie co-star!
Season three was slightly more serialized than the first two years, with a variety of storylines that wove throughout the episodes.  Max goes to college, then drops out and returns home.  Sam is cast in a zombie movie.  (I always love the show's behind-the-scenes-of-Hollywood peeks at Sam's professional life.  This is a comedic gold mine for the show.)  Sam sees visions of her dead father.  I already mentioned the show's explorations of Sam's relationships with David, Xander, and Mer.
Season three was the longest season of the show yet, with 12 episodes.  (Both seasons one and two were 10 episodes.)  I was very happy to get two more half-hour installments of the show!!
As always, Ms. Adlon resists the usual approach to telling stories in episodic TV.  We drop in and out of these different stories as we move through the episodes of the season.  Sometimes we seem to come into a story in the middle; sometimes we spend a while in a situation and then it's dropped without what one would expect as a standard TV resolution.  One notable example from season three: late in the season, we see that Frankie is having a huge feud with her mother, refusing to speak to her and even moving out of the house for an extended period of time.  This is a huge event in Sam and Frankie's lives, and yet the show doesn't show us the start of the feud, nor do we get much of a resolution by the end of the season.  (Certainly not a standard all-is-well TV ending.)  It's like we've missed big parts of the story.  In less-skilled hands this could be frustrating.  But Ms. Adlon uses this to maintain the show's unique feel, and the idea that we're dropping in and out of these real characters' lives, lives that unfold in the messy, unpredictable way that real lives do, rather than the neat way things usually happen to characters on TV shows.
Pamela Adlon co-created Better Things with Louie C.K.; after the sexual misconduct allegations against him in 2017, he withdrew from any involvement with the show.  Season three was the first season that Ms. Adlon oversaw without Louie's participation.  I was curious to see whether the tone or content of the show would change.  I was pleased that it didn't.  Season three feels firmly of a piece with seasons one and two.  If there's been any change, it's a subtle one, in that even more of Ms. Adlon's own personality and life experiences seem to have seeped into the show.  (It's always a bit of a guessing game on shows like this, in which an actor plays a character who shares many of their background details and personality traits.  How much of Sam on the show is Pamela?  It's hard to say, but the show certainly feels deeply personal.)
I found season three of Better Things to be a delight from start to finish.  I highly recommend this wonderful show.  I can't wait for more.