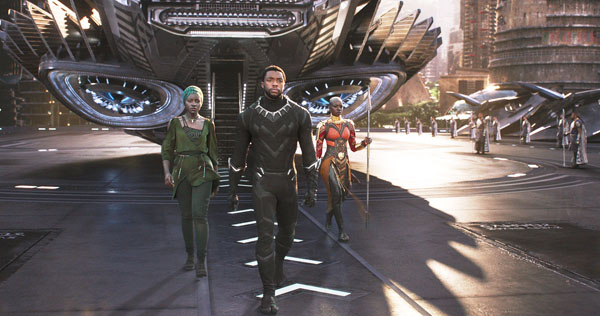 Josh Reviews Black Panther
I know, intellectually, that Marvel Studios' incredible streak of great movies is going to end sometime.  It has to.  No win streak can continue indefinitely.  But it didn't end this past weekend, as Marvel Studios released Black Panther, a fantastic addition to their ever-expanding Cinematic Universe.  Black Panther is, incredibly, the eighteenth film in this interconnected movie universe.  It still boggles my mind that there exists an eighteen-movies-and-growing Marvel Cinematic Universe.  And what's even more impressive is just how terrific all of these films have been.  There isn't a true stinker in the bunch.  (The Incredible Hulk and Iron Man 2 are, I think, the two least successful films, and even both of those have a lot to enjoy in them.)  The last several films in particular have been fantastic, and Black Panther continues that streak of excellence.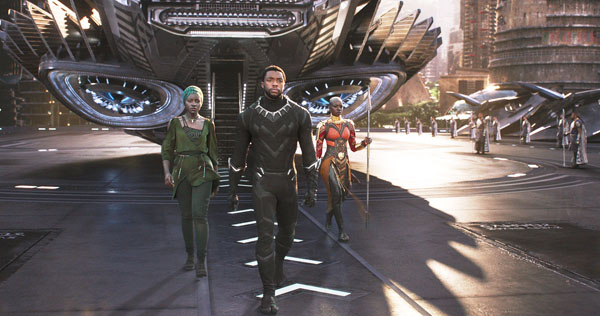 Picking up after the death of his father King T'Chaka in Captain America: Civil War, Black Panther opens with T'Challa (Chadwick Boseman) returning home to Wakanda to claim his position as king.  Wakanda is a technological paradise, though they use their technology to hide that fact from the rest of the world.  When the vicious thief and weapons merchant Ulysses Klaue (Andy Serkis), who killed the parents of T'Challa's close friend W'Kabi (Daniel Kaluuya), resurfaces, T'Challa leads a team consisting of Okoye (Danai Gurira), the leader of the fierce female Wakandan fighting force the Dora Milaje, and Nakia (Lupita Nyong'o), T'Challa's former flame who believes that Wakanda must engage with the outside world, to capture Klaue.  That mission goes awry when they discover that Klaue is in league with a young man named Eric (Michael B. Jordan), a black-ops soldier who calls himself Killmonger, and who has a secret connection to the Wakandan royal family.  Killmonger challenges T'Challa for the throne of Wakanda, and the once-peaceful nation threatens to split into civil war.
Black Panther is fantastic.  It fits squarely into the Marvel Cinematic Universe while also standing completely on its own and having its own unique style.  The film references Captain America: Civil War, but you absolutely don't have to have seen that film to enjoy this one.  And while many fans thought that the one not-yet-seen Infinity Stone (which will surely come into play in this summer's Avengers: Infinity War) would appear in this film, I was happy that didn't happen.  Black Panther didn't need that additional baggage — it's better for this film to be able to tell its own, complete story.  (If that final Infinity Stone is indeed hidden in Wakanda, as many fans guess, I am glad they held that reveal for Infinity War.)
Director Ryan Coogler (Creed) has crafted a magnificent film, one that is filled with fantastic imagery and adventure, but well-grounded in three-dimensional, human characters and their relationships.  The cast that Mr. Coogler has assembled for this film is extraordinary.  One of the secrets to the success of these Marvel Studios films has been their casting, and Black Panther might just represent the most phenomenally talented assemblage of actors yet.
Let's begin with Chadwick Boseman, who is absolutely perfect as T'Challa.  Above all else, I love how soft-spoken and gentle Mr. Boseman plays T'Challa.  This is a very different model of lead character than we've seen in most other super-hero films, which tend to feature brash, outgoing and fast-talking alpha dogs.  I love that Mr. Boseman went another way.  And yet, his T'Challa is no shrinking violet.  Mr. Boseman has the physicality to convincingly portray T'Challa as a master warrior, while also giving him the nobility and regality that befits his position of king of an entire nation.
I love that the film surrounds T'Challa with a group of strong female characters.  Let's begin with Okoye (Danai Gurira).  I love everything about the Dora Milaje; I love the idea of this group of bad-ass female fighters, and I adore their look — the design of their costumes and weapons is fantastic, very unique and memorable.  Ms. Gurira is incredibly compelling, tough and fiercely loyal to Wakanda.  She is electric to watch in her battle scenes (and they are plentiful), and equally magnetic when she has dramatic moments to play — such as the heart wrenching moment late in the film when she is put in a position in which she never expected to find herself, forced to choose between her loyalty to T'Challa and her loyalty to the traditions of Wakanda.  I know that Ms. Gurira is already well-known for her role on The Walking Dead, but this is truly a star-making performance.
Lupita Nyong'o plays Nakia.  She is every inch the brave warrior that Okoye is, but she has made very different choices with her life.  While Okoye sticks close to home and values the security of Wakanda above all else, Nakia has chosen to leave Wakanda and do what she can as a force for good around the world.  Nakia is gentler, with more softer edges to her personality that Okoye, but Ms. Nyong'o shows us right from her first scene that Nakia has an unbreakable strength and code of honor.  Nakia is T'Challa's love interest, but she is no damsel in distress.  This is a great character and a great performance by Ms. Nyong'o.
Letitia Wright plays Shuri, T'Challa's sister and the woman in charge of designing Wakanda's incredibly advanced technology.  Shuri is outspoken and funny, far less concerned with the traditions of Wakanda than she is with what she sees as the right thing to do.  She is a brilliant technologist (I hope someday she gets to share a scene with Robert Downey Jr.'s Tony Stark!!), and while she is not a warrior like Okoye and Nakia, she is just as brave.  Ms. Wright is amazing, bringing such joy and good humor to this performance.
Angela Bassett plays Ramonda, T'Challa's newly-widowed mother and the Queen Mother of Wakanda.  What a pleasure it is to see the great Ms. Bassett in this film.  She gives Ramonda tremendous wisdom and grace under pressure.  When things go bad late in the film, it is Ramonda who steps up and helps guide the younger women in what to do next.
All four of those major female roles are fantastic; not just great characters in their own rights, but also so different and unique from one another.  It's a pleasure to see.
Michael B. Jordan reteams with his Creed director to portray Erik "Killmonger," and wowsers is this another incredibly magnetic performance from the great Mr. Jordan.  It's exciting to see Mr. Jordan take a turn at playing a villain.  His intensity and force-of-personality are incredibly dangerous — he is a true threat to T'Challa and our other heroes.  And thankfully, Mr. Coogler and Mr. Jordan (not to forget the film's co-writer Joe Robert Cole) have crafted a three-dimensional character for their villain, allowing Erik to have depth and an understandable motivation for his actions.  Erik's story is the central tragedy in the film, and it works beautifully.
I've been praising the cast for so many paragraphs already, but there are still so many great performances still to go!!  That's how rich and deep this film's ensemble is!  Daniel Kaluuya plays T'Challa's friend W'Kabi.  While Mr. Kaluuya has come too wide attention this year with his work in Get Out, I first became a fan of his from his work in the "Fifteen Million Merits" episode of Black Mirror.  I love Mr. Kaluuya's quiet, droopy-eyed work here.  It's so unusual and unexpected.  (However, W'Kabi is the one character who I felt got a little short-shifted by the film's final cut.  I'd have loved to see a little more development of his friendship with T'Challa and his relationship with O'Koye.  That would have added resonance to his choices in the film's second half.)
Forest Whitaker plays Zuri, a Wakandan spiritual and religious leader who oversees the ritual aspects of T'Challa's succession as king.  Mr. Whitaker is, as always, a joy to watch on screen.  He always brings such an unusual energy to his characters.  I love that he plays Zuri with a twinkle in his eye.  His fondness for T'Challa is clear.
I loved seeing Sterling K. Brown (The People v. O.J. Simpson) as the N'Jobu, T'Chaka's brother.  He was great in his handful of scenes.  Winston Duke was great as M'Baku, the leader of the Wakandan mountain tribe.  He was fierce and menacing when he needed to be, and also surprisingly funny in a few moments!  I was happy to see John Kani reprise his role from Captain America: Civil War as King T'Chaka in a few moments, and it was a clever choice for his son, Atandwa Kani, to play young T'Chaka in flashbacks!
Also returning from Captain America: Civil War are the only two major white actors in the film: Andy Serkis as the mercenary Ulysses Klaue and Martin Freeman as the C.I.A. agent Everett K. Ross.  (It's a Hobbit reunion!!)  Both men are, as always, terrific.  It's a delight to see Mr. Serkis appearing as himself (rather than working in motion-capture), and boy does he cut loose as the violent, profane Klaue.  Mr. Serkis is magnificent playing a villain — I love his unpredictability and his surprising good humor, which combine to create a terrifying bad guy.  Mr. Freeman plays a far less showy role, and his American accent is a bit wonky, but he's still great fun as Agent Ross, who unexpectedly gets swept up in this Wakandan crisis.  I enjoyed the unforeseen connection that Ross forms with T'Challa and his family.
The film looks gorgeous.  Mr. Coogler and cinematographer Rachel Morrison have created a beautiful world.  Wakanda is stunning.  The landscapes are gorgeous and the technological wonderland is beautifully realized with incredible visual effects.  I love the way that they have succeeded in making Wakanda a real place.  Every inch of Wakanda appears to have been well thought out and meticulously designed.  The sets are incredible, bringing to life many very-different areas of Wakanda, from the ornate throne room to Shuri's advanced technological lab to the cliff-side location for the king's succession and ritual combat, and lots more.  The costumes are magnificent, placing Wakanda firmly amongst a real-world African tradition, while giving this fantasy nation a look and style all its own.  Every single character's costume and look is fantastic.  The Black Panther suit is amazing and, as I commented above, the visual design of the Dora Milaje is instantly iconic and memorable.
The score by Ludwig Göransson is one of the best Marvel Studios scores so far.  I have repeatedly criticized the Marvel films' scores for being flat and unmemorable, but Mr. Göransson's music is fantastic, combining large-scale epic-movie orchestration with a distinctly African sound and style.  It's wonderful.
If Black Panther has any weakness, it's that it's story is somewhat predictable.  If you've seen The Lion King, you probably know how this story is going to unfold.  But the movie works because the characters are so compelling and the world of Wakanda is so rich and well-developed.  Black Panther doesn't need to have a story filled with unexpected narrative choices or shocking twists for the movie to succeed.  It's actually something of an unexpected pleasure to see a film with the confidence to tell its story without resorting to lots of narrative tricks or bells and whistles.  At its core, Black Panther is a simple story, but when the characters and the world are so complex and interesting, those are all the ingredients you need.
The film has two extra scenes, one about a minute into the credits and the other at the very end.  The mid-credits scene is essential viewing.  It's so great, and so important, that I wish it had come before the credits because I wouldn't want any audience-member to miss it (despite how well-trained most audience members are, at this point, to stick around for the credits of a Marvel Studios movie).  It's a shockingly political statement, one that seems addressed directly to the current President of the United States.  I am somewhat surprised such a political moment was included in this big-budget movie… though, on the other hand, it's sad that a message of equality and brotherhood should be seen as political.  The final end-credits scene is fun, as a certain character who we know was left in Wakanda returns to action.  It's a nice scene and a nice bit of connective tissue with the upcoming Infinity War.  But since it was obvious that this character would return in Infinity War (and we'd already seen him in the Infinity War trailers), after sitting through all of the credits I'd been hoping for something a little more surprising or exciting, something that might leave me even more desperate with anticipation for Infinity War than I already am.
I am delighted that Black Panther has been brought to life by so many African-American artists behind and in front of the camera.  It's fitting that this story of an African super-hero be brought to life by men and women of color, and it is exhilarating to see a big-budget super-hero movie with a primarily African-American cast.  But Black Panther is a great film not because of those elements.  It would be a disservice to Black Panther's cast to say that it is an amazing African-American cast.  It is an amazing cast, full stop.  Black Panther is not simply a great movie about and made by people of color.  (Though it is!)  It is a great movie.  'Nuff said.