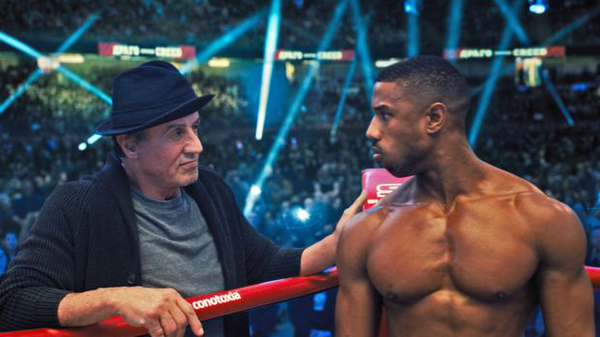 Josh Reviews Creed II
I am not a huge Rocky fan.  I'd seen and enjoyed the original Rocky, but to this day I've never seen any of the sequels.  I wouldn't have expected that I'd even have gone to see a Rocky spin-off, let alone that I'd have enjoyed it.  But I was blown away by Ryan Coogler's Creed (written by Mr. Coogler and Aaron Covington), a film that I found to be thrilling and deeply moving.  It was one of my favorite films of 2015.  (Click here for my full review.)  And so I was excited to find myself seated in the theatre recently, ready to enjoy Creed II, my first-ever Rocky-movie sequel!  So, what did I think?  Does Creed II live up to the original?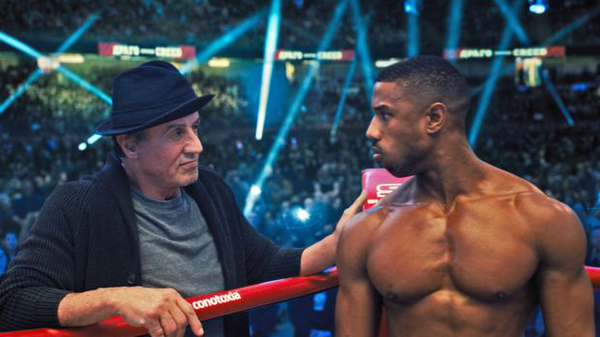 Well, no.  But it's still a well-made, solidly enjoyable film.
It's a delight to get to spend two more hours with all of these characters, and to see how their lives have progressed following the events of the first film.  I love this extraordinary cast, and I love these characters.  There's some solid emotional drama and some engaging boxing action.  The film looks great and is clearly made with great craft across all departments.  Creed II is a fine film.
But the first Creed was transcendent.  It was deeply moving, to the point that I cried several times while watching it for the first time.  It felt like a staggeringly original work, at the same time as it fit smoothly into the larger Rocky franchise.  (That's an extraordinarily tricky bit of business.)  There's nothing in Creed II that reached anywhere near the emotional high-points that I found in the first Creed.  There's nothing that came close to moving me the way the first film did.
I want to emphasize: there is not a single thing in Creed II that is bad!  It's a very well-made, enjoyable movie!  But it doesn't transcend the franchise and the boxing-movie genre the way the first Creed did for me.
What a cast this film has.  The number one reason to see Creed II is to enjoy the work of this great ensemble.  Let's begin with Michael B. Jordan, who is once again spectacular as the main character, Adonis Creed.  What a compelling performer this young man is; what a extraordinarily talented actor — clearly one of the finest actors of his generation.  One might have forgiven Mr. Jordan for "phoning it in" a bit in this sequel, now that he has shot to stardom over the past few years.  But Mr. Jordan is fully engaged, and delivers another riveting, emotional performance as Creed, a skilled boxer wrestling with his family's history and struggling to find his identity as a fighter and as a parent and as a man.  Mr. Jordan is electric in every moment he's on screen.
Tessa Thompson was captivating in the first Creed (and has stood out in her terrific supporting roles in Westworld and Thor: Ragnarok and many other recent projects), and so I was delighted that her character, Bianca, was given a central role here in this sequel.  I love that Bianca is played as an equal in her relationship with Creed.  The sequences in which we see Bianca wrestle with her fears for her baby are the most powerful moments in the film, beautifully performed by the immensely talented Ms. Thompson.
I was very impressed by the depths of Sylvester Stallone's performance as an old, broken Rocky in the first Creed, and he is once again a joy to watch here in Creed II.  I love the scene in his restaurant when Rocky first sees Ivan Drago again.  It's a very quiet scene, but we can see all of the roiling emotion behind Rocky's eyes.  Mr. Stallone is near-perfection as this older version of Rocky.  I like his quietness and his stillness; how that contrasts wonderfully with Mr. Stallone's still-imposing physicality.  Rocky is tough, but Mr, Stallone is unafraid to show us his gentleness, and his failings.
I mentioned Ivan Drago a few sentences ago, so let's return to him.  I loved Dolph Lundgren's work in the film, reprising Drago!  Mr. Lundgren doesn't have many lines in the film, but his silence is cleverly-used to build him up an air of danger and mystery around him, setting him up as a dangerous opponent for Rocky and Creed.  Importantly, the film takes the time needed to allow us to develop some sympathy for the hardships Drago has suffered in the decades since the events of Rocky IV.  (Mr. Lundgren has been having quite a month, between this film and his performance as the Atlantean King Nereus in Aquaman!) 
Sadly, Drago's son Viktor Drago, played by Florian Munteanu, is not nearly as well-developed as he needed to be.  I think this is the key place where the film falls down.  Mr. Munteanu's performance isn't that impactful — he has a physical presence, but not enough dramatic weight — and the script doesn't give Munteanu much to play except being angry at everyone and also peeved at his mom.  I think what Creed II needed was for Viktor to be as fully-realized a character as Adonis Creed.  When Viktor and Adonis meet in the ring, I think we needed to have more sympathy for Viktor, and to maybe sort of not be so eager to see him lose.  That would have given the Viktor-Adonis fights a lot more emotional heft and needed drama.  The film edges in that direction with the attention it pays to Ivan Drago, but that's not enough.  With the younger Drago being a dramatic black hole, the film is unbalanced and an important opportunity was missed.
I was delighted to see Phylicia Rashad back as Adonis' mom, and I was also pleased to see Wood Harris (Avon Barksdale from The Wire!) back as Tony "Little Duke" Evers, who steps in to train Adonis for a while in the film.
Milo Ventimiglia also pops up as Rocky's estranged son.  That scene made me laugh at what I assumed was stunt casting, not realizing until later that Mr.Ventimiglia was actually reprising that role from 2006's Rocky Balboa.  
Ludwig Göransson, who scored the first Creed, and who continued his collaboration with Ryan Coogler and Michael B. Jordan by scoring Black Panther, delivers another terrific score here.  (I was particularly impressed with his perfect use of the classic Rocky theme, at exactly the right moments.  Sometimes franchise sequels have trouble with where and how to use their series' classic themes, with some relying on them overmuch, which others use them too sparingly, thus denying the audience what they want, but Mr. Göransson makes all the right choices here.)
The film's plot is a more predictable that I'd hoped.  It's pretty clear from just a few minutes in how the arc of Adonis Creed's fights with Viktor Drago are going to go.  (I certainly was able to guess those developments fairly easily.)
Creed II was directed by Steven Caple Jr., replacing Ryan Cooler who directed and co-wrote the first Creed.  This film was written by Joel Taylor and Sylvester Stallone.  They all did a competent job in continuing the story of these characters, though there's a special spark that the first film had that this sequel wasn't able to replicate.