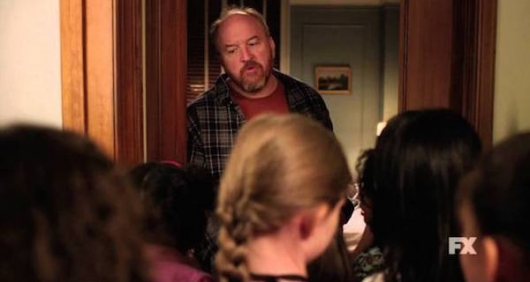 Josh Reviews Louie Season Five!
Last month I had the pleasure of catching up with the fifth season of Louie C.K.'s fantastic FX show, Louie.  I've been a fan since the beginning of Louie.  It's such a unique show, one that feels like a very personal expression of Louie C.K.'s very particular voice and sense of humor.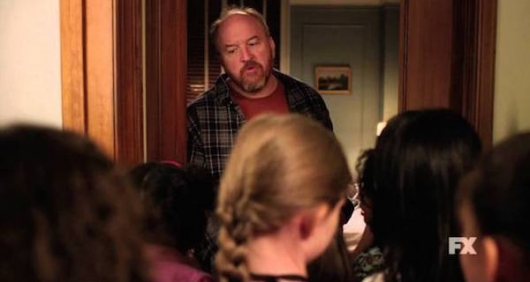 While season four experimented with longer story-telling arcs, with stories that ran across multiple episodes, season five returns more closely to something approaching the flavor of season one, with each episode feeling entirely like it's own thing, a stand-alone loony adventure in Louie's life.  I loved the ambition of season four, but in my heart I think that this is the flavor of Louie that I love best.  Each episode feels like its own weird little flight of fancy.
Season five is far shorter than the previous seasons, clocking in at only eight episodes.  I'm not sure why there were so few episodes this time around, but I'm thankful for what we got.
After the disappearance of the great opening credits and theme song in season four, I was happy to see them return here in season five (albeit occasionally in a somewhat truncated form, presumably to make room for everything else that Louie wanted to fit into the episode).
Once again Louie C.K. wrote, directed, and starred in every episode.  The show continues to be a tour de force work for Louie, a hugely original piece of work that feels like a direct conduit into his mind.  I love that about the show.  It continues to be quite unlike anything else on TV.  The show rigorously refuses to be pinned down to a certain style or tone.  The show can veer from hilarious to serious to out-of-left-field loony, often within minutes.
The premiere, "Potluck," feels like a classic Louie idea: Louie goes to a potluck dinner at the home of a parent of one of the girls in one of his daughter's class.  But he mistakenly goes to the wrong apartment and a potluck dinner of a group of an entirely different sort, something that Louie (and we the audience) only gradually realizes.  This is a great set-up, but also in classic Louie style, while Louie finds a lot of humor for the situation, he doesn't solely mine the situation for jokes.  The episode goes to places I didn't expect.
My favorite episode of the season was "Sleepover," in which Louie hosts a sleepover birthday party for all of his daughter Jane's friends.  Watching Louie navigate a hyper group of tween girls is hilarious, but the episode goes to far crazier places when Louie gets a frantic call from his brother Booby, who is in jail and needs Louie to come bail him out.  Not wanting to leave the girls alone, Louie brings the whole pack of kids with him to the police station.  It's a lunatic situation, and an absolutely hilarious episode.
Louie's brother Bobby (played by Robert Kelly) also features into another of the season's highlights — the short gag sequence at the start of "Bobby's House" in which Bobby tells Louie that their uncle has died and Louie is upset that no one in the family thought to tell him.  Then they arrive at the wake and it turns out the obituary Bobby read was for someone else with the same name.
I was pleased that Pamela Adlon (who played Louis C.K.'s wife on his short-lived HBO sitcom Lucky Louie and who has worked behind the scenes at Louie in addition to appearing periodically on-screen as Pamela, a woman Louie had a crush on) returned again this season, though boy did they take her character into some bizarre places.  For the first few seasons of the show I was really rooting for these two characters to get together, but by the end of season four I wasn't so sure, and my ambivalence continues.  But I must respect Louie and Pamela for creating a "Pamela" character on the show who is such a complex and bizarre creation.  This is not a cookie-cutter love interest, that's for sure!
I was pleased to see Louie's daughters Lilly and Jane (played by Hadley Delaney and Ursula Parker, respectively) back in the show this season.  It's been fun watching these characters (and the two actresses who portray them) grow up over the five seasons of the show.  I wish they had been featured even more prominently this season!  Also, I missed Susan Kelechi Watson who had played Louie's ex-wife Janet in the previous two seasons.
I was pleased that Charles Grodin returned for one brief but terrific scene as Louie's exasperated doctor, Dr. Bigelow.  It was also fun to see Jim Norton, Todd Barry, and Steven Wright pop up on the show.
Louie season five was fun, just too short!!  I loved what I got but I wish we'd gotten more episodes here in season five.  I await season six with great eagerness!