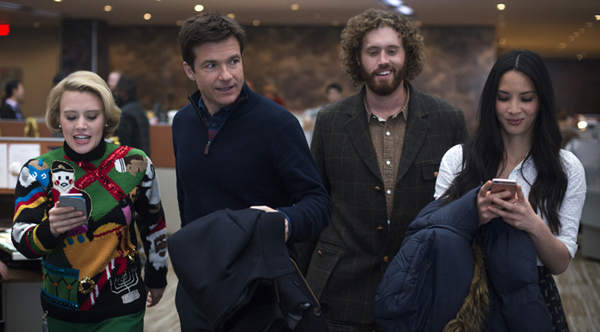 Josh Reviews Office Christmas Party
Josh (Jason Bateman) helps run the Chicago-based branch of a tech company, Zenotech, overseen by his friend Clay (T.J. Miller).  The branch is doing OK, but Clay's rivalry with his sister Carol (Jennifer Aniston), just appointed as the company's C.E.O., leads her to threaten to close down Clay's branch if they are not able to land a big new client.  When Josh and Clay and their head of tech Tracey (Olivia Mann)'s pitch to a large financial firm fails, they come up with a last-ditch scheme: they invite the financial firm's representative Walter Davis (Courtney B. Vance) to come to their office Christmas party so that he can bond with them and see how Zenotech is filled with good people with whom he'd want to work.  So, although Carol had announced that the Christmas party was cancelled, seeing it as a waste of money, Clay decides to pull out all the stops and throw the biggest party his company has ever seen.  Of course, lots of things go wrong and the Zenotech office Christmas party quickly grows into a wild bacchanal and ever-escalating chaos.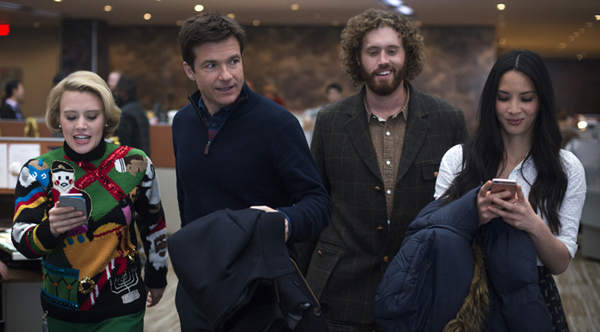 There is no ground-breaking comedy in Office Christmas Party, and you can probably spot where all the character-arcs are heading about ten minutes into the film.  But that being said, I nevertheless thoroughly enjoyed the film.  It's very, very funny, and I was taken by the film's joyful, everything-will-work-out and everyone-will-come-together-as-a-family spirit.
The film works because of its terrific cast, every single member of which shines.  I had no idea that half of the familiar faces who pop up were in this movie, and I was delighted by every single one of them.
Jason Bateman could play a role like this in his sleep: the nice, decent guy surrounded by a bunch of loony-tunes.  The role might be familiar, but Mr. Bateman is so good at this character-type that it's hard to complain.  Watching him in this role is like watching an old master at work.  Mr. Bateman is one of the finest comedic straight-men to ever grace the screen.  T.J. Miller's star has been rising for the past several years (He was solid in 2008's Cloverfield, his first film, and he's great on Silicon Valley, which I just started watching), and it's nice to see him in this big-time leading role.  He's fantastic as Clay, showing us Clay's goofball man-boy energy but also his earnest desire to be a good boss who can live up to the idealized image he has of his father, who used to run the company.  I love Mr. Miller's relationship with Mr. Bateman; you really buy these two as friends.  I also loved Mr. Miller's relationship with Jennifer Aniston as Clay's sister Carol.  Ms. Aniston has a very different comedic energy, and yet the two fit together incredibly well.  Mr. Miller holds his own in his scenes with superstar celebrity Ms. Aniston, and it's fun watching them wrestle (literally) and otherwise bounce off of one another.  As with Mr. Bateman, Ms. Aniston is playing an incredibly familiar-for-her character here: the prickly uptight rich girl.  I should complain about that, but as with Mr. Bateman, Ms. Aniston is so great playing this type of character that I can't hold it against her.  Olivia Munn rounds out the lead cast as Tracey, a super-genius who has a flirtatious thing going with Josh.  I really like Olivia Mann and one of these days she is going to find a role that is truly worthy of her, and she is going to crush it.  Tracey doesn't have much depth as a character, but Ms. Munn does everything she can to bring the character to life and she's got such a twinkle in her eye the whole time that, again, I can't really complain.
Kate McKinnon's incredible 2016 rolls on (she was the best thing about the rebooted Ghostbusters and she has been killing it on SNL throughout this torturous election season and beyond) with her role as uptight HR rep Mary.  Ms. McKinnon steals the show as we watch Mary's uptight persona get peeled back to reveal the crazy lady underneath.  Also, she makes a dumb fart joke sing.  Vanessa Bayer (Trainwreck, SNL) is terrific as Clay's secretary, and office "mom" Allison.  She shares some fantastic ends with Randall Park (The Five-Year Engagement, The Interview, Trainwreck)'s Fred.  The two of them are hysterical together.  Rob Corddry (The Daily Show, The Way Way Back, In a World…) is great as Zenotech's constantly-grumpy customer service rep.  Courtney B. Vance has also been having a great 2016 (having received great critical acclaim for his role as Johnnie Cochran in The People v. O.J. Simpson) and he is a riot here, as an accidental cocaine-dosing at the party transforms Walter from a refined, buttoned-down businessman into a party-crazed lunatic.  Jillian Bell was so funny in The Night Before as the wife of Seth Rogen's character, and she is even better here in an entirely different role as the pimp Savannah who eventually winds up kid napping Clay.  Somehow watching Ms. Bell wave a gun around just makes me laugh very hard.  I also have to highlight Da'Vine Joy Randolph, who I had never seen before but who is spectacular as the Die Hard-loving Zenotech security guard, Clara.  I suspect we will see a lot of future work for Ms. Randolph based on her terrific work here.  I could go on and on, there are plenty of other wonderful performers in Office Christmas Party who I have not yet mentioned.  They're all great.  They film works as well as it does because each player makes the most that her or she possibly can out of their corner of screen time.
For a film called Office Christmas Party, the actual party itself, as depicted onscreen, has to successfully capture an event that moves from lame to amazing to chaotic out-of-control explosion over the course of the film.  (Someone someday should do a study on movies that center on an insane, property-damaging but also life-changing party.)  Directors Will Speck and Josh Gordon do a terrific job at staging the titular Zenotech Christmas party.  They allow us to spend just enough time in the party that we don't feel cheated by a film with this title, while also allowing the story to branch out to other locales in the second half.  They also carefully show all the stages of the party's development from normal office party into insane behemoth, so that we can sort of believe this is happening even while witnessing what we know is an exaggerated movie-party.  It all works together very well.
As for the rest of the character stories in the film, everything works well enough.  As I wrote above, the arcs are all fairly predictable but they're enjoyable and satisfying so it all works and supports the comedy.  I didn't care for the bizarre plot-twist towards the end in which the Zenotech gang somehow creates a magical super-internet (it's enough that the company somehow avoids getting shut down despite all of the crazy antics of the night-long party, it stretches things too far to also have them somehow be super geniuses who are able to reinvent the entire internet) but, again, I was enjoying the fun of the story and watching these great performers at work so much that none of that bothered me too much.
Office Christmas Party is a lot more fun than it has any right to be.  It's hugely enjoyable watching these talented comedic performers at play together.  This might not be the most memorable film in the world, but it's a heck of a lot of fun to watch.  What more could I ask for?
(By the way, do stick around for the out-takes in the closing credits, they're very funny.)