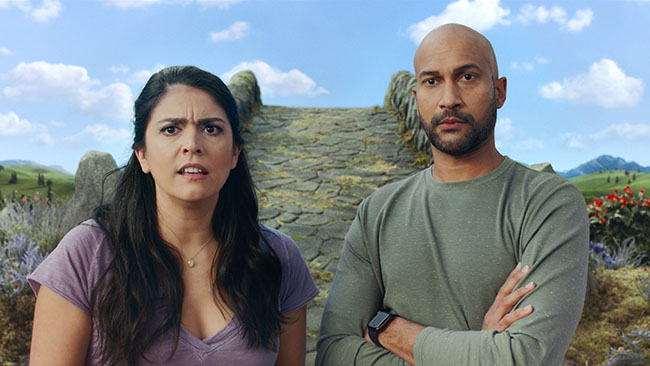 Josh Reviews Schmigadoon!
Schmigadoon! is a six-episode TV series on Apple TV+ that's a good-natured homage to classic movie musicals.  The story centers on Melissa (Cecily Strong) and Josh (Keegan-Michael Key), a young couple whose relationship has fallen into something of a rut.  After they get into an argument while on a couples retreat in the woods, they stumble into the town of Schmigadoon, where everyone seems to be in a musical!  The old-fashioned people are (mostly) friendly and upbeat… and constantly busting into song.  It turns out that Melissa and Josh are trapped in this strange town until they each find true love…
Schmigadoon! is a silly and enjoyably entertaining story.  At six half-hour episodes, we get enough time to explore the characters and this world, without being stuck there too long that it starts to feel like a chore.  The series is a loving salute to classic movie musicals.  I myself am not remotely a musical fan.  (I only know about Brigadoon because of the terrible Star Trek: Deep Space Nine episode that's based on it.)  (That would be the third season episode "Meridian", fellow nerds.)  So I am sure there might be some musical-specific jokes or references in the show that went over my head.  But despite my lack of love for or knowledge of musicals, I quite enjoyed Schmigadoon!  I knew enough about musicals from pop cultures that I think I got most of the gags, and I found the series silly and good natured enough that it held my interest.
Both Cecily Strong and Keegan-Michael Key are strong in the lead roles.  They're both very funny, and solid enough dramatic performers that they can give weight to the story of their relationship being at a crossroads.  Ms. Strong in particular really shines, and she's a lot of fun to watch when Melissa allows herself to start getting drawn into this singing-and-dancing world.
They're surrounded by a wonderful ensemble.  Alan Cumming is a delight as Schmigadoon Mayor Aloysius Menlove, who, as you might be able to guess from his name, has a big secret that he's afraid to reveal to his 1950's era neighbors.  Musical superstar Kristin Chenoweth is fantastic as Mildred Layton, the close-minded preacher's wife who fears and hates anything that's different in her town.  Fred Armisen is extremely funny as Mildred's beleaguered and soft-spoken husband, the Reverend Howard Layton.  I smiled ear-to-ear to see Martin Short as the leprechaun guarding the way in and out of Schmigadoon.  (Though I was bummed we didn't see more of him after Melissa and Josh entered the town!)  Jane Krakowski also has a small but memorable role as the Countess Gabriele Von Blerkom, with whom Melissa briefly becomes a romantic rival.  Ariana DeBose is wonderful and very memorable as Emma Tate, the schoolteacher with whom Josh enters into a relationship.  Ms. DeBose has a more serious and dramatic role than most of the rest of the cast, but she seems effortless in her performance.  Jaime Camil is great as Doc Jorge Lopez, the very handsome doctor with whom Melissa becomes smitten.  Dove Cameron isn perfect as Betsy McDonough, the very flirty but too-young farmer's daughter.
The music in the show is fantastic.  The show is packed with a number of original songs that work as catchy musical numbers and are also funny.  That's not an easy balance.
Schmigadoon! was created by Cinco Paul and Ken Daurio.  All six episodes were directed by Barry Sonnenfeld.  Mr. Sonnenfeld is a terrific director of high-concept comedy films (Men in Black, The Addams Family, Get Shorty) and he's also done some strong work on TV (such as the live-action 2001 The Tick series starring Patrick Warburton).  He's a good match for this material, giving Schmigadoon! a confident comedic energy.
I suspect this is a one-and-done series, and it comes to a satisfying ending at the conclusion of the six episodes.  However, I wouldn't object to seeing more — perhaps with a different couple of comedic performers finding their way into the town…?
Click here to purchase my "Maclunkey" Star Wars/Highlander mash-up t-shirt!

Please support MotionPicturesComics.com by clicking through one of our Amazon links the next time you need to shop!  As an Amazon Associate, I earn from qualifying purchases.  That means I'll receive a small percentage from any product you purchase from Amazon within 24 hours after clicking through.  Thank you!