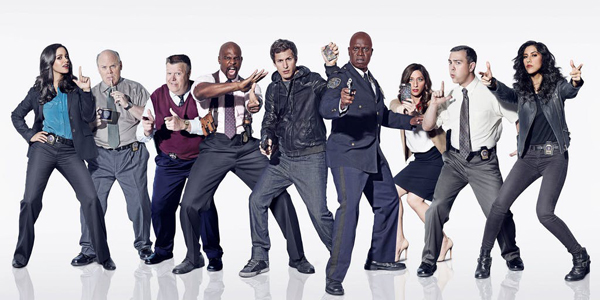 Josh Reviews Season Five of Brooklyn Nine-Nine!
In a tumultuous week right before its season five finale aired, Brooklyn Nine-Nine was unceremoniously cancelled by Fox… and then, a few days later, miraculously resurrected by NBC who announced that they'd be picking up the show for a thirteen-episode sixth season.  Huzzah!!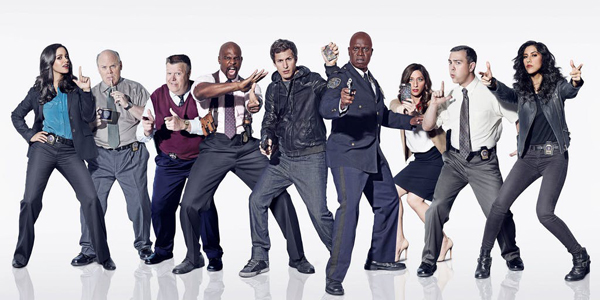 I was devastated when I thought the show was dead and gone.  Over the last five years, Brooklyn Nine-Nine has grown into one of my very favorite TV comedies.  It's not edgy and it might not be groundbreaking "genius" comedy — but it has grown into the very best sort of TV comfort food: consistently hilarious and filled with characters with whom I absolutely adore spending time.
I realized, in those days in which I thought the show was cancelled, that I had been taking Brooklyn Nine-Nine for granted!  Though the show has popped up on my end-of-the-year lists of my favorite episodes of TV, I haven't ever given it one of my regular season-ending reviews that I write about almost every other show I watch.  It's time to stop ignoring this show!
Brooklyn Nine-Nine was created by Dan Goor and Michael Schur.  Mr. Goor worked on The Daily Show, Late Night with Conan O'Brien, and Parks and Recreation.  Mr. Schur was a key creative player on the American version of The Office, he co-created Parks and Recreation with Greg Daniels (and served as the primary show-runner), and he also created The Good Place.  Looking back, I can see why Brooklyn Nine-Nine has slipped through the cracks for me, despite the fact that I've been enjoying it for so many years now.  The show doesn't have the attention-grabbing hooks of The Good Place's twists, or the way Parks and Rec's gloriously large and unhinged ensemble served as a sort-of live-action version of The Simpsons.  Those two shows, along with The Office, all seemed like cutting-edge "cool" comedies that drew a lot more attention.
Brooklyn Nine-Nine never quite had that.  From the beginning, it felt a little squarer, a little more family-friendly, a little less boundary-pushing.  But the show has blossomed into a true comedic gem, with an ensemble as skilled as any on TV today and one that can go head-to-head with any of the other shows I just listed above (and many beyond those).
Andy Samberg is terrific in the lead role of Detective Jake Peralta.  Mr. Samberg demonstrated back in 2012 with Celeste and Jesse Forever that he had acting chops, and Brooklyn Nine-Nine perfectly utilizes his comedic talents and his man-child persona.  Mr. Sandberg effortlessly anchors the show, and remains one of the funniest elements of it.  The key casting coup of the show is Andre Braugher as Captain Raymond Holt.  Captain Holt has become a treasured, iconic TV character.  Seeing the stiff, formal Holt, and hearing Mr. Braugher's deep, stentorian voice, put in one ridiculous situation after another never ceases to lead to comedic gems.  Joe Lo Truglio plays Detective Charles Boyle, Jake's best friend.  As is the case with all the other actors, Brooklyn Nine-Nine has been able to perfectly utilize Mr. Lo Truglio's specific comedic mannerisms and style to maximum effect.  Mr. Lo Truglio has played a variety of very weird characters in a variety of movies, and while Charles is definitely a very weird dude, Brooklyn Nine-Nine also manages to make him very lovable, which is a more-challenging-than-you'd-think needle to thread.  Melissa Fumero plays Detective (now Sergeant!) Amy Santiago, and she's proven to have wonderful comedic and romantic chemistry with Mr. Samberg's Jake Peralta.  The talented and very funny Ms. Fumero is able to play straight-woman to the many zany characters around her in the squad, while also at times allowing Amy to be a total loony-tune herself.  Again, this is harder than you might think.  Stephanie Beatriz plays Detective Rosa Diaz, and Diaz is yet another now-classic TV character, tough and ridiculously unflappable.  (Listen to Ms. Beatriz use her real voice in an interview sometime, to realize what a magnificent acting job she is doing every second she's on-screen as Diaz.)  Terry Crews plays Detective Sergeant Terry Jeffords, and I love how he has developed the Sarge into a lovable, dad-like character to many of the members of the squad.  Mr. Jeffords is an enormous physical presence, but the show, and Mr. Crews, has been able to make the character much more than just a muscled dude.  Chelsea Peretti plays Gina Linetti, who is nominally Captain Holt's assistant but who generally does whatever she feels like doing.  The very funny Ms. Peretti has a very different energy and style than most of the rest of the squad, but that is perfect for Gina, who always goes her own way but who is an important part of the show's comedy.  And of course, we can't forget Dirk Blocker as Hitchcock and Joel McKinnon Miller as Scully, the two bumbling-cop-caricature background players who have grown into the show's most consistent comedy secret-weapons.
What an ensemble!  Every member of this team is capable of carrying their own story-lines, but it's the perfect way in which they interlock as an ensemble that is a key reason that Brooklyn Nine-Nine is so good.  The show is continually pairing up these characters in different arrangements from episode to episode, and there are no weak links.  But even more important than these actors and their characters all being very funny is the way that the show has developed and deepened each character over the years — without making them any less funny! — so that the audience has slowly fallen in love with every one of them.  I think that for any great comedy, a key ingredient is that you have to love the characters and love spending time with them.  (That's been a special quality of Michael Schur's shows and why I have loved them so much — most particularly Parks and Recreation.)  With Brooklyn Nine-Nine, this snuck up on me a bit.  In the early-going, I always thought the show was funny, but I didn't feel much of a connection to the show beyond that.  But now I am in love with this ensemble and so happy that we'll get at least thirteen more episodes with this gang.
Here in season five, the show was firing on all cylinders (as it has for several seasons now).  Stand-out episodes include "The Box," in which Jake and Holt team-up to interrogate a murder suspect played by Sterling K. Brown; "Game Night," in which Diaz comes out as bisexual to her parents (played by Danny Trejo and Olga Merediz); and "Two Turkeys," in which Jake and Amy's parents collide in a Thanksgiving disaster (and we get the joy of a West Wing reunion between Bradley Whitford and Jimmy Smitts, who played Jake and Amy's fathers).  I also love how the show has developed a number of annual traditions, and this year gave us great new installments of both the yearly Halloween competition ("HalloVeen" gave us Jake's fantastic proposal to Amy) and the return of the Pontiac Bandit ("The Negotiation," in which Doug Judy stages a hostage situation to get Jake's attention).  (I love Craig Robinson's chemistry with Andy Samberg!!)  I also particularly enjoyed the story in the latter half of the season of Holt's quest to become NYPD commissioner.  I loved his bickering relationship with Allison Tolman (Fargo season one) as his female rival Captain Crawford — I think she's my favorite of the various NYPD thorns in Holt's side the show has used over the years.  I like that the two did eventually reach a mutual respect, and also that it was Holt's old-style ways that enabled him to best Crawford in the season's penultimate episode.
Since this show is about a police precinct — which is serious business — it's no surprise that Brooklyn Nine-Nine occasionally flirts with some dramatic story-lines for its characters.  The show has gotten a little more daring about this in its later years.  This season, we started off with a story-line spinning out of last year's cliffhanger, in which Jake and Diaz had gotten on the wrong side of a dirty cop and found themselves wrongly imprisoned.  Later in the season, the show addressed Diaz's coming-out as bisexual (mirroring Stephanie Beatriz's coming-out) and also gave us an episode in which the squad feared for Diaz's life after she was involved in a shooting.  It's tricky business balancing crazy comedy with this occasional bout of serious drama, but for the most part it works well — and even when the tonal shifts are a little jarring, at this point I love these characters so much that I'm willing to cut the show a little slack as the writers explore these different avenues of story-telling.
The season finale, "Jake and Amy," was a great capper to the season and would have made a satisfying series finale — though I am glad it's not!  This season has focused on Jake and Amy's engagement, and so it's fitting that the season ended with their wedding — which, of course, went wildly off-course when a criminal with a grudge called in a bomb threat.  The finale was very funny (Gina's meta comment to Holt that it "seems like people are pairing off for adventures" is an all-time classic, and I let out a yelp of glee when I saw that Nakatomi Plaza-shaped wedding cake — see below) and very sweet in perfect measure, which is what Brooklyn Nine-Nine does so well.  Many previous seasons have ended on a big cliffhanger, but I was glad this season had more of a satisfying ending.
I did, though, absolutely love the mini-cliffhanger in which the gang couldn't tell from Captain Holt's stoic face whether or not Holt had gotten the commissioner's job!  That was a great way to end the year… and though it would have sort of driven me crazy, I have to admit that also would have been an awesome place for the show to have ended had NBC not picked it up!!  But thank goodness it's not the end and we will find out the answer next year…
Week-in and week-out, Brooklyn Nine-Nine has consistently been one of my favorite TV comedies for many years now.  I'm glad it's getting at least one more year of life, and I promise not to ignore it on this blog any more.  Nine-Nine!