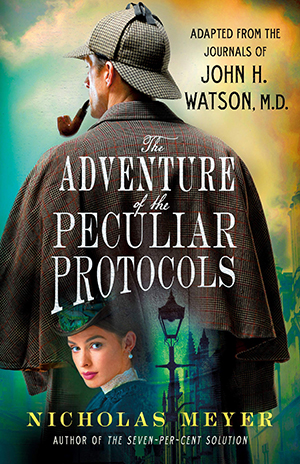 Josh Reviews Sherlock Holmes and The Adventure of the Peculiar Protocols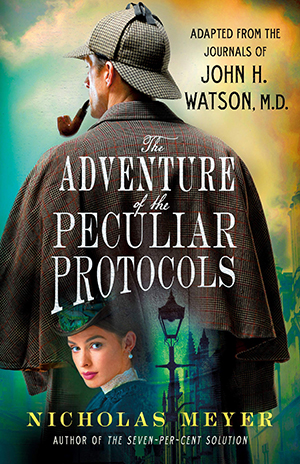 In Nicholas Meyer's wonderful new Sherlock Holmes pastiche (a novel structured to imitate the Holmes stories written by Sir Arthur Conan Doyle), The Adventure of the Peculiar Protocols, the great detective Sherlock Holmes and his comrade Dr. Watson are tasked with investigating the origins of the Protocols of the Elders of Zion.  The Protocols actually existed; this hateful, anti-Semitic text asserts that a secret cabal of Jews secretly control the world.  This might sound ludicrous to any reasonably intelligent person, but these fabricated texts (designed to inflame Jew-hatred) not only existed, but continue to be spread to this day.
I became a huge fan of Nicholas Meyer from his incredible work with the Star Trek franchise. He wrote and directed Star Trek II: The Wrath of Khan; he wrote most of Star Trek IV: The Voyage Home (he wrote everything set in the 20th century, after Kirk & co. travel back in time), and he wrote and directed Star Trek VI: The Undiscovered Country.  After more than fifty years of Star Trek's existence, Mr. Meyer's contributions remain my very favorite versions of Trek.  Mr. Meyer also wrote several previous Holmes novels.  His first, The Seven-Per-Cent solution, is a terrific novel that was adapted in 1976 into an also-terrific movie.  Mr. Meyer also wrote and directed the 1979 film Time After Time, in which Sherlock Holmes duels with Jack the Ripper.  (Allow me to also recommend Mr. Meyer's memoir The View From the Bridge, which is a fantastic read for anyone interested in a behind-the-scenes look at how Hollywood works.)
I was immediately intrigued when I read the plot synopsis of Mr. Meyer's new Holmes novel.  Taking the fictional character of Holmes and combining him with a very real anti-Semitic incident seemed like a risky proposition.
But I found that, under Mr. Meyer's skilled hands, The Adventure of the Peculiar Protocols was a complex and compelling tale.
Mr. Meyer writes a great mystery/adventure, and he has a firm grasp on the characters of Holmes and Watson.  Both men come to vivid life in these pages, and their depictions feel perfectly correct and in-character.  Same goes for Sherlock's brother Mycroft (who has a significant role to play in the novel).
The novel also features a wonderful new female character, Anna Strunsky Walling.  This intelligent, competent woman winds up accompanying Holmes and Watson for much of their adventure.  It's terrific to have a major female character added to the mix, and I quickly grew to love this heroine.  (I do wish Mr. Meyer hadn't allowed Anna to get into "Damsel in Distress" peril towards the book's climax.)
As he did in his previous Holmes novels, Mr. Meyer writes this book as though he was merely the fortunate individual who happened to come into possession of previously-unpublished notes written by Dr. Watson, chronicling a case of Sherlock Holmes of which the general public had been previously unaware.  I love this tongue in cheek approach.
In the story, Holmes is brought onto the case when Mycroft, operating on behalf of the British government, shows Sherlock several pages of the Protocols, which one of their murdered agents had in her possession.  His Majesty's Government was concerned about the possibility of a cabal of men looking to take over the world.  I worried that I would have to read about Holmes taking such an idea seriously, but thankfully the detective takes only a few pages of the book to quickly eviscerate any possibility that the Protocols could be true; easily determining that their only purpose is to spread irrational hatred of Jews.
Therefore, the case into which Holmes and Watson are dispatched by Mycroft is to find the person or persons responsible for creating the fake Protocols, so as to expose them to the world and render them ineffective as a weapon for senseless hatred.
Of course, we know that the Protocols do exist and have continued to spread throughout the last century.  (They were recently alluded to by Vladimir Putin.)  It is therefore not a spoiler to tell you that, while the novel shows us Holmes operating at the height of his power, he is not successful in preventing the spread of the Protocols.  In fact, "Watson's" text of the novel warns us early on that this is a (rare) story of Holmes' failure.
And so while this book is a compelling mystery/adventure, it's one tinged with melancholy, particularly as we enter the novel's final fifty or so pages.  I found this story to be very moving.  Some might dismiss a Holmes adventure in connection to a topic as serious as the Protocols of Zion to be minimizing the importance of these real historical events.  On the contrary, I found Mr. Meyer's story to be a powerful way to bring these tragic historic events to life.  As we see Holmes and Watson encounter the realities of global Anti-Semitism, it is very moving.  There's a great scene early on in which Watson, learning about Russian pogroms for the first time, expresses his belief that surely nothing like that could happen in Europe.  Real history would of course prove him to be woefully incorrect, only a few years in the future.  The novel's most moving chapter is when Holmes meets several brutalized victims of a pogrom, and the detective is shaken as he has never been before.
I was also interested, as the story progressed, in seeing how Mr. Meyer showed the effects of Anti-Semitic hatred on three female characters.  (It crossed my mind to wonder whether it was a weakness of the book's structure that these women suffer while Holmes and Watson emerge relatively unscathed.  But of course nothing too terrible can happen to Holmes or Watson in one of these stories!  That being the case, I appreciated Mr. Meyer's focus on the suffering inflicted by Anti-Semitism, and I was intrigued by the manner in which he drew connections to the women's suffrage movement, which was spreading during the novel's 1905 setting.)
I also enjoyed the way in Mr. Meyer wove a number of real historical characters into the story.  I loved seeing Holmes and Watson meet the founders on the NAACP, and also Chaim Weizmann!  (Mr. Weizmann would later become the first president of Israel.)  I was also fascinated by Mr. Meyer's suggestion that Theodore Herzl, the founder of the modern Zionist movement, might have been murdered…!!!  (I don't believe that has any foundation in a actual fact, but wow, it was a suggestion that blew my mind when I came across it in the book.)
Overall, this was a fascinating novel, and one I'm glad to have read!
Please support MotionPicturesComics.com by clicking through one of our Amazon links the next time you need to shop!  We'll receive a small percentage from any product you purchase from Amazon within 24 hours after clicking through.  Thank you!