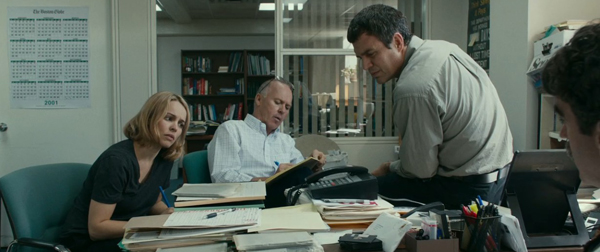 Josh Reviews Spotlight
Tom McCarthy's new film Spotlight tells the story of the Boston Globe's "Spotlight" team's investigations, begun in 2001, into the sexual abuse of children by Boston Roman Catholic priests, and by the efforts of the Boston Archdiocese to cover up those incidents of abuse.  The film is riveting and electric.  This film is the All The President's Men of this generation.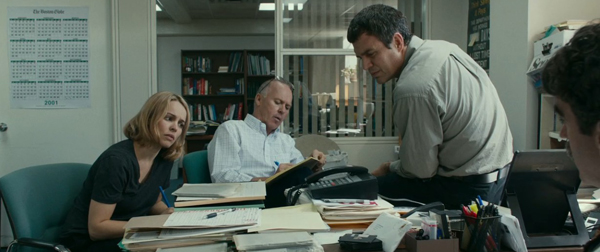 This is an important story, and Spotlight brings the case to life clearly and dramatically.  The film focuses on the main "Spotlight" team and a few other senior players at the Boston Globe, and while the film develops these characters sufficiently for us to get to know and like them, the film doesn't distract our attention with digressions into these reporters' personal lives.  Rather, the film's portrayal of this story remains squarely focused on the unfolding investigation.  This is exactly the right approach.  The film allows the audience to gradually discover the extent of the scandal along with the reporters.  Their growing disbelief and horror mirrors our own.  I followed this story as it unfolded back in 2002-2003, but the film allowed me to rediscover these events through new eyes.
This is a complicated story, with many different people involved.  And yet the film unfolds with a clarity of story-telling that I found remarkable.  The script by Tom McCarthy (who also directed) and Josh Singer is a tremendous piece of work.  I am sure elements of this complex story have been simplified for this presentation on-screen, and yet the film never feels dumbed down or truncated.  On the other hand, the film never collapses under the weight of too-many-names or too-much complexity.  The audience is able to very clearly follow the reporters' efforts.  When the big revelations happen, they land effectively and with the impact those discoveries warrant.
The cast is magnificent.  I hardly know where to begin.  Let's start with the "Spotlight" team.  Michael Keaton's career resurgence (begun with his extraordinary work in last year's Birdman) continues here with his work as Walter "Robby" Robinson, the head of the "Spotlight" team.  Holy cow is Mr. Keaton spectacular.  This is not a showy role — none of the roles in this film are (well, with the possible exception of Mark Ruffalo's one big explosion in the third act) — and yet Mr. Keaton's wonderfully expressive face and eyes (well-served by some terrific close-up work throughout the film) draw us right in to the impact this unfolding story is having on Robby.
The afore-mentioned Mark Ruffalo plays Michael Rezendes.  Mr. Rezendes is presented as the most dogged investigator on the team, and the one who feels the story the most passionately (both of which seem to have detrimentally impacted his personal life).  Mr. Ruffalo is terrific, so solid even when he is just listening to the stories told by others.  He's given the film's one "Oscar clip" moment, but it works because by that Mr. Ruffalo had completely drawn me in and I believed how powerfully this man was feeling the case that he was in the process of cracking open.
Rachel McAdams might be in Hollywood jail after her involvement in the second season of True Detective (which I liked a lot more than most people seemed to, even though I admit that it was a huge drop in quality from season one), but her work here as Sacha Pfeiffer should help get her out.  She brings great intelligence and honesty to her performance.  Brian d'Arcy James plays the fourth member of the "Spotlight" team, Matt Carroll.  I was not that familiar with Mr. James' work prior to seeing him here, but he more than holds his own with the incredible team of actors that surrounded him.  I loved the somewhat hangdog quality that Mr. James brought to this character, while also imbuing him with smarts and integrity.
John Slattery plays Ben Bradlee Jr., the editor at the Globe who oversaw Robby and his "Spotlight" team.  The role fits like a comfortable glove for the great Mr. Slattery, as it has more than a shade of Roger Sterling in the way that he serves as a senior colleague, mentor and confidante for Robby and his team.  But of course Ben Bradlee Jr. is a far more intelligent and honest character than Roger Sterling!  I loved Mr. Slattery's chemistry with Michael Keaton.  These two men need to work together again some time very soon.
Liev Schreiber, meanwhile, is terrific as Marty Baron, who has just become the new editor-in-chief of the Boston Globe when the film's story opens in 2001.  Mr. Schreiber's wonderful, deep voice gets to deliver some great lines of dialogue in this film.  I love how Mr. Schreiber plays Mr. Baron as an outsider.  This is a not a home-grown local Boston boy.  Mr. Baron looks and sounds different from most of the other reporters and editors we see at the Globe.  But although when the film begins one might think that Mr. Baron is being presented as an obstacle to Robby and the "Spotlight" team, as the film presents him he becomes quite the opposite.
I also have to highlight the terrific work of Stanley Tucci as the lawyer Mitchell Garabedian.  Mark Ruffalo's character Michael Rezendes connects with Mr. Garabedian early in the film, when he learns that Mr. Garabedian is representing many alleged survivors of abuse by priests.  The two share some terrific scenes.  Garabedian is described as a "character" early in the film, and so I expected to meet a loud, outlandish figure.  But my earlier comment again comes into play here — none of the roles in Spotlight are all that showy.  Instead, Mr. Tucci delivers some great work in mostly quiet scenes.  The exchange he has with Mr. Ruffalo's Rezendes while sipping soup is one of the best moments in the film.
Spotlight tells an important story, and I don't just mean this specific story of uncovering hidden abuse within the Catholic Church.  Spotlight is a film that conveys the importance of investigative reporting.  This story was uncovered by a team of reporters who were given the luxury of months of investigation and study before they were required to publish a word.  In how many places today does anything like this still exist??  So much about the world of newspapers and reporting has already changed in the last decade-and-a-half, so that in many ways Spotlight tragically feels like a story from a bygone era.  This film powerfully emphasizes the importance of long-term investigative reporting, and that is a critically important message today more than ever.
I highly recommend this film.  It's important, but don't take that to mean that this is a dry lesson in civics and history.  This is a riveting film, emotional and dramatic and fast-paced.  Absolutely outstanding.