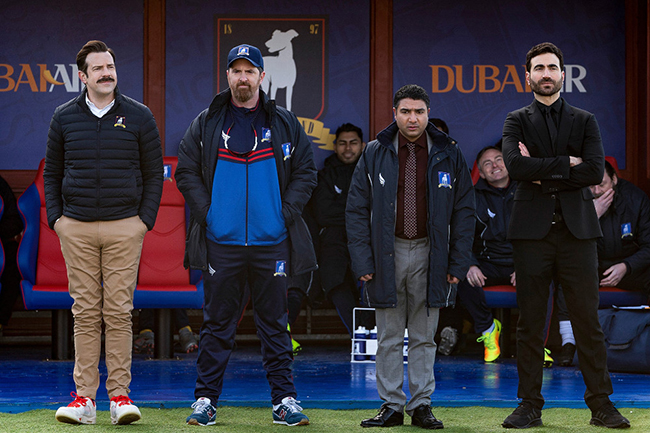 Josh Reviews Ted Lasso Season Two!
I loved the first season of Ted Lasso.  The show quickly became one of my very favorite currently-running TV shows.  I quickly fell in love with all of the characters.  The show was very funny, but more importantly I was moved by the series' upbeat, life-affirming ethos.  I was incredibly excited for season two to arrive, and I'm pleased at how strong this second installment was.  It's a little shaggier than the first season, a little messier, but for the most part that's because the series chose to deepen and challenge its characters, something I was very happy to see.
Season one of Ted Lasso was pretty much a perfect season of TV.  It's tough to top such a flawless first season.  Even if the follow-up season is just as great, it can still wind up feeling like a disappointment because you're missing that initial spark of discovery.  That is hard to avoid, and I freely admit that I felt that when watching Ted Lasso season two.
I found it took me a little while to settle into the new rhythms of the new season.  After watching the season two premiere, I remember commenting that a few of Ted's lines felt to me more like a parody of Ted's dialogue rather than something I felt the character would naturally say.  I suspect that speaks more to the hurdle I had to get over to accept a continuation/expansion of the beloved first season than a weakness of the show.  (I'm looking forward to finding the time to rewatch those early episodes to revisit how I think about them.)  Either way, by the third episode I thought the season was off to the races and I was once again totally hooked in.
I enjoyed the way season two chose to dig in and explore Ted's positive attitude and the ripple effects, positive and negative, that can have on those around him.  I was intrigued that the early episodes this season presented us with a Richmond team that was happy and loving one another, and yet failing to win matches.
Like Ted himself, I wasn't sure at first about the addition of a major new character, the new team psychologist Sharon.  But in the end I grew to love Sharon just as much as every other member of the ensemble, and I loved how she allowed us to explore the damage that Ted's unrelenting positivity was hiding.  The dual montages in episode ten, in which Ted and Rebecca describe traumatic events involving their fathers, was a high point of the season.  I loved Sarah Niles' work as the unflappable Sharon.  It was fun to see someone unaffected by Ted's charm, and then to see the bond between Ted and Sharon slowly grow over the course of the season.  I loved how Ted flipped her goodbye-avoidance around on her when he ditches her at the pub in episode eleven.
The season's biggest swing was in turning Nate the Great into a villain.  Nate was one of my very favorite characters in season one, and watching him curdle into selfishness and bitterness was very tough to watch.  I didn't enjoy that, but I respect the series for making this choice and showing us how Ted's approach isn't infallible.  It was an incredible cliffhanger at the end of episode 11 to discover that Nate had leaked the truth about Ted's panic attacks to the press, and Nate's angry confrontation with Ted in the finale was very powerful and sad.  (Don't think I didn't notice the physical manifestation of Nate's change, with his hair shifting from black to white over the course of the season.)
My only major complaint about season two was that I was bummed that Rebecca didn't have more to do.  Hannah Waddingham continues to be amazing, and she had lots of wonderful individual moments.  But after she had so much meaty stuff to do in season one, I thought it was a shame that her only major storyline this season was a romantic one, and a pretty inappropriate one at that.  Both she and Toheeb Jimoh as Sam did great work together, but I feel like the show did not really acknowledge the extremely inappropriate power dynamic of the team's owner dating one of her young players.  In the early going of the season, I thought they were developing stories about Rebecca's having to work to keep the team afloat, because of the budgetary repercussions of the team's relegation, and then Sam's pissing off the team's biggest sponsor.  But those early stories went nowhere, which was a big disappointment for me!
The season's other misstep was in mostly defanging and ignoring Jamie Tartt.  I loved the idea in the early season two episodes of a humbled Jamie's having to return to Richmond.  But it seems that somehow Sharon fixed his entire personality in one session, and after that Jamie had very little to do all season outside of a painful confrontation with his father and then a little false drama with Keeley and Roy at the end.  (I call it "false drama" because the show didn't really spend the time to create a love triangle or to show either Keely's actually being tempted by Jamie's declaration of love, or Roy's actually being pissed off and/or threatened.  Both Keely and Roy are too mature at this point for either thing to happen, so there wasn't much to this wrinkle in their relationship.)
I loved the way season two continued to develop both Keely and Roy's relationship as well as Keely's growing confidence as a businesswoman.  I continue to adore both Juno Temple and Brett Goldstein in these roles.  There are so many great moments between the two characters this season, from Keely's frustrations with Roy's being around her at all time at work and at home in episode seven, to their looking-into-one-another's-eyes confessional during the photoshoot in episode eleven.  (The only off note for me was at the end of the finale, when Roy seems to think Keely will be able to drop everything and go away with him for six weeks, just when she's about to go into business for herself.  That seemed very dumb for the otherwise savvy Roy Kent.)
I loved getting a peek into Leslie's family and their tradition of hosting Christmas dinner for the team in episode four, and the running story of his being forever without an office was great.  Also, he held two puppies in the finale.  What could be better?
I loved the storyline of Dani Rojas' crisis of faith following the, um, unfortunate accident with the team's mascot.  There is some deep philosophy to be found in his ultimate revelation that "even though football is life, football is also death.  And that football is football too.  But mostly that football is life!"
I mentioned the Sam-Rebecca relationship above (I'm glad that Ted eventually acknowledged the Cheers joke in there), and while I didn't much care for that storyline, I loved that Toheeb Jimoh got a lot more screen time as Sam.  I loved the explorations of how Sam started to learn to use his newfound celebrity power for good.  I loved his scenes with the wealthy Edwin Akufo (played spectacularly by Veep's Sam Richardson) in the latter part of the season, and the way he had to wrestle with how to respect his Nigerian heritage while also finding the right path for himself.
Brendan Hunt's Coach Beard continues to be my favorite character on the show and the series' best comedic secret weapon.  Just in the finale alone, Beard had some of my favorite moments, from his immediate understanding that Nate was the leak, to his eye-rolling response to Nate's admission that he'd kissed Keely, to his silent joy when Roy grudgingly admits that being a Diamond Dog might not be all that bad. I loved episode nine, the spotlight on Beard's long dark night of the soul following Richmond's crushing loss at Wembley stadium to Manchester City. I know that was a controversial episode, and I did miss the rest of the ensemble.  But I loved how strange and weird that episode was, and it was a delight to see Beard briefly take center stage.
At the head of this amazing ensemble is Jason Sudeikis as Ted himself.  None of this would work is Mr. Sudeikis wasn't so note-perfect as Ted. The show continued to give many opportunities for Mr. Sudeikis to spin comedic gold out of Ted's verbosity, and I also enjoyed the way this season allowed us to see more of the cracks in Ted's facade.  The silent acting that Mr. Sudeikis does in episode eleven, when he reads Sharon's goodbye letter to him, was magnificent.
Other thoughts:
* I loved the scenes of the profane Roy unleashed as a TV commentator.  That was never not funny.
* I'm glad we got a lot more sweet moments between Roy and his niece Phoebe this season.  I loved learning that his constant cursing had rubbed off on her.  And his and Keely's Christmas Eve search for a solution to her terrible breath was so sweet.
* I loved that we got to hear more of Hannah Waddingham's marvelous voice, hearing her belt out Christmas songs in episode four, and then sing at her father's eulogy in episode ten.
* I loved the marvelous different version of the opening credits in episode four!!  I sort of wish that had become the permanent new opening credits!  (Albeit without the characters all dressed up for Christmas.)
* I think a high point of the season for me was the romantic comedy paridy/pastiche episode five, "Rainbow."  That episode's deep dive into "rom-communism" was a delight for start to finish.  I particularly enjoyed the When Harry Met Sally homage with a Richmond couple in the stands.  And was there a more joyous moment then when a hobbled Roy Kent made his way back onto the Richmond pitch in that episode??  Magnificent!
* I was bummed we didn't see more of Rupert (the only truly despicable character on the show) in season two.  The finale positions him to be a more direct challenge to Rebecca and Ted in season three so I hope we see more of him then.
* I was moved that Trent Crimm (The Independent) chose to reveal to Ted that Nate was his source.  I was also surprised that as serious a reporter as Trent would do so, and I was glad the finale showed that there was a repercussion to his actions.  It was sweet.. and also sort of weird!… to see a happy, loose Trent at the end of the finale.  I hope he's still involved next season.  (I was surprised, though, that we didn't see Trent feeling betrayed by Ted's lying to him.  After Ted's panic attack, the show takes the time to show us Trent asking Ted about it, and Ted lies to his face.  I thought we'd see Trent being angry at Ted when he learned the truth — he'd come to like and trust this man, only to discover he'd been dishonest.  I think it was a bit of a missed opportunity that the show never went there.)
* Akufo's tantrum when Sam turns him down in the finale was very, very funny.  The show took the easy way out narratively by showing us that Sam had clearly made the correct choice in turning Akufo down.  That was a bummer, since before that moment it seemed like a real dilemma for Sam.  But wow was that scene funny, so I can't really complain!
I've read that Ted Lasso is only planned to run three seasons. I will be sad to see this show go, but for now I am just happy to have watched a wonderful second season and excited to see where we go from here in season three.  I can't wait!
Click here to purchase my "Maclunkey" Star Wars/Highlander mash-up t-shirt!

Please support MotionPicturesComics.com by clicking through one of our Amazon links the next time you need to shop!  As an Amazon Associate, I earn from qualifying purchases.  That means I'll receive a small percentage from any product you purchase from Amazon within 24 hours after clicking through.  Thank you!