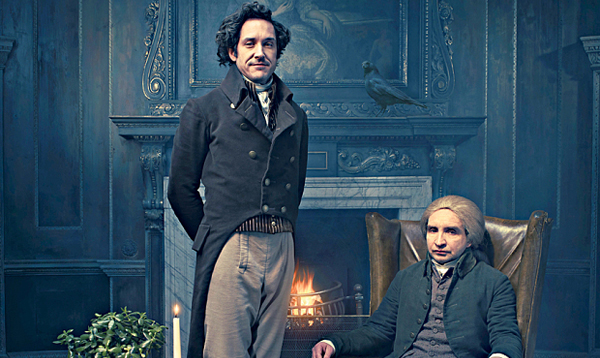 Josh Reviews the BBC Adaptation of Jonathan Strange and Mr. Norrell
Over the winter I read Susannah Clarke's magnificent novel, Jonathan Strange and Mr. Norrell.  I loved it, and highly recommend reading it.  The book tells the story of two magicians attempting to bring magic back to England in the late 1800s.  The novel is one of the best examples of fantasy world-building I have come across in years.  Clarke's marvelously entertaining novel is rich in intricate details of this alternate universe England.
This compelling fantasy novel was ripe for an adaptation, and so I didn't wait long after finishing the book to track down the BBC's recent seven-episode miniseries adaptation.  First of all, thank heavens this novel was adapted into a miniseries rather than a film, as the seven-episode structure allows the story to breathe in a way a movie wouldn't have.  (Even at seven episodes, the miniseries is very packed with plot and incident and struggles at times to tell the full story of Ms. Clarke's sprawling novel!)
Overall I quite enjoyed the miniseries and highly recommend it.  Though let me be clear that Ms. Clarke's wonderful novel is superior to the adaptation in every way.  If you're considering diving into this story and this world, I strongly recommend reading the novel.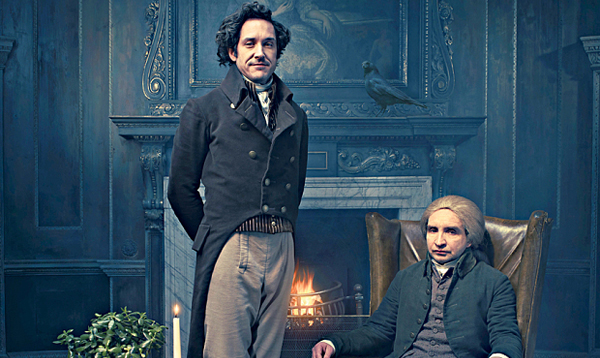 The miniseries chiefly succeeds in the strength of its casting if the two leads.  I have often enjoyed the work of Eddie Marsan (who has appeared in both of Guy Ritchie's Sherlock Holmes films, along with V for Vendetta, War Horse, and The World's End), and he is perfectly cast here as the dour, bookish Mr. Norrell.  What a great pleasure it is to see this wonderful actor given a chance to shine in this leading role!  He is magnificent, keeping Mr. Norrell watchable as the lead while but never hesitating to show us this mousy little man's many flaws.  As the miniseries progresses Mr. Norrell is both loathsome and very sympathetic, and Mr. Marsan's strong work makes those shifts perfectly believable and compelling.
Equally magnificent us Bertie Carvel, an actor I had never heard of before seeing him here but who gives an astoundingly great performance as the second magician, Jonathan Strange.  Mr. Strange is the opposite of Mr. Norrell in almost every way, handsome and outspoken and charismatic, and Mr. Carvel absolutely commands the screen whenever he is present.  This is a triumphant performance and, I think, the best aspect of this adaptation.
The miniseries also, thankfully, features all of Ms. Clarke's wonderful supporting characters.  Sir Walter and Lady Pole, Arabella, Drawlight and Lascelles, Childermass and Vinculus, John Segundus and Mr. Honeyfoot, they're all here and lots more.
It's interesting, this isn't a case like Peter Jackson's Lord of the Rings trilogy in which the casting and costuming was so immediately perfect that every character somehow appeared on-screen exactly as I had always pictured them, as if they had been somehow drawn right out of my brain.  As I watched the first episode, I was at first quite surprised by many of the casting choices, as many of the characters appeared totally unlike how I had imagined.  But it's a testament to the strength of the casting and the performers that, although many of them were not when I had originally pictured, to the last they all grew on me mightily as the miniseries progressed.
One of the miniseries' best casting triumphs is Charlotte Riley as Arabella Strange.  I love that they've developed Arabella into a more central character than she was in the novel, and the beautiful Ms. Riley is magnetic in the role, fiercely intelligent and charismatic.  Building up Arabella and deepening her and Jonathan's bond makes the plot twists in the final few hours of the story even more powerful.
If there's a place where I felt the miniseries was somewhat lacking it was the visual effects.  This is a vast story, taking place in many different locales and with some spectacular magical goings-on.  This adaptation is ambitious, but its reach somewhat exceeded its grasp as I felt I could see the seams of the visual effects budget showing in places.  Some of the vistas were not quite as spectacular as I had imagined, some of the visual effects shots not as well executed as I had hoped.  (In one of the show's very first scenes, in which Jonathan Strange stumbles out of his apartment and the camera cranes upwards to show us the vista of 1800's London, it was pretty obvious to me where the small set ended and the visual effects began.  Another example that sticks in my mind was the approach to Lost Hope.  This magical realm was well-designed, but they reused the same background shot every time a character entered that realm in an obvious cost-saving measure.)  I still salute the makers of this mini-series for not trying to truncate the scale of the novel.  The performances and the story works, and that is the most important thing.
Over-all, writer Peter Harness and director Todd Haynes have done a lovely job in adapting Susanna Clarke's novel for television.  They've made some changes to the structure, but for the most part those changes make perfect sense to me.  Most importantly they bring Jonathan Strange into the story far earlier than in the novel, a very smart move so that we can follow both Mr. Strange and Mr. Norrell for a while before the two characters collide.  They also made some adjustments to the ending, which somewhat (though not entirely) address a few quibbles I had with the novel's ending.  (If there was any part of the novel that I wasn't completely in love with it was the ending.)
Jonathan Strange and Mr. Norrell is a magnificent novel and a very solid TV mini-series.  They're both very much worth your time.