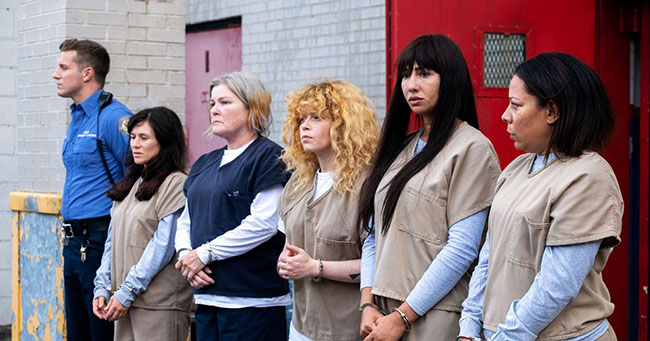 Josh Reviews the Final Season of Orange is the New Black
When Netflix started getting into the business of making its own TV shows, I was most excited that they had agreed to revive Arrested Development.  But the show that really captured people's attention back in 2013, including my own, was Jenji Kohan's Orange is the New Black.  Based on the memoir by Piper Kerman, the series explored the lives of a variety of women serving time a minimum security women's prison in Litchfield, NY.  The slightly fictionalized story of Piper Chapman, a privileged white woman who is sentenced to 15 months in prison from a drug-running offense she'd committed 10 years earlier, was a great hook for that first season, as we followed Piper's culture shock at losing her comfortable life and having to adjust to the new reality of prison.  But the show really gained its legs by expanding its focus beyond Piper, to deeply develop its vast ensemble of women of many different backgrounds, ethnicities, sexualities, and more.  The show devoted its time and empathy to depicting so many types of women and their stories who had seldom if ever been previously depicted on TV.  I loved the show for that.  And even though I thought the series had long-since lost the spark it had for me when it first began, I never entirely lost interest, because the lives and struggles of the show's vast ensemble of women continued to be compelling.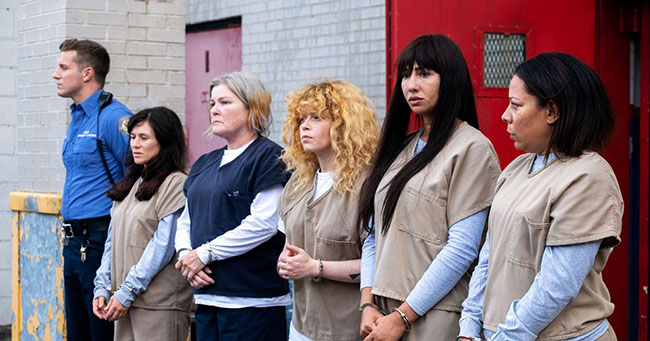 The series drew to a close with this seventh and final season (which was released last year on Netflix, but I only recently caught up to it).  This is one of the strongest seasons the show has had in years.  It's a pleasure to see the show go out on such a strong foot.
The caveat is that this was probably the hardest season of the show for me to watch.  I remember the days in which this series used to win awards in the "comedy" categories of certain awards show.  That was always ludicrous, but this bleak season moved far away from any notion that the show could possibly be considered a comedy.  There were still occasional bursts of light and humor, but overall this was a tough year for most of the characters on the show.  I respect Ms. Kohan and co. for staying true to the reality of these characters and the storylines they'd created.  Real life unfortunately wouldn't give most of these characters a happy ending.  It was tough watching a lot of what befell the series' characters this year.  This isn't a criticism of the show, it's a compliment.  The drama was tough and compelling.  But it was tough to watch.
Danielle Brooks' character of Tasha (Taystee) Jefferson has long been a favorite of mine, and I was delighted that this final season was mostly centered around her.  In season six, Taystee was sentenced to life in prison for a crime she did not commit (the death of prison guard Piscatella).  In this final season, the show zeroed in on Taystee's emotional crisis as she tries to come to some sort of reckoning with that terrible injustice, and the reality that she will spend the rest of her life behind bars.  Ms. Brooks has always been spectacular, and she was extraordinary to watch as we see Taystee wrestle with this internal struggle and descend into a contemplation of suicide.  This was a beautiful and heart-wrenching story, extremely well-told and incredibly well-performed by Ms. Brooks.
I loved the decision to show Piper (Taylor Schilling)'s being released from prison at the end of season six, thus allowing the show to take its time during this final season to show us what Piper's life was like post-incarceration.  I was more interested in Piper's story this season than I had been in years.  It was very compelling to see her struggle with the effect her time in prison had on her, and discovering that even once she was out, it was very difficult to pick up the pieces of her old life.
Bravo to Ms. Kohan and her team for the decision to expand the series' focus this season to an I.C.E. deportation center.  Suddenly Blanca (Laura Gómez), who had been a relatively minor supporting character for much of the series, stepped into the forefront, as we followed her terrible experiences trapped in an inhumane deportation process by the U.S. government.  This was an incredibly timely storyline, and I found it to be one of the most wrenching and emotionally affecting stories the series ever did.  This was a highlight of the season for me.
But there were many great story-lines that ran through this final season!  (Please beware some SPOILERS ahead!)  I was impressed how many compelling storylines they were able to weave together over the course of the season.  It was incredibly sad to see Red (Kate Mulgrew) struggle with dementia.  At first I thought this story came a little out of nowhere, but I think that's honest.  It was terribly sad to see this powerhouse of a woman brought so low.  Ms. Mulgrew, as always, was extraordinary.  Laura Prepon's Alex has been one of the show's main characters for much of its run, though there were a few seasons where I felt she didn't have too much to do.  But she had a great storyline this year, struggling with being in prison while her wife Piper was free, and caught in an awkward web with prison guard McCullough (Emily Tarver).  Natasha Lyonne's Nichols was one of my favorite characters on the show right from the bat; though as with Alex, there were a few points in the middle of the show's run when I didn't think the show quite knew what to do with her.  But she was a standout this season, wrestling with a series of personal crises, including Red's and Lorna (Yael Stone)'s mental collapses, and a burgeoning relationship with and Egyptian I.C.E. detainee Shani (Marie-Lou Nahhas).  Uzo Aduba's Suzanne wasn't as front-and-center as she'd often been previously, but I enjoyed her mostly-comedic storyline as the mayor of the prison's new chicken coop.  I also thoroughly enjoyed the sweet story of her growing friendship with her new cellmate Pennsatucky.  Taystee's comment in the finale that Suzanne was growing up was very impactful.  What an incredible journey this character has gone on, since her beginnings in season one as the "crazy eyes" girl who was scarily obsessed with Piper!  Speaking of "Pennsatucky" Doggett (Taryn Manning), she continued to be one of my favorite characters on the show.  I can't believe how completely transformed this character has been.  She's gone on such a journey since her beginnings as a villainous character!  Her final fate was devastating to me.  Cindy "Black Cindy" Hayes (Adrienne C. Moore) began as mostly a comic-relief character, and she's still very funny.  But, wow, this season her storyline got deeper than ever.  I love that Piper wasn't the only character whose life we got to see in-depth after their release from prison.  We got to see Aleida and Black Cindy, too, and both their storylines were powerful.  It was so sad to see this good-hearted woman try and fail to do right by her mother and the daughter who thought she was her sister.  Seeing her reduced to homelessness was awful.
As I keep typing, I keep thinking about more and more characters who went through very powerful and moving storylines this season!  I mentioned Aleida Diaz (Elizabeth Rodriguez) and it was predictable but still sad that she so quickly found herself back to dealing drugs and back in prison.  Then there was her daughter Daya (Dascha Polanco), who went on the opposite journey that Pennsatucky did.  Daya started the series as one of the sweetest and most innocent characters on the show.  Here in this final season, she was an unrelentingly brutal drug kingpin within the prison walls.  What a tragedy.  Speaking of tragedies, one of the most heart0rending storylines this season belonged to new character Karla Córdova (Karina Arroyave), and I.C.E. detainee who was separated from her children, despite her incredible knowledge of the U.S. legal system.  Karla's final scene in the series finale was one of the most devastatingly sad moments in a season filled with wrenchingly sad situations.
I loved seeing Gloria Mendoza (Selenis Leyva) get so much focus this season, as she had to step into Red's former role as the leader of the kitchen, and wrestle with her desire to secretly help the many I.C.E. detainees without getting herself into trouble that would keep her in prison, and away from her children, for even longer.  I loved seeing Joe Caputo (Nick Sandow) and Fig (Alysia Reiner) is a happy relationship!!  It was joyous to see this very weird, but very loving (in their own peculiar way) couple.  At first, I was surprised to see the show depict Caputo — one of the few men on the series who actually seemed to genuinely do right by the female inmates — as being brought down by a #MeToo accusation.  It seemed to me to undermine the legitimacy of the #MeToo movement by showing a genuinely good guy brought down by it.  But as the storyline progressed, I was pleased to be reminded that, when we first met Joe Caputo, he was far more of a scumbag than the nice guy he'd grown into.  It made sense that he shouldn't be excused for his previous transgressions, and I liked the journey we saw Caputo go on this season, as he himself came to understand that.
I loved Susan Heyward's work as Tamika Ward, the young woman unexpectedly thrust into the role of warden.  I enjoyed seeing the arc of her relationship with Taystee.  It was sad but felt right that, like so many of her predecessors with good intentions, Ward didn't last long in her position.  I enjoyed the story given to Maria Ruiz (Jessica Pimentel), as we saw her learning to ask forgiveness from those people in her life she had hurt.  I loved seeing garbage-hoarding Frieda (Dale Soules), and the wonderful revelation at the very end of her Shawshank Redemption-like plan!
And then we came to the finale.  I am always nervous when a long-running show reaches its finale.  It's very difficult to bring so many characters and storylines to a satisfying conclusion.  But I was extremely pleased with the series finale of Orange is the New Black.  I thought the show struck an excellent balance between not allowing too many out-of-reality Hollywood happy endings, while still allowing a few welcome glimmers of hope for the characters.  The tone was perfect, and I was left quite satisfied with where most of the characters wound up.  (Spoilers ahead, so read on with caution.)
I wasn't sure Taystee would make it out of this season, but seeing her as a teacher and financial advisor for other inmates was a perfect ending for her.  (Her scene convincing Judy King (Blair Brown) to sponsor her initiative was fantastic!!)  After the devastating death of Pensatucky in the penultimate episode, I didn't think they'd kill off Taystee too, but there were a few dicey moments there when I was worried.
The few small victories we saw other characters achieve were very satisfying.  It was a pleasure to see Gloria go free and reunite with her children; and I was happy that Black Cindy seems to reconcile with her mother and her daughter.  (Though, sadly, we never see her and Taystee mend their broken fences.)
Most importantly, I was pleased to see Piper actually, finally, seemed to make her own decision and stick to it.  I don't think the show wanted us to sympathize with her ex-husband Larry (Jason Biggs) when he sort of psycho-analyzes Piper when she drops by his apartment in tears, but I thought he was pretty spot on.  And I couldn't completely disagree with Piper's father, who didn't like Alex and didn't think she and Piper were a good match.  But still, I didn't like what seemed to be happening in the finale, in which Piper seemed to once again be letting other people guide her decisions.  Piper has often been a very passive character on this show.  That's by design, of course, but I was hoping to see some growth in her by the end.  And so I was very pleased that all wound up being misdirection.  I'm not sure Piper made the right decision to drop everything to move to Ohio to be with Alex, but it was HER decision, and that felt like the right final note for the character.  And after seven seasons of following Piper and Alex's love-hate relationship, it was nice to see them get a happy ending.
It was a perfect ending for Nicky to see her step into a new role as the new Red.  I loved seeing her done-up sort of like Red in that final scene.  On the other hand, it was so sad to see the sorry states that Red herself and Lorna wound up in.  Heartbreaking.
Speaking of heartbreaking: Did Aleida kill her daughter Daya??  I was surprised they didn't resolve that!!
My very favorite aspect of the finale was in how careful they were to show us glimpses of so many of the show's deep, deep bench of supporting characters who we hadn't seen yet in season seven.  Some of them we hadn't seen for many seasons!!  It made me so happy to see characters like Carrie "Big Boo" Black (Lea DeLaria), Erica "Yoga" Jones (Constance Shulman), Norma Romano (Annie Golden), Brook Soso (Kimiko Glenn), Alison Abdullah (Amanda Stephen), Janae Watson (Vicky Jeudy), Gina Murphy (Abigail Savage), Angie Rice (Julie Lake), Leanne Taylor (Emma Myles), and Anita DeMarco (Lin Tucci) again.  I was also delighted to see "Pornstache" (Pablo Schreiber) again, playing with Daya's baby on the floor of his kitchen!!  That was great.  (Though I was bummed we never saw the baby's actual father, John Bennett.  I've been waiting and waiting for him to pop up, ever since he unexpectedly dropped out of the show back in season three!!). I wish we'd seen more of Sophia Burset (Laverne Cox) this season, but I'm glad we at least got that scene between her and Piper in the antepenultimate episode.  I was also delighted that they found a way to work Poussey (Samira Wiley) into the penultimate episode.  That was sweet and very emotional.
I feel like this was the right time for Orange is the New Black to have ended.  Seven seasons is a good run.  I'm pleased the show ended with such a strong final season, and that they were able to do such a good job of bringing satisfying closure to the show's extremely large ensemble of characters.
Please support MotionPicturesComics.com by clicking through one of our Amazon links the next time you need to shop!  We'll receive a small percentage from any product you purchase from Amazon within 24 hours after clicking through.  Thank you!