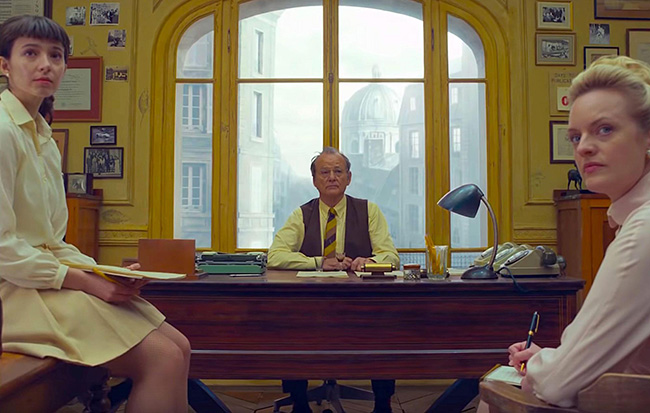 Josh Reviews The French Dispatch
Wes Anderson's latest film, The French Dispatch, is a salute to a very specific (and mostly vanished) type of journalism: the heyday of The New Yorker magazine and its writers.  The film itself is an anthology of several vignettes, beautifully structured to resemble the different features in a New Yorker style magazine.  As the film unfolds, we're introduced to several of the peculiar and eccentric writers for The French Dispatch of the Liberty, Kansas Evening Sun — based in the fictional French city of Ennui-sur-Blasé — as well as their even more iconoclastic subjects.
I've been a fan of the films of Wes Anderson ever since The Royal Tenenbaums, and I found The French Dispatch to be a delight from start to finish.  As with so many of Mr. Anderson's films, The French Dispatch strikes a particular balance between humor and a type of bittersweet nostaligia for an  time & place that has passed.  Magazines like The French Dispatch no longer really exist, and the film makes you feel the tragedy of the passing of this particular type of journalism.  As the film unfolded, I found myself quite taken by the film's loving depiction of writers, these men and women who invest themselves fully in a story and do their best to capture the essence of who and what they witness using only the written word.  (Many of the characters in the film are loosely based on actual writers for The New Yorker; click here for reflections from a current writer for The New Yorker.) 
Just as the writers in the film attempt to do so, so too does the film itself manage to capture and express a very specific tone and sense of time (or timelessness) and place.  Neither the magazine The French Dispatch, nor the town of Ennui-sur-Blasé in which it is located, nor any of the characters or situations depicted in the film, actually exist.  And yet, they feel so tactile and real to me!  Mr. Anderson's distinct visual style always has an artificiality to it; at the same time, I think his approach can be fantastically effective at conveying to the viewer the essence of the people and places being depicted on screen.  It seems counterintuitive, but I think it's one of my favorite aspects of Mr. Anderson's unique approach to cinema.
As usual, Mr. Anderson's whimsical and moving stories are brought to life by an astonishing array of talented actors.  Bill Murray is a delight in every second he's on screen as the deadpan, tough but supportive (and now deceased) editor of The French Dispatch, Arthur Howitzer Jr.  His paper's production staff are brought to life by, among others, Elisabeth Moss, Jason Schwartzman, Fisher Stevens, Wally Wolodarsky (one of the key writers during the early years of The Simpsons).  Tilda Swinton plays writer and art historian J.K.L. Berensen, presenting the tale of the convicted murder and brilliant painter Moses Rosenthaler, played by Benicio del Toro.  Adrien Brody plays Julien Cadazio, the art dealer obsessed with Moses' work, while Léa Seydoux plays Simone, Moses' muse and model (and also a guard at the prison where he is serving out his sentence).  Bob Balaban and Henry Winkler play Julien's uncles and fellow art dealers.  Frances McDormand plays the writer Lucinda Krementz, chronicling the French student revolutionaries led by a young man named Zeffirelli, played by Timothée Chalamet.  Lyna Khoudri plays Juliette, a fellow student revolutionary, while Christoph Waltz pops up briefly as Paul Duval, a friend of Zeffirelli's parents.  Jeffrey Wright plays writer and food critic Roebuck Wright, who is being interviewed on an old-style talk-show by a host played by Liev Schreiber.  Wright is telling the story of Nescaffier, played by Stephen Park, a police officer and chef who specializes in a specific (and very bizarre!) type of police cuisine.  Mathieu Amalric plays the police Commissaire whose son winds up kidnapped by a group led by a former chauffeur played by Edward Norton.  Willem Dafoe and Saoirse Ronan have small roles as two other characters involved in the plot.  Owen Wilson plays Herbsaint Sazerac, a bicycle-loving travel writer, while the whole shebang is narrated by Anjelica Huston.
What an ensemble!  Every single member turns in memorable work.  I need to watch this film again so that I can soak up every detail of their performances.
And of the film's beautiful production design.  As always for a Wes Anderson film, every detail of the film's costumes, sets, and props has been beautifully considered.  Each frame of this film has so much visual detail to absorb, it's more than can possibly be taken in on a first viewing.  This is a film with many layers to be enjoyed upon repeat viewings.
One in specific?  The gorgeous and note-perfect fake covers to various issues of The French Dispatch that are displayed over the film's closing credits.  Wonderful!  Just when I didn't think I could love this film any more, here come these gorgeous works of artistic homage.
I love the way the film shifts between beautiful black-and-white imagery and color.  The color is not only used to punctuate several important moments in the film; it is also a very specific, stylized type of color that, for me, sets the film in a very distinct and specific time-that-has-passed.  The color helps create the film's sense of warm though bittersweet nostalgia.
I also have to compliment the film's lovely score by Alexandre Desplat and Randall Poster, and in particular the beautiful piano solos by Jean-Yves Thibaudet.  This music is an important piece in creating the film's specific and unique tone.
A new film by Wes Anderson is always exciting to me.  I am so pleased that The French Dispatch did not disappoint.  In you're not a fan of Mr. Anderson's approach and style, I could see this film stretching your patience.  For me, it was pure pleasure.
Above photo © Searchlight Pictures – American Empirical Pictures.
Click here to purchase my "Maclunkey" Star Wars/Highlander mash-up t-shirt!

Please support MotionPicturesComics.com by clicking through one of our Amazon links the next time you need to shop!  As an Amazon Associate, I earn from qualifying purchases.  That means I'll receive a small percentage from any product you purchase from Amazon within 24 hours after clicking through.  Thank you!