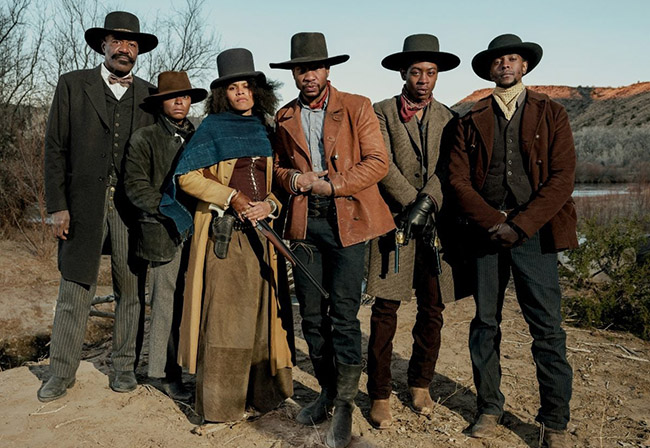 Josh Reviews The Harder They Fall
The Harder They Fall is a new Western film, released on Netflix, directed by Jeymes Samuel and written by Mr. Samuel & Boaz Yakin (Now You See Me).  As the film opens, a young boy watches his parents murdered at their dinner table by an outlaw with beautiful golden pistols.  Years later, that boy — Nat Love — has grown up into the charismatic leader of a gang, and he's made it his mission to hunt down anyone connected to that outlaw, Rufus Buck.  Just as Nat thinks he's found the last of that group, he learns that Buck has been pardoned and released from prison.  While Buck regathers his gang and looks to regroup in the city, Redwood, that he oversees with an iron thumb, Nat Love regathers his own ally and prepares to finally confront Buck and avenge his parents.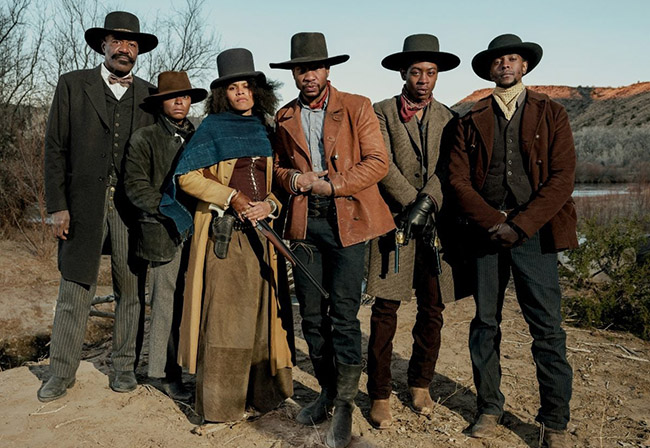 The Harder They Fall is making a lot of news because it's a Western with an African-American cast.  The film's opening text — as well as the bulk of Mr. Samuel's publicity in support of his film — emphasize that, while this particular story is fiction, the idea that there were people of color involved in these sorts of stories in the Old West was definitely true.  In a recent interview with Vanity Fair, Mr. Samuel said: "If you take away the narrow, white-male-centric stories we were given, then that means you have a whole universe of stories with women of actual dominance, with people of color, all races. You have a whole genre. Basically, you have a genre where 90% of it is unexplored."  I've seen this film described as a "reimagining" of a Western, but Mr. Samuels argues that "I reimagined nothing. Hollywood reimagined the Old West. I'm just giving them a broader viewpoint of what life was like."  In other worlds, it is Hollywood's version of the Old West — in which the stories are centered on white men; in which women barely feature unless they're prostitutes, and people of color are nowhere to be found — that is false, and what Mr. Samuel is attempting to do in this film is bring back the reality that women and people of color did exist in this world and had stories of their own to tell.
The cast that Mr. Samuels has assembled is phenomenal.  I loved Jonathan Majors' eccentric, bizarre performance as "The One Who Survived" in the finale of Loki, and he is absolutely dynamite here in the leading role of Nat Love.  Mr. Majors is spectacular — this is a true movie-star performance.  Nat is smooth and charismatic and we can see why he's been able to gather a group of loyal followers around him.  Nat is clever and brave and capable; but also, he's not a super-human and he's not infallible.  This is an iconic Western character and I'd love to follow him on additional adventures.
The great Idris Elba (The Wire, Luther) plays Nat's nemesis Rufus Buck.  Mr. Elba also boasts a fiery magnetism, but he's turned it to play a character who is fierce and cold and hard.  Buck is a fantastic villain, scary and intimidating.  And yet, here too, the film allows Rufus to have some humanity.  I love his relationship with Regina King's Trudy Smith, and when we finally get to see the pain inside Buck at the end of the film, it's a wonderful turn and a magnificently-performed scene by Mr. Elba.
Zazie Beetz (Atlanta, Joker) is fantastic as Stagecoach Mary.  Mary and Nat clearly have a strong connection and also a complicated past; I love their chemistry in the film.  Ms. Beetz is magnetic in the film; her Mary is the perfect counterpart for Nat — she's just as clever, just as brave, just as capable.  I love that the film presents Mary as an equal to Nat.  (One exception: she makes a dumb move strolling into Rufus' town of Redwood in the middle of the film.  I almost yelled at the screen when she did that!)
I mentioned Regina King (Watchmen, The Leftovers, One Night in Miami…) above; she is all fiery intensity as Trudy Smith, Rufus' right-hand-woman.  Trudy might be the toughest, scariest character in the film!
Lakeith Stanfield (another Atlanta alum, along with Zazie Beetz) is magnetic as Cherokee Bill, the quick-draw killer in Buck's gang.  Bill is renowned as the fastest-draw in the area, and he doesn't seem to blink at murdering someone in cold blood.  At the same time, Mr. Stanfield gives Bill a beguiling gentleness.  He's so likable despite being a murderer and a villain!!  What a great character; what a great performance.
I haven't even scratched the surface of all of the amazing actors in the film!  The great Delroy Lindo (who played the father of Jonathan Majors' character in Da 5 Bloods) is fantastic as the marshall, Bass Reeves, who forms a reluctant alliance with Nat Love in order to bring Rufus Buck down.  Danielle Deadwyler is incredible and memorable Cuffee, the tough woman guarding the door at Mary's saloon who joins Nat and Mary when they head after Buck.  RJ Cyler (Me and Earl and the Dying Girl) is terrific as the Jim Beckwourth, the jovial young man in Nat's gang who is eager to prove that he's a faster draw than Cherokee Bill.  Edi Gathegi (Gone Baby Gone, X-Men First Class) brings tremendous warmth and humanity to the role of Bill Pickett, the wise sharpshooter in Nat's gang.  Deon Cole (Angie Tribeca) is extremely memorable as Rufus Buck's untrustworthy former comrade Wiley Escoe, who took over the town of Redwood when Buck was in prison.
What a cast this is!!  I'm bowled over by what a group of talented performers Mr. Samuel was able to assemble, and one of the great joys of the film is the space Mr. Samuel gives each of them to develop and explore their characters.  The Harder They Fall is… well, it's leisurely paced.  At two hours and twenty-minutes in length, the film feels to me like it's a good 20-30 minutes longer than it needs to be.  (I actually watched this in two parts, over two nights.  I usually am loathe to watch a movie in two parts, but in this case I think it meant I enjoyed the movie even more than I would have otherwise.  I think I might've gotten antsy mid-way through had I watched this in one sitting.)  But it's hard to complain about the film's length, because I think I huge part of the reason the film is as long as it is is because Mr. Samuel allows the film to linger on his characters, giving each of them lots of small moments that might easily have ended up on the cutting room floor in another film, but here help to create the whole tapestry of this film's world and its character.
I loved how playful Mr. Samuel allows this film to be.  There are a number of fun devices that remind me of Quentin Tarantino's films.  Not just the use of modern music on the soundtrack, but all sorts of fun bits and pieces such as, for example, the "title card" freeze-frames and text captions as the film introduces each member of Nat and Buck's gangs.  I love those touches!  They give the film a live-wire sense of fun that elevates it from many other films in this Western genre.  (Though don't get me wrong — this isn't a farce or a comedy!  This is a deadly-serious drama with some true tragedy contained within.)
I was quite taken with this film!  I'm not a huge fan of Westerns, in general, but this amazing cast and the film's playful, modern sensibility really drew me in.
Click here to purchase my "Maclunkey" Star Wars/Highlander mash-up t-shirt!

Please support MotionPicturesComics.com by clicking through one of our Amazon links the next time you need to shop!  As an Amazon Associate, I earn from qualifying purchases.  That means I'll receive a small percentage from any product you purchase from Amazon within 24 hours after clicking through.  Thank you!