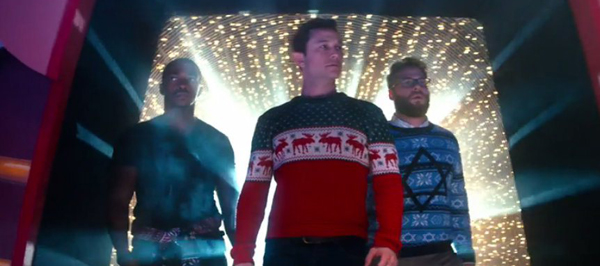 Josh Reviews The Night Before
Well, its title is pretty generic and meaningless but other than that I have little bad to say about The Night Before, the fun and funny new raunchy buddy comedy starring Seth Rogen, Joseph Gordon-Levitt, and Anthony Mackie.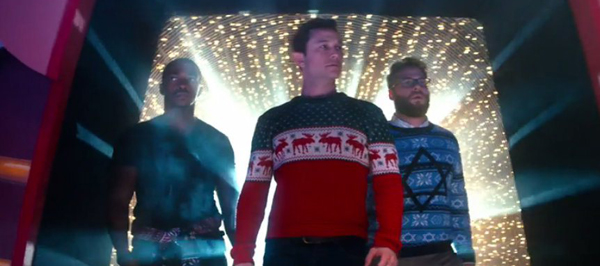 Director Jonathan Levine can pretty much do no wrong in my book,  I adored his film The Wackness (definitely track it down, you won't regret it) and really dug 50/50 (a film about a guy getting cancer, which seems like an extremely perilous subject around which to center a comedy, but Mr. Levine nailed it.). The dynamic of the friends in 50/50 was a lot of fun, so I loved seeing Mr. Levine reunited with Seth Rogen and Joseph Gordon-Levitt here in this film, and Anthony Mackie (so solid in the last several Marvel films as Sam Wilson) is a great addition to the ensemble.  The three men really sell the idea that these three guys are life-long friends, which is critical to this film's working as well as it does.
In The Night Before, Ethan (Joseph Gordon-Levitt), Isaac (Seth Rogen) and Chris (Anthony Mackie) are best friends who, for fifteen years, have always spent Christmas Eve together, partying.  It began as a way for Isaac and Chris to help Ethan get through the death of his parents, and then continued as an ever-escalating tradition of fun and mayhem.  But now, with Isaac about to be a father and Chris achieving fame as a football star, the guys have decided that this will be the final year of their Christmas Eve tradition.  After one final crazy blow-out evening, of course!
The Night Before isn't a ground-breaking comedy by any stretch of the imagination, but it's a lot of fun.  It's a sort of cozy slipper sort of comedy, in that it's fun to see these actors have a vehicle that allows them to bounce off of one another.  There are some home-run sequences of comedy in the film, and also a solid underpinning of character-work that gives the film some weight.  Mr. Levine balances the tone deftly, so that you care enough about the characters to engage in their stories.  But the film thankfully doesn't get all dewey-eyed and sappy in the third act as some comedies make the mistake of doing.
This deep into Seth Rogen's career (I've been a fan ever since Freaks and Geeks almost two decades ago), it feels perhaps like a step back to have him play a character whose basic story is that he is wigging-out on all sorts of drugs for the whole film.  (The idea in the story is that Isaac is a pretty normal, well-adjusted grown-up.  But on the eve of her giving birth, his wife gives him the gift of a box full of drugs to help him have a crazy fun night with his friends.)  But holy cow is Seth Rogen still the best actor to play that kind of role, by a mile.  Most of the film's biggest laughs come from the craziness that Isaac gets himself into as the drugs collide in his system.
I love Lizzy Caplan (Party Down) so it was great to see her in the film.  She plays Diana, the girl who Ethan let get away.  The two of them bump back into one another at the start of the boys' night.  Ms. Caplan plays a more adult character in Masters of Sex these days, so it was fun to see her playing "younger" here as a thirty-something single woman having fun in the city.
Mindy Kaling is great as Sarah, Diana's friend.  She has some terrific scenes with Seth Rogen.  Jillian Bell plays Isaac's wife Betsy, and she is perfect in the few scenes she's in.  (I love that the Betsy character isn't written or played as the shrewish girlfriend/wife who the fun-loving guy has to avoid in order to have fun.  The movie sets up that it's Betsy who pushes Isaac to go crazy on his night out with his mates, and I also loved the resolution of the secret cell-phone message that Isaac thinks he needs to keep hidden from her.)
Then there is Michael Shannon, who absolutely destroys the role of the drug-dealer Mr. Green.  What genius casting to include Mr. Shannon — who generally plays intense, dramatic roles — in this comedy.  His crazy intensity is absolutely hilarious to behold here.  He steals the movie.
Well, except for James Franco's cameo.  I don't know when or how the running joke about Franco and Rogen being in love with one another began, but it's been a through-line running through so many of these guys' films, and the way they play with that idea here absolutely floored me.  Genius.
The Night Before is a fun romp.  It's silly and good-hearted and I enjoyed the heck out of it.