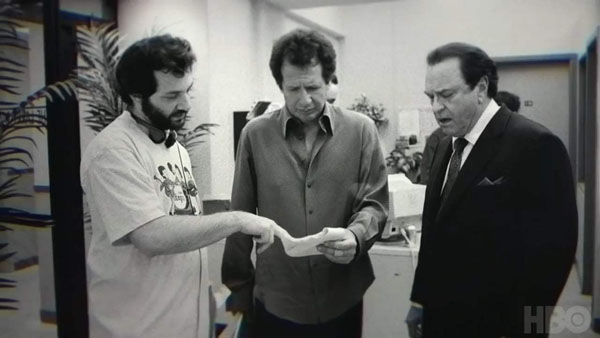 Josh Reviews The Zen Diaries of Garry Shandling
I've been a huge fan of Garry Shandling for as long as I can remember.  Mr. Shandling was a genius-level stand-up comedian, and he masterminded two of the greatest television shows ever made: It's Garry Shandling's Show and The Larry Sanders Show.  It was Larry Sanders that made me a forever fan of Mr. Shandling's, and that drove me to go back and discover the rest of his amazing work.  I've spent uncounted hours watching old clips of Mr. Shandling on the stand-up circuit and on The Tonight Show, and I have watched and rewatched The Larry Sanders Show many times.  ("It was a back tooth, Hank," might be one of the funniest lines ever spoken on a TV comedy.)  When Mr. Shandling passed away in 2016, it was a huge loss.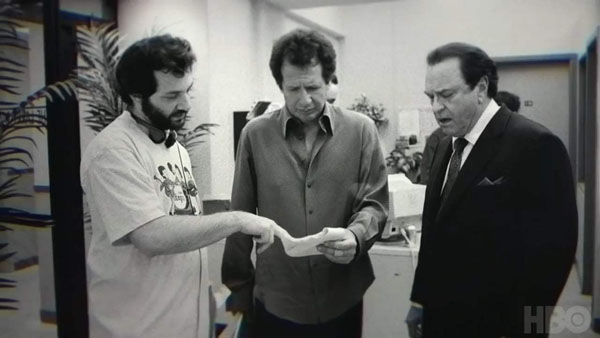 I have also been a huge fan of Judd Apatow's for quite some time, ever since Freaks and Geeks (the amazing series created by Paul Feig and produced by Mr. Apatow back in 1999-2000).  I continue to adore Freaks and Geeks to this day, and I have rewatched those eighteen near-perfect episodes many times.  I also loved Mr. Apatow's follow-up TV show, Undeclared (also killed before its time after one fantastic season), and I have followed his movie career avidly:  The 40 year-Old Virgin, Knocked Up, Funny People, This is 40, and Trainwreck.  Mr. Apatow has also shown his talents as a skilled and prolific producer, helping to shepherd projects such as Anchorman: The Legend of Ron Burgundy, Superbad, Talladega Nights: The Ballad of Ricky Bobby, Pineapple Express, Walk Hard: The Dewey Cox Story, Forgetting Sarah Marshall, Get Him to the Greek, Bridesmaids, Wanderlust, The Five-Year Engagement, The Big Sick… and many more!  That is quite a list of incredible comedic films with which Mr. Apatow has been involved, no?
Mr. Apatow wrote for The Larry Sanders Show and eventually served as a co-executive producer.  In many interviews over the years, it's been clear how much of a mentor Garry Shandling was to him.  Mr. Apatow's appearance on Jerry Seinfeld's Comedians in Cars Getting Coffee, filmed not long after Mr. Shandler's death, is almost more about Garry Shandling than it is about Mr. Apatow himself!
And so I was not at all surprised when I read that Mr. Apatow was working on a documentary film about Garry Shandling.  As a huge fan of both comedic talents, I was excited to see what Mr. Apatow would create.
The result, The Zen Diaries of Garry Shandling, is a behemoth: an almost five-hour film, shown in two parts on HBO.  But I'm here to tell you, I could have watched five more hours of it.  I was absolutely captivated by the film from start-to finish.
First and foremost, the film is a remarkably intimate, in-depth look back at Mr. Shandling's life and career.  Mr. Apatow knew Mr. Shandling well, which was a great benefit to this project as it clearly allowed Mr. Apatow to know exactly with whom speak and what areas to cover in order to create this portrait of Mr. Shandling's life.  Additionally, after Mr. Shandling's death, Mr. Apatow was given access to an extraordinary wealth of material from Mr. Shandling's life, most notably Mr. Shandling's voluminous notes and diaries that he kept for his entire life.  Again and again, this film shows us on-screen these actual notes that Mr. Shandling wrote — thus allowing us an incredible access into Mr. Shandling's inner life: what he was thinking and feeling.  It's remarkable, and it allows this film to take us right inside Mr. Shandling's head and heart.  Mr. Apatow's prominence in the comedy world and wealth of connections also bore fruit, as the film is filled to overflowing with fascinating, funny, heartbreaking, and insightful interviews with so many of the men and women who were close to Mr. Shandling during his life.
The film is, of course, very funny.  It is filled with fantastic clips from throughout Mr. Shandling's career.  We get to see lots and lots and lots of incredible moments from throughout his stand-up career and from so much of his work on TV and on film.  Everything you hope to get covered is touched upon in the film.  (There's even a lengthy sequence exploring Mr. Shandling's innovative approach to creating the special features from the DVD release of The Larry Sanders Show!  As someone who has watched every fascinating second of those bizarre and intimate special features, I was so happy to get this look at their production!)  Of course, the film spends quite a good deal of time on both It's Garry Shandling's Show and The Larry Sanders Show, with plenty of clips and wonderful behind-the-scenes footage from both groundbreaking shows.
But the film is more interested in presenting a complete picture of Garry Shandling the human being than it is in creating a complete picture of Mr. Shandling's career.  (Even though the film DOES give us a very complete picture of Mr. Shandling's career!!)  This gives the film its emotional depth.  I found it to be quite moving at times.  (Just one example: I was struck by the intensity of the emotion in the clip of Bob Saget talking about how Mr. Shandling cut him out of his life after Mr. Shandling's contentious lawsuit with former manager Brad Grey, with whom Mr. Saget had continued to associate.)  If the documentary has one flaw in my mind, it's that I think it might somewhat overemphasize the effect of the death of Mr. Shandling's brother at a young age might have had on him.  Clearly Mr. Apatow and his team believe that this event shaped Mr. Shandling's life, but as a viewer it felt perhaps a tad reductionist and/or overly simplistic.  Still, I can't criticize too much this attempt to get to the core of Mr. Shandling as a person, as that gives the film an emotional weight that a simple stroll through his career wouldn't have had.
Mr. Apatow himself pops up repeatedly in the film.  Rather than trying to hide his connection with Mr. Shandling, Mr. Apatow uses that connection to fuel the story.  We frequently see Mr. Apatow on-screen talking with the interview subjects, and referring to his own experiences with Mr. Shandling.  It's always risky when a documentarian includes him or herself in their own film, but for me this works here.  Mr. Apatow's connection to Mr. Shandling, and also his curiosity about this man who had clearly remained somewhat enigmatic to him, is genuine, and so I didn't object to that as an element of the film.
Alan Zweibel, Peter Berg, James L. Brooks, Bob Saget, Jerry Seinfeld, Kevin Nealon, Conan O'Brien, Jeffrey Tambor, Peter Tolan, Jim Carrey, David Duchovny, Linda Doucett, Sarah Silverman, Sacha Baron Cohen, Dave Coulier, and so many more comedic talents appear in the film to talk about Mr. Shandling.  And, as I have mentioned, the film is overflowing with fly-on-the-wall, behind-the-scenes footage gathered from throughout Mr. Shandling's career.  (One of my favorite moments was, late in the film, a clip of Jerry Seinfeld and Chris Rock backstage at a club watching Mr. Shandling perform.  It's a quick moment, but it's fascinating to see, for just those few seconds, the way those extraordinary talents saw Mr. Shandling.)
For any fans of Garry Shandling, or stand-up comedy in general, The Zen Diaries of Garry Shandling is a must-see.  Clear your schedule.