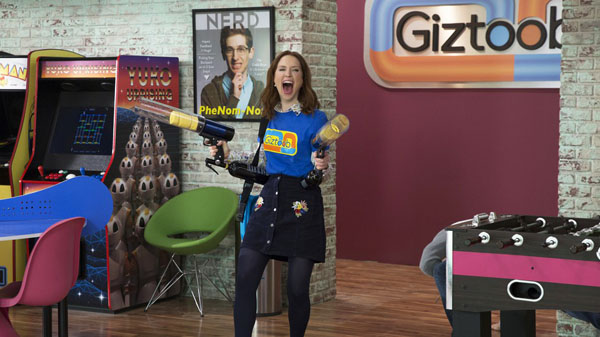 Josh Reviews Unbreakable Kimmy Schmidt Season Four Part One!
I've enjoyed Unbreakable Kimmy Schmidt right from the get-go, and I'm bummed that this fourth season has been announced as the last.  (I am hoping that rumors of a concluding movie aren't just wishful thinking!)  This fourth season so far shows that the show remains at the top of its comedic game.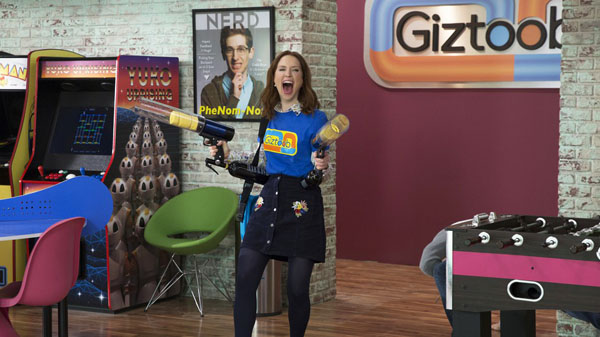 Unlike the previous three seasons, this fourth season has been broken up by Netflix into two parts.  The first six episodes are available now, with the concluding episodes not coming until January, 2019.  On the one hand, I hate having to wait so many more months for the concluding episodes!!  On the other, though, I could get behind this sort of release pattern for more streaming shows.  The way so many shows work now, we get all 10 or 13-ish episodes of a season dropped on the same day, and for the shows I love I often wind up watching them all very quickly.  I'm not the type of person to binge a whole season in a day or two, but particularly if we're only talking about half-hour episodes, I could easily get through a season in a week.  Then I have to wait a whole year (or more!!) for additional episodes.  That long wait between seasons is painful.  So I don't think I would mind if more shows started breaking up their seasons into two or three smaller groups of episodes to drop at different points during the year.  But I digress…
These latest episodes of Kimmy Schmidt continue the style begun by Tina Fey's great show 30 Rock of super-fast-paced comedy, with tons and tons of jokes crammed into every minute of every episode.  (I often have to go back and rewatch a scene because there were so many jokes on top of jokes that I missed many of them the first time through.)  Kimmy has also continued 30 Rock's somewhat fantastical approach to reality, unafraid of bizarre and very silly digressions.  I loved those qualities in 30 Rock, and I love them in Kimmy.  
While Kimmy might not quite be able to match the comedic highs of 30 Rock (and no character on Kimmy can top the powerhouse comedic creation of Alec Baldwin's Jack Donaghy), I've come to love all of the Kimmy main characters more than I ever quite connected to any member of the 30 Rock ensemble.  Top of the list is Ellie Kemper's Kimmy.  The indefatigably sunny Kimmy is not only an evergreen fountain of comedy, but also a character for whom it is impossible not to root.  She's a wonderful anchor for the show, and she gives the whole enterprise an uplifting, good-for-the-soul feeling.  It's easy to take Ms. Kemper's performance for granted, but the strength of her work cannot be overstated.  Tituss Burgess remains as wonderfully insane as ever as Titus Andromedon.  I'm glad the Kimmy team has resisted the urge to smooth off Titus' rough edges, as usually happens in most TV shows once they've been around for a few years.  Titus has grown a little bit as a human being because of his connection with Kimmy, but for the most part he remains as deluded and selfish as ever, and I love that.  When the show began, I wasn't wild about Jane Krakowski's character of Jacqueline.  I didn't find her all that funny, and the character seemed a bit of a retread of Ms. Krakowski's 30 Rock character, Jenna.  But I love the way Jacqueline has developed.  Getting Kimmy out from under her thumb has done wonders for both characters.  This season's story of Jacqueline working as Titus' agent is great, and having her operate out of the tech-office in which Kimmy now works was a stroke of genius.  It makes it easy to have Kimmy and Jaqueline continue to share scenes, and any interaction between Jacqueline and the office tech geeks proved to be comedic gold.  Finally there is Carol Kane as Lillian Kaushtupper; if there's one thing for which Unbreakable Kimmy Schmidt deserves specific praise, it's bringing the great Carol Kane back into our homes on such a regular basis.  I enjoyed last season's romance story for Lillian, but it wound up separating her a lot from the other main characters.  I'm pleased to see her more back in the fold this season.
Amidst all of the zany comedy, I enjoyed the way the show, in this latest half-season, addressed #MeToo and issues concerning the behavior of men towards women.  The idea of Kimmy herself being the target of a sexual harassment claim was a clever one — it allowed the show to be playful with these ideas while still making a strong statement.  It's dangerous for a comedy to start to get too preachy, and for the most part I was happy that Kimmy avoided those pitfalls.  (Kimmy's story/script idea about boys with a monster living inside of them veered perilously close to being too on the nose, but in the end I thought it worked OK.)  Also, I can forgive a lot if the comedy is still coming fast and furiously, and these six episodes definitely delivered on that.
A highlight for me this season was episode three: "Party Monster: Scratching the Surface."  The entire episode was a fake documentary by an idiot DJ about the DJ alter-ego of the Reverend Richard Wayne Gary Wayne (Jon Hamm) who had held Kimmy and other women prisoner in the bunker.  Tina Fey's shows have previously done this sort of experimentation (Tituss Burgess' first time in the spotlight on a Tina Fey show was in a similar-style 30 Rock episode, "Queen of Jordan," that depicted an episode of an inane reality series), but I found this one to be far funnier.  I was impressed by every moment we saw of the ridiculous documentary made by a doofus (DJ Fingablast — what a gloriously profane and juvenile name) who idolizes the Reverend's former DJ identity.  The whole thing was a phenomenal send-up of true-crime documentaries and TV shows, and it's always a delight when Jon Hamm returns to the show.  Derek Klena was terrific as DJ Fingablast, effortlessly carrying the episode, and I loved Bobby Moynihan as "men's rights activist" Fran Dodd.  (This character represented the season's strongest attack on privileged white male behavior.  Fran Dodd is a potent condemnation of men everywhere who think they "deserve" anything from any woman.)  As if all of that wasn't enough, I was particularly delighted to see the first actual appearance on the show of the auto-tune guy from the opening credits!!  Genius!!
There were lots of other highlights in this run of six episodes.  I loved the "little girl, big city" fake new theme song for Kimmy ("this is the show, now!").  I loved seeing Carol Kane paired up with Busy Phillips (playing Artie's messed-up daughter).  I loved Kimmy's imaginary singing backpack Jan.  I was happy to see Xanthippe return in the final episode of this batch of six.  (Like the character of Jacqueline, I didn't care much for Xan back in season one, but the writers have found much better ways to use her now.)  I'm not sure I find C.H.E.R.Y.L the robot quite as amusing as the writers apparently do, but dang it if I haven't started to find her somewhat endearing too.
Also: I will now never not think of "Al Gore Rhythm" when I see or hear the word "alogrithm."
On the more serious side, one of the best and most interesting punches this new half-season threw was in the second episode, "Kimmy Has a Weekend!", in which the show managed to say some very complex, nuanced things about white privilege (all while being as non-stop funny as always).  In that episode, Kimmy was upset by what she saw as the mistreatment of the women working in the salon where she and Titus go to get manicures/pedicures.  The show has emphasized since the beginning that Kimmy doesn't like being seen as a victim because of her experiences being held in the bunker.  But here, suddenly she feels the opposite, as she finds that she wants the women in the salon to know that she's been through this trauma, that she's different from the other white women who come in to get their nails done.  But Titus suggests that she'll find it harder than she thinks to overcome her white privilege (a point that the show demonstrates with a devastating scene in which Kimmy is encouraged by a salesperson to take a test walk of a fur coat around the block, while Titus is chastised for even thinking about the coat).  I love the ways in which the show has used Kimmy's experiences in the bunker not just as a comedic set-up (which it has done again and again, very effectively), but also to tell stories about the lingering effects of trauma.  In this season that has focused more strongly than ever on the mistreatment of women — an issue built into the show's "women held prisoner in a bunker" premise — I was delighted at how the writers were able to weave these issues together, while avoiding any overly pat and simplistic answers.  And, at the risk of repeating myself too often, they always kept the jokes coming at a rapid clip, which made their delivery of those themes more effective.
I love this show!  These six episodes were as strong as ever.  I'm sad that show is so close to its end.  I can't wait for the final run of episodes in 2019.