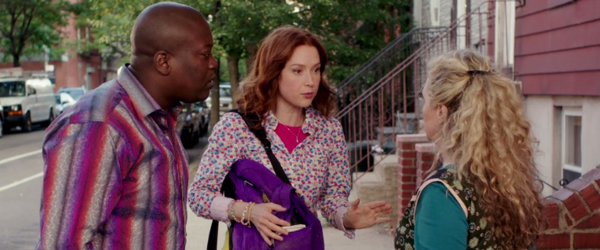 Josh Reviews Unbreakable Kimmy Schmidt Season One
Tina Fey and Robert Carlock have followed up the magnificent 30 Rock with another wonderfully unique, funny, sweet creation: Unbreakable Kimmy Schmidt.  The show was developed for NBC who, for some unfathomable-to-me decision, passed on the show after the entire thirteen-episode first season had been completed.  Thankfully Netflix rode to the rescue to release the first season (and commissioned a second one!).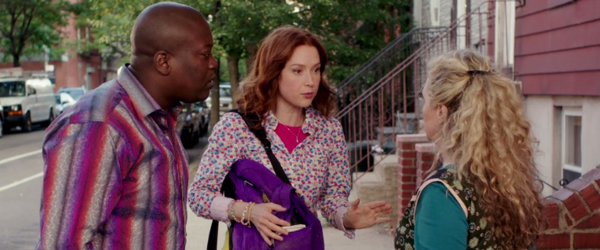 Ellie Kemper (The Office, Bridesmaids) stars as the titular Kimmy Schmidt who, when the show begins, has just been rescued from 15 years of captivity underground, where she was held along with three other women by an apocalyptic cult leader.  Ready to start a new life, she moves to New York City where she finds an apartment to share with the jovial, wannabe-Hollywood star Titus Andromedon (Tituss Burgess) and a job as a nanny for the wealthy, neurotic Jacqueline Vorhees (30 Rock veteran Jane Krakowski).
What's so remarkable about Unbreakable Kimmy Schmidt is its tone.  The show manages to pull off an unapologetically positive, upbeat vibe, something very rare in a post-Seinfeld era of snarky comedies.  Note: I am not criticizing all snarky comedies, and I think Seinfeld is one of the greatest TV shows ever made.  But what a refreshing delight it is to watch a comedy that manages to be very funny and also so life-affirming and upbeat.  As we get to know Kimmy over the course of these first thirteen episodes, we see that her positive outlook on life has made her spirit "unbreakable", and the show shows us how her sunny disposition is able to positively affect those around her.  This is a very sweet idea for a show, and it's impressive that Ms. Fey & Mr. Carlock and their team are able to pull this off so smoothly.  (I love that all of the show's episode titles end with a jovial exclamation point!)
And make no mistake, the show is very funny.  Unbreakable Kimmy Schmidt possesses the fast-paced loopiness and quotability that made 30 Rock so endearing, as well as that show's ability to dive deeply into a gag.  As an example: Titus' "Pinot Noir" music video from episode six, "Kimmy Goes to School!" is a triumph, and one of the best things I have seen on TV all year.
The show represents a star-making turn for Ellie Kemper.  Ms. Kemper has demonstrated her comedic chops on TV (The Office) and on film (Bridesmaids), but in Kimmy she has found her greatest role so far.  Ms. Kemper is tremendous in the role, able to sell both Kimmy's toughness and her sweet innocence.  She's able to play both the straight-woman (particularly in any scene with Tituss Burgess or Jane Krakowski) and the nutty one, and make it all feel like one real, unified character.  She is perfectly cast, and it's clear that in this short run of episodes she has made this role her own.  I hope to be able to see her playing this character for many seasons to come.
Tituss Burgess appeared on 30 Rock as D'Fwan, a member of the entourage that surrounded Tracy Jordan's wife.  He was somewhat funny, but it always felt to me like a character who the 30 Rock writers found far funnier than I did.  So color me impressed at Mr. Burgess' wonderful work here in Unbreakable Kimmy Schmidt.  Mr. Burgess is a revelation, an absolute delight in every scene that he is in.  He is so funny, and his line readings always seem to tickle me just right.  Titus Andromedon is a cartoon, but Mr. Burgess plays the role with the perfect balance of lunacy and humanity to keep Titus as a character who we can like and care about.
Jane Krakowski is a hoot as the wealthy, spoiled woman for whom Kimmy starts to work.  Ms. Krakowski honed her ability to play rich and oblivious to a tee on 30 Rock, and Jacqueline Voorheees certainly shares a lot of character DNA with Jenna Maroney, though Jacqueline gets to show a little more humanity and vulnerability than Jenna ever really did.  I loved the amount of time spent this first season exploring Jacqueline's out-of-left-field Native American heritage.  (Every single time the show flashed back to young Jacqueline and her parents was a winner.)
I had no idea that the great Carol Kane was a main character on this show — what a fantastic surprise!  Ms. Kane (Taxi, The Princess Bride, Annie Hall, Scrooged) plays the wonderfully named (but hard to type) Lillian Kaushtupper, the tough, crotchety but caring land-lady who owns the apartment that Kimmy and Titus rent.  God bless Ms. Fey and Mr. Carlock for making such perfect use of the still ferociously talented Ms. Kane.
The show had some great guest-stars in this first season.  There was Martin Short, hitting a home run as a plastic surgeon addicted to his own plastic surgery in "Kimmy Goes to the Doctor!", Richard Kind as a depressed failure of a teacher in "Kimmy Goes to School!", Dean Norris (Breaking Bad) as a coach hired to help Titus pass as a heterosexual in "Kimmy's in a Love Triangle!",  Kiernan Shipka (Mad Men) as Kymmi, Kimmy's half-sister in "Kimmy has a birthday!" and Amy Sedaris pops up for one terrific scene as a depressed, divorced former friend of Jacqueline's in "Kimmy is Bad a Math!".  Tim Blake Nelson appeared repeatedly as Kimmy's doofus of a stepfather; Jon Hamm (who demonstrated his comedy chops in several great guest star appearances on 30 Rock) had a major role at the end of the season as Reverend Richard Wayne Gary Wayne, the man who kidnapped Kimmy; and Tina Fey herself popped up, along with Jerry Minor, playing incompetent prosecutors (in what was a somewhat weird, prolonged OJ trial joke).

Actually, that whole trial of Revered Richard Wayne Gary Wayne in the final three episodes was the show's only mis-step in this first season.  I like the idea of adding a little drama, and some stakes for the characters, into what had been a fairly silly, frothy show.  But the idea of Jon Hamm's crazy Reverend character escaping justice was more horrifying than it was funny, since we'd already come to care so  much about Kimmy at that point.  I like the idea in theory of bringing the Reverend back into the story, so Kimmy could face him and move on.  But I didn't love the tone of those final few episodes.  They just weren't nearly as funny as what had come before.
Hey, have I really written so many paragraphs about Unbreakable Kimmy Schmidt without mentioning the show's best attribute: it's amazingly wonderful, singable theme song?  In an era in which the idea of a TV theme song is somewhat passe, god bless the folks behind this show for coming up with one of the best solutions to a modern-day theme song/opening credits I have seen in a long time.  This is the best TV theme song since Firefly.  It's delightfully perfect.  I can't get enough of it.
There's a lot of greatness in this strong first season of Unbreakable Kimmy Schmidt.  At just thirteen half-hour episodes, you'll breeze through the whole run in no time.  Thank you, Netflix, for saving this show!!  Bring on season two!