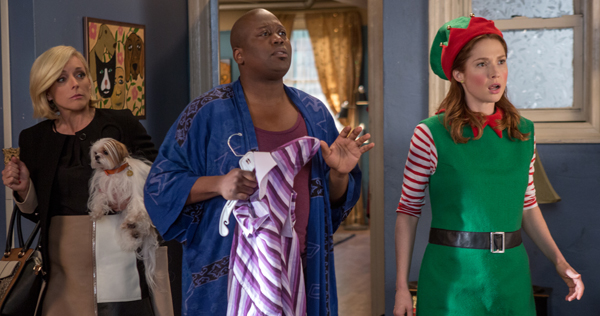 Josh Reviews Unbreakable Kimmy Schmidt Season Three
I fell very quickly in love with Unbreakable Kimmy Schmidt in its first season.  While the show shared a certain comedic rhythm with Tina Fey's previous show 30 Rock, I loved Kimmy Schmidt for its unique premise, wonderful characters, and, most of all, for Kimmy herself, a wonderfully positive, upbeat female character.  (Click here for my review of season one.)  I enjoyed the second season as well, which was unafraid to dig deep and explore the darkness inherent in the show's premise of Kimmy as a kidnapping survivor.  (Click here for my review.)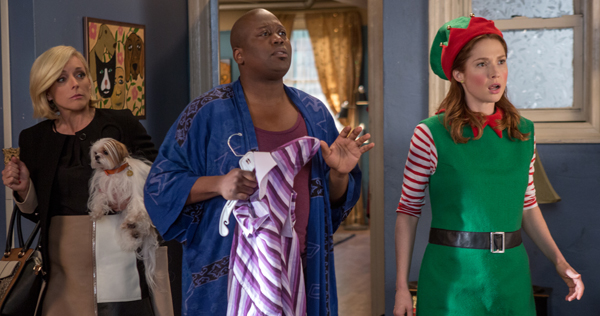 Kimmy Schmidt season three feels a little more scattershot than the previous two seasons.  There were times, particularly in the early-going, in which it felt as if the writers were straining somewhat to find new situations for the show's characters.  But the season took off for me with episode six, "Kimmy is a Feminist!", which culminates in an insane and hilarious farce in which Jacqueline attempts to keep Russ' brother Duke (Josh Charles) attracted to her without actually cheating with him, while Titus pretends to be Jacqueline's gay best friend Flouncey McGoo who also has a thing for her.  (It's complicated!)  I am a sucker for those sorts of madcap farcical situations (Frasier in its best years was a master at this sort of thing), and that episode had me on the floor.
What this season might lack in narrative cohesion it made up for in the continuing joy of watching these crazy characters bounce from one nutty situation to the next.  The show's fast-paced style is a virtue, as before one might begin to tire of one situation the show is already on to the next one.  And no other show television packs as many gags per second of screen time as does Kimmy Schmidt.
Ellie Kemper is, once again, brilliant in the lead role.  Kimmy Schmidt is a perfect melding of actor and role.  I enjoyed the way the show has allowed us to occasionally see the very human cracks in Kimmy — she hits a low point at the end of this season — while never losing sight of her inherent goodness and unbreakable, sunny core.
Tituss Burgess just gets better and better as Titus Andromedon, and I was pleased at all the wonderfully nutty stuff the writers gave Mr. Burgess to play this year.  His attempting to play a "bro" lusting after Jacqueline in episode six was a highlight for me, but I also enjoyed his battle of wits with a gas-station attendant (Ray Liotta) in "Kimmy Pulls Off a Heist!", and the collapsing of his relationship with cruise-ship mentor-turned-rival Dionne Warwick (played to a T by Maya Rudolph) in "Kimmy Does a Puzzle!".
I felt the show struggled a bit with Jacqueline's role on the show in season two, but I thought that she became a much stronger character in season three as she finally found her moral fiber.  They tweaked Jacqueline just a bit to make her, to me, a much more likable character, while still allowing her to be very funny.  (Jane Krakowski has a brief reaction shot puffing out her cheeks in frustration late in the season that had me howling with laughter.)  It also helped that most of Jacqueline's scenes this year were with the vile Snyder clan, every single one of whom were cast to perfection.  There was Josh Charles (Sports Night) as Duke.  Mr. Charles played a similarly rich, uptight jerk in the Wet Hot American Summer TV series, and he is every bit as funny here.  The great David Cross, of course played Russ, and then Billy Magnussen (Kato Kaelin on The People vs. O.J. Simpson's , and he also just popped up on the "USS Callister" episode of Black Mirror) played the post-smooshing hot version.  Both were a hoot.  And of course I can't forget Harris Yulin (he'll always be the judge in Ghostbusters II to me, though he also played a key role on one of the great early episodes of Star Trek: Deep Space Nine, "Duet") as the elder Snyder, Orson.  By the way, I also enjoyed the way this season developed Jacqueline's unlikely friendship with Titus.  I enjoy Jacqueline and Titus a lot more than I ever did Jacqueline and Kimmy, because Titus doesn't let himself get pushed around by Jacqueline — until he does, which is even funnier.
Carol Kane is still a gift as Lillian Kaushtupper.  I love that she is a regular on this show.  Lillian's dogged attempts to waylay Arthur — who wants to open top one of his Whole Foods like stores, Big Naturals, in East Dogmouth — got tiresome in the season's first half, but I loved their relationship as it developed in the back half.  It was very sweet!  Peter Riegert was a fantastic addition to the show, and a perfect complement to Lilian, as the unflappable Arthur.  ("Bob Dylan is dead!  To me.  Can't show up to get a Nobel Prize?  Rude.")  I hope he returns for season four.
I appreciated that this fast-paced, joke-every-second show was not afraid, this season, to occasionally slow down and allow the slightest bit of tenderness, whether that was Robert Durst's break-up with Lillian early in the season (and god, how perfect is Fred Armisen as Robert Durst!!), Jacqueline's acceptance that she has to let the newly-hot Russ go back with his horrible family, Kimmy's story about eating Visalia onions with her mom, or some of the moments between Lilian and Arthur.
I was surprised that the season finale left the status of most of the show's comedic relationships hanging.  I'd have expected to have gotten one more scene between Titus and Mikey following Titus' performance at the New York Mets cruise, and I'd have thought we'd have clarity on whether or not Lillian went on that trip with Arthur.  I was also surprised that the relationship between Kimmy and Percy (David Diggs) didn't seem to go anywhere.  I loved the twist of Kimmy's horrified reaction when she discovered Percy wanted to become a reverend, but that got dropped almost immediately, which was a shame.
Other thoughts:
* It was nice to see Xan (Dylan Gelula) back after being mostly absent in season two.
* I was delighted that Tina Fey briefly reprised her role as Kimmy's drunk therapist in episode 11, "Kimmy Googles the Internet!".
* I laughed and cried at the digs at NYC's Javits Center in episode 12, "Kimmy and the Trolley problem!": "It's so depressing here. There are still Hillary balloons in the ceiling."
* Speaking of which, it's funny to me that both Kimmy Schmidt and The Good Place focused an episode on the philosophical dilemma of the trolley problem this year.  Great minds think alike, I guess…?
* I was glad to see that Amy Sedaris popped up frequently again this year as Mimi Kanasis, in increasingly outrageous situations.
* On the other hand, I don't think I ever found the frequent appearances of Yuko the Robot (who culminates the season facing down Kimmy in a test to become a crossing guard), quite as amusing as the show's writers clearly did…
* I loved Laura Dern's guest-appearance in episode 3, "Kimmy Cam't help You!", as the Reverend's new fiancee.  And, of course, Jon Hamm continues to be great every time he pops back up as the Reverend.
* I also enjoyed seeing 30 Rock alumni Judah Friedlander (as a conspiracy-theorist musician), and Scott Adsit (as a voice-actor hired to impersonate Titus for a series of commercials for a medicine for an overactive bladder — "it's time to GO, girl!") in their guest appearances this season.
* I loved the brief crossover with Orange is the New Black at the end of "Kimmy Steps on a Crack!", as Kimmy's former bunker-mate Gretchfield winds up at Litchfield women's prison.
* One of my favorite jokes this season?  Arthur's comment about the lewd-sounding names of many chain stores: "Every national chain sounds disgusting.  Jack in the Box.  Hardee's.  The Gap.  Jiffy Lube.  Dick's.  BJ's Wholesale."
* Also, Kimmy's on-target assessment of the movie Overboard: "You're so overboard you make the movie Overboard seem like a lighthearted comedy, instead of a messed-up story about a handyman enslaving a woman with a brain injury."
* Also, Titus' assessment of the ridiculousness of jigsaw puzzles: "you already got the picture on the box, bitch!"
* On a show replete with great comedic names, weatherman Drench Thunderman (in "Kimmy Learns About the Weather!") is a stand-out.
* I have to proudly say that, while watching the finale, when Kimmy's nerdy school-mate Zach came on-screen, I turned to my wife and said, laughing, "he's dressed a lot like Marty McFly, isn't he!" only to behold the fantastic Back to the Future parody sequence that unfolded immediately thereafter.  I am inordinately proud of myself for spotting that, and that sequence is, in a nutshell, pretty much everything that I love about this crazy show.
I hope we'll be getting a season four!!