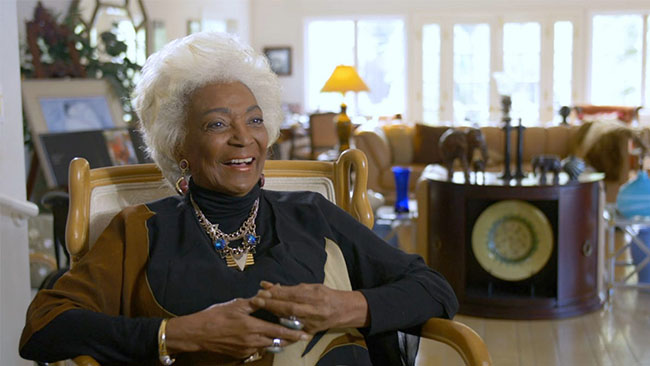 Josh Reviews Woman in Motion
Woman in Motion shines a spotlight on Nichelle Nichols, who, of course, played Lt. Nyota Uhura on Star Trek.  The documentary film specifically explores Ms. Nichols' remarkable work, beginning in 1977, to recruit men and women of color to be astronauts, scientists and engineers for NASA's space shuttle program.  (Click here to watch the documentary now!)
Woman in Motion is a wonderful documentary, shining a well-deserved spotlight on Nichelle Nichols.  She's an extraordinary woman who has lived an extraordinary life.
It's incredible to get to hear Ms. Nichols tell her life story in her own words.  The spine of the film is a collection of interviews from different points in Ms. Nichols' life, woven together to allow her to walk us through her life.  One of the interviews looks relatively recent; I assume it was done specifically for this film.  (In this lengthy interview which we cut back to throughout the film, Ms. Nichols' still seems to be in complete possession of her voice and faculties.  I assume this was filmed before the sad conservatorship battle happening now…)
I was fascinated to hear Ms. Nichols speak of her dreams of becoming a ballet dancer, and to hear her reminisce about dancing and singing with Duke Ellington.  I didn't know any of that about her early life in career.  Nor did I know that, later in life (post-Star Trek), she'd become the first woman to run her own STEM education company.  But what's of central importance here is that I had no idea that, in 1977, Ms. Nichols was hired by NASA to help them recruit astronauts who wouldn't just be more white men.  This began a decades-long association between Ms. Nichols and NASA, which this film explores.
One of the best moments in the film is a simple montage of Ms. Nichols laughing!  What a woman.  I also loved getting to hearing her sing "Fly Me to the Moon" over the closing credits.
The film is also a love letter to NASA.  I was fascinated to learn about the challenges NASA faced shifting from the Apollo missions of the sixties and seventies into the era of the space shuttle.  I must admit, I got a little misty-eyed when we get to the announcement that the first space shuttle would be named Enterprise.  (I'm still struck by what an incredible moment that was; what an extraordinary acknowledgement of the impact of Star Trek.)  I loved the amazing sequence in the film in which we get to listen to an astronaut describe the first few minutes of a shuttle launch.
Watching the film, I wondered if they'd address the loss of the Challenger.  They did, of course.  It would have been hard not to.  It was painful listening to Ms. Nichols recall the loss of three of her recruits on that mission.
Nichelle Nichols is a remarkable woman, and this film is a beautiful tribute to her life, and the incredible impact she's had far beyond her work on Star Trek.
Click here to purchase my "Maclunkey" Star Wars/Highlander mash-up t-shirt!

Please support MotionPicturesComics.com by clicking through one of our Amazon links the next time you need to shop!  As an Amazon Associate, I earn from qualifying purchases.  That means I'll receive a small percentage from any product you purchase from Amazon within 24 hours after clicking through.  Thank you!