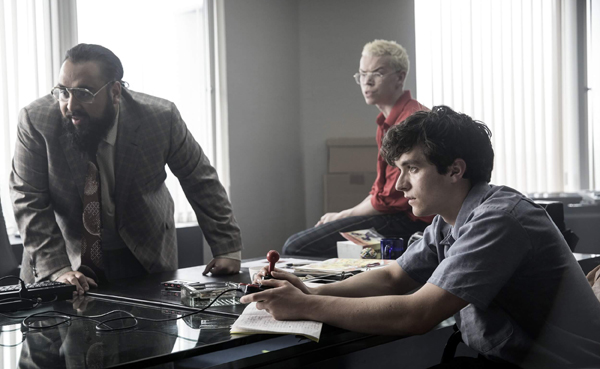 Josh's Favorite Episodes of TV of 2018 — Part Three!
Click here for part one of my list of My Favorite Episodes of TV of 2018, and click here for part two.  And now, onwards to my top five!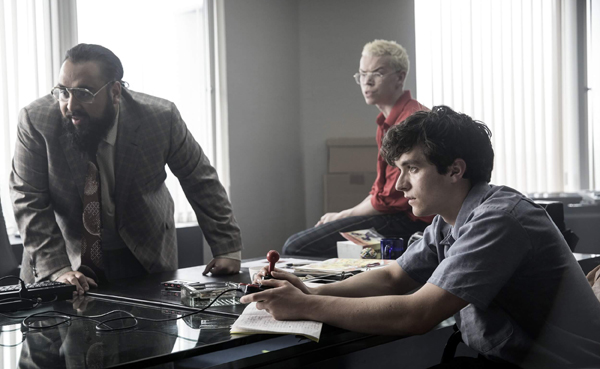 5. Black Mirror: "Bandersnatch" (released on 12/28/18) — This was the most impressively surprising TV experience I had all year.  I'd never have dreamed that such a thing could be possible, but somehow, Black Mirror found a way to replicate the feel of a "Choose Your Own Adventure" book as a TV show.  I loved those "Choose Your Own Adventure" books as a kid, and having that experience recreated by a TV show was extraordinary.  Every few minutes (and even more frequently at times), you are prompted on screen to make a decision as to what Stefan, the main character in the episode, should do.  You make your choice via your remote control, and then the film unfolds based upon that choice.  Just like in a real "Choose Your Own Adventure" book, sometimes those choices take you out of the story quickly, in which case you are allowed either to exit the film or retrace your steps and try again.  Apparently, there are many hours of footage that can be discovered based on the choices you make as Stefan during the film!  "Bandersnatch" is an extraordinary achievement in both technology and narrative story-telling.  I loved it.  (Click here for my full review of Black Mirror: "Bandersnatch".)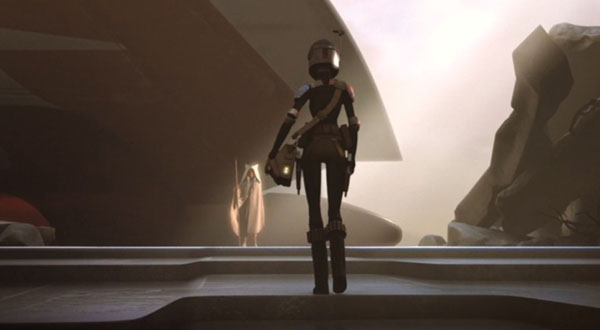 4. Star Wars: Rebels: "Family Reunion — and Farewell" (season four, episodes fifteen and sixteen, aired on 3/5/18) — Star Wars: Rebels aired its final two episodes back-to-back, and together they provided a note-perfect ending to, not just this series, but all of the animated Star Wars adventures fans have been following since The Clone Wars began a decade ago, in 2008.  This finale successfully managed to maintain a sense of fun adventure that has always characterized the best Star Wars stories, while building to an extremely moving, heartfelt climax.  There were so many amazing moments: Ezra's temptation by the Emperor (voiced by Ian McDiarmid, reprising his role from the films!); Agent Kallus' final redemption; great stuff for Rex and the surviving Clone Troopers (including, at long last, confirmation of the fan theory that the old bearded guy on Endor in Return of the Jedi was Rex!!); some great villainous moments from Thrawn (a character created by Timothy Zahn in his amazing "Heir to the Empire" novels, who I was delighted to see brought to animated life on Rebels); hearing John Williams' magnificent Jedi theme play when Ezra steps out of the shadows, Loth-Wolves right behind him, and silently ignites his green light-saber; and so much more.  But the reason this finale is so high on my list is the extraordinary coda, in which the show (which was set in the years prior to the original Star Wars) jumped forward in time to after Return of the Jedi.  I was deeply moved to get to see what happened to all the Rebels characters after the Battle of Endor, and my heart sang with joy when we saw the return of Ahsoka, dressed all in white.  I have so many questions about what she's been up to and where she is going, questions which I hope will be answered someday.  But Rebels gave me everything I'd wanted and more, and seeing Ahsoka and Sabine, these two strong female characters, walking off into the sunset together to have more adventures, was glorious.  (Click here for my full review of the series finale of Star Wars: Rebels.)
3. The Americans: "Start" (season six, episode ten, aired on 5/30/18) — The Americans is one of the great dramas of the modern era, though it never quite got the public love it deserved.  But I've been a big fan since the beginning, and I was delighted that the show was able to stick the landing and come to such a satisfying conclusion.  This finale bucked the usual trend of TV show series finales in that it wasn't filled with the sort of big action, explosions and violence that I had been expecting.  Things do take the expected turn for the worse for Soviet spies Elizabeth and Philip Jennings (Matthew Rhys and Keri Russell, doing career-defining work), but in the entire final episode there was just one gun drawn, and it was never fired.  Amazing.  There was't Huge Action, but this episode was filled with the sort of heart-stopping tension at which The Americans has always excelled.  I was surprised that they waited until the very final episode for Stan (Noah Emmerich, who I will love forever for his work on this show) to finally, finally learn the truth about Philip and Elizabeth.  But boy howdy, when that moment finally came, it was as intense a moment of television as I have seen in a long while.  That lengthy (over ten minutes long!!) scene in the garage, in which Stan confronts the fleeing Philip, Elizabeth, and Page, was phenomenal — a highlight of the entire run of the show.  And then, of course, they went and topped themselves with the train sequence.  Every beat of that sequence was perfectly constructed, perfectly written, perfectly acted, and perfectly edited & scored to that U2 song.  I reacted just as Philip and Elizabeth did, filled with shock and dismay, when I saw you-know-who standing on the platform, outside the window.  It gives me chills just thinking about it.  This show was a treasure, and it makes me so happy that show-runners Joe Weisberg and Joe Fields succeeded in giving their story such a satisfying ending.  (Click here for my full review of The Americans: season six.)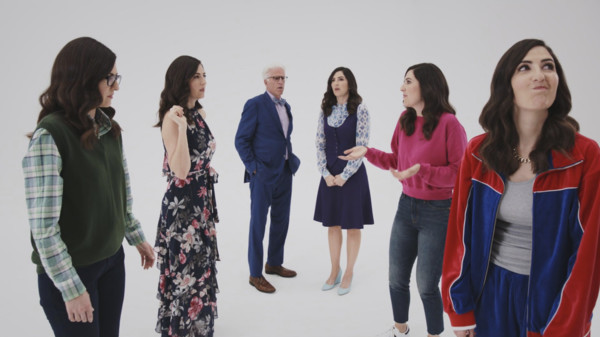 2. The Good Place: "Janet(s)" (season three, episode ten, aired on 12/6/18) — Holy forking shirtballs!  "Janet(s)" may just have been the best episode yet of the show that has grown into my favorite currently-running TV show: The Good Place.  Mike Schur's series about four idiots in the afterlife is funny, smart, clever, and sweet in equal measure.  It's a concoction quite unlike anything else currently on TV.  This episode was a stand-out from a show that is consistently amazing.  Forced to hide in Janet's "void" (and I really can't tell you anything about Janet without spoiling any of this show's surprising pleasures, though I can tell you, as she frequently does, that she's not a woman and also not a robot), the four main characters find themselves losing their sense of selves… which results in D'Arcy Carden (who plays Janet) playing Janet AND then all four of the other main human characters (Eleanor, Chidi, Tahani, and Jason).  Ms. Carden has been this show's secret weapon since the very beginning, and this jaw-dropping episode provided an extraordinary showcase for her amazingness.  (Not to mention the show's incredible special effects team, who seamlessly created the appearance of five Janets sharing the screen and interacting with one another!!)  Watching Ms. Carden play a Janet who was really Eleanor PRETENDING to be Jason was the most amazing thing I saw on TV this whole year.  As if all of this wasn't enough, the episode's B story was also amazing — Michael (Ted Danson, every bit as magnificent in this role as you'd want him to be) and Janet visit the accounting office of the Good Place, where they meet head accountant Neil, played note-perfectly by terrific guest-star Stephen Merchant… not to mention yet ANOTHER version of Janet, the "Neutral," expressionless and emotionless Janet.  All that AND Eleanor and Chidi finally kiss, a beautiful pay-off to the long-running story of their burgeoning relationship.  Every time I think I can't love this show any more, they produce an episode like this one.  (The Good Place season three just wrapped up and my full review is coming soon.  For now, you can click here for my full review of season one and here for my full review of season two.  Everything is fine.)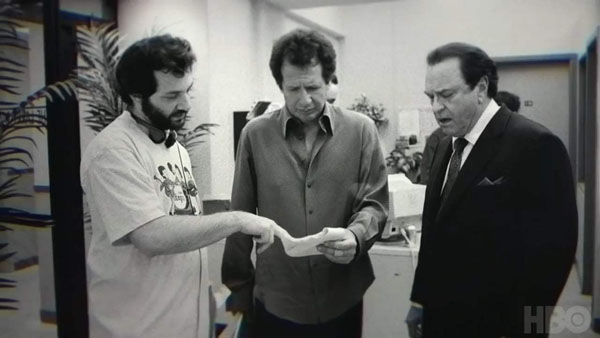 1. The Zen Diaries of Garry Shandling (aired on 3/26/18 and 3/27/18) — Am I cheating by including this four-plus-hour HBO extravaganza on my list?  Is this more a movie than a TV show?  (Some movie-reviewers seemed to think so, listing this on their favorite movies of 2018 lists.)  But it won an Emmy (rather than an Oscar) and I watched it on TV… so, here it is.  And there was not a single thing I watched on TV in 2018 that gave me more delight than Judd Apatow's magnificent look at the life and work of Garry Shandling.  Garry Shandling was unquestionably one of the giants of both television and comedy.  He was a genius-level stand-up comedian, and he masterminded two of the greatest television shows ever made: It's Garry Shandling's Show and The Larry Sanders Show.  Judd Apatow is no slouch either.  I've been a fan of his ever since Freaks and Geeks (the amazing series created by Paul Feig and produced by Mr. Apatow back in 1999-2000) and his follow-up show, Undeclared (also killed before its time after one fantastic season), and I have followed his movie career avidly:  The 40 Year-Old Virgin, Knocked Up, Funny People, This is 40, and Trainwreck.  Mr. Apatow wrote for The Larry Sanders Show and eventually served as a co-executive producer.  In many interviews over the years, it's been clear how much of a mentor Garry Shandling was to him.  Mr. Apatow's appearance on Jerry Seinfeld's Comedians in Cars Getting Coffee, filmed not long after Mr. Shandler's death, is almost more about Garry Shandling than it is about Mr. Apatow himself!  And so I was not at all surprised when I read that Mr. Apatow was working on a documentary film about Garry Shandling.  As a huge fan of both comedic talents, I was excited to see what Mr. Apatow would create.  The result, The Zen Diaries of Garry Shandling, is a behemoth: an almost five-hour film, shown in two parts on HBO.  But I'm here to tell you, I could have watched five more hours of it.  I was absolutely captivated by the film from start-to finish.  After Mr. Shandling's death, Mr. Apatow was given access to an extraordinary wealth of material from Mr. Shandling's life, most notably Mr. Shandling's voluminous notes and diaries that he kept for his entire life.  Again and again, this film shows us on-screen these actual notes that Mr. Shandling wrote — thus allowing us incredibly intimate access into Mr. Shandling's inner life: what he was thinking and feeling.  It's remarkable, and it allows this film to take us right inside Mr. Shandling's head and heart.  Mr. Apatow's prominence in the comedy world and wealth of connections also bore fruit, as the film is filled to overflowing with fascinating, funny, heartbreaking, and insightful interviews with so many of the men and women who were close to Mr. Shandling during his life.  Alan Zweibel, Peter Berg, James L. Brooks, Bob Saget, Jerry Seinfeld, Kevin Nealon, Conan O'Brien, Jeffrey Tambor, Peter Tolan, Jim Carrey, David Duchovny, Linda Doucett, Sarah Silverman, Sacha Baron Cohen, Dave Coulier, and so many more comedic talents appear in the film to talk about Mr. Shandling.  On top of all that, the film is stuffed with extraordinary archival and behind-the-scenes footage from Mr. Shandling's entire life and career.  The Zen Diaries of Garry Shandling is a triumph, and it was an easy decision to give this the #1 spot on my 2018 Best of TV list.  (Click here for my full review of The Zen Diaries of Garry Shandling.)
I'll be back soon with my list of my Favorite Movies of 2018…!