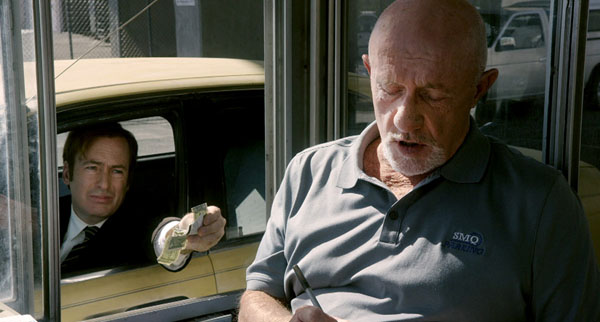 Late to the Party: Josh Reviews Better Call Saul Season One!
I started watching Breaking Bad on DVD right as the show was ending.  There was so much critical love for that show, particularly in the months leading up to its finale, and I was eager to see what all the fuss was about!  I thoroughly enjoyed Breaking Bad as I made my way through the series, but somewhat to my surprise I never found myself as head-over-heels in love with the show as so many others seemed to be.  I respected the show enormously for what a quality piece of work it was, with incredible writing and performances (by Bryan Cranston in particular but also by all of the show's wonderful ensemble) and extraordinarily top-notch production values.  But I never found myself in LOVE with the show.  I think this was because the show was so successful at being emotionally wrenching that I found it difficult to watch. Usually with shows I love, I tear through the episodes at a rapid clip.  But Breaking Bad was a show I needed to take my time with.  Even though many seasons ended on cliffhanger, I often found that I needed to wait weeks if not months before I was ready to move on to the next season.
And so, even though by the time I had completed watching the final season of Breaking Bad, the first season of the spin-off show Better Call Saul was already available, I hesitated to dive in. It wasn't until last month that my wife and I finally sat down to watch Better Call Saul season one.  I am sorry I waited so long, because this first season of Better Call Saul was magnificent!  I think I enjoyed this season more than any season of Breaking Bad!  (Save perhaps for Breaking Bad's riveting final run of episodes.)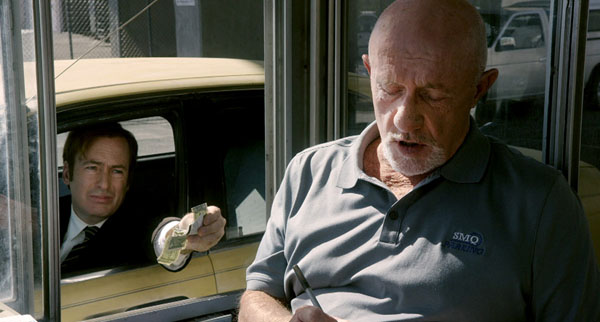 The show begins with a wonderful tease, a black-and-white sequence of Bob Odenkirk's Saul living a solitary life working at a Cinnabun in a mall.  This little mini-movie is a gloriously brilliant way to open the show, as the audience is forced to look carefully for clues to determine when in the timeline of Saul's life that sequence takes place.  The answer is perfect, and a perfect way to set the tone for this prequel series.
Bob Odenkirk's Saul was a lot of fun on Breaking Bad, a bright splash of color in the dark world of Walter White.  I'd imagine that a perfectly entertaining show could have been made just watching the goofy, fast-talking Saul's adventures as a "criminal" lawyer before he got mixed up with Walt and Jesse.  And yet, thankfully, creators Vince Gilligan and Peter Gould have set out to do something more difficult, something deeper — and, in the end, something far more worthwhile.
In creating a picture of Saul Goodman six years before the events of Breaking Bad, Mr. Gilligan & Mr. Gould have created for us a very different character — one who, in one of the show's great early surprises, goes by an entirely different name: Jimmy McGill.  As we get to know Jimmy in the early episodes, we see that he shares certain qualities with the Saul that we know: Jimmy is a lawyer, and in a great tense sequence early in the show we see him use his incredible gift for smooth-talking to talk his way out of death — for himself and the two dim-bulb skateboarders with whom he has gotten wrapped up — when he runs afoul of Tucco (a great character from the early days of Breaking Bad).  But Jimmy, unlike Saul, is someone trying as hard as he can to do the right thing, to be successful and to find a way to do right in the eyes of his far-more-successful elder brother Chuck (Michael McKean).  Just as Breaking Bad charted the slow-burn transformation of mild-mannered high-school teacher Walter White into a cold-hearted drug-lord ("Mr. Chips into Scarface" as the show was so often described), it became clear to me that Better Call Saul was setting out to tell a similarly slow-burn story, of the transformation of Jimmy McGill into Saul Goodman.
Bob Odenkirk is just as tremendous in the role here as he was on Breaking Bad.  He's able to bring the humor, of course, but also to sell every inch of the drama.  Spin-offs are a treacherous thing, and often-times characters who work perfectly well in a supporting role are not able to shoulder the burden of being the lead of a show.  Vince Gilligan, Peter Gould, and Bob Odenkirk make it look easy.  They have made all the right choices in fleshing out the character and the world surrounding Saul/Jimmy.
And they have absolutely nailed the tone.  Better Call Saul is a lighter show than Breaking Bad, which feels right (and is also probably why I found myself enjoying this show even more than the mothership).  But this is not a frothy comedy.  The characters are rich and deep and the slow unfolding of their complex web of relationships was thoroughly enjoyable here in this first season.  The show can be very funny but it never loses its careful command of the drama, maintaining the emotional stakes that hook the audience in to these characters and their lives and that made me eager to jump to the next episode as soon as I had finished the previous one.  (Far more eager than I was while making my way through Breaking Bad.)
This is a show that would work well if you'd never seen Breaking Bad.  But for all of us who have, that of course adds an extra layer of drama to the proceedings.  We know that the good-hearted Jimmy is, somewhere down the line, going to become the criminal, self-serving Saul Goodman.  And that is heartbreaking!  It's a mark of how well this show works that, rather than my being impatient for us to get to Saul Goodman — who was so fun and amusing on Breaking Bad — I found myself dreading that transformation, and wishing there was some way that the goodhearted Jimmy would be able to avoid that destiny.  This is the strongest evidence possible that this prequel was a success.  Mr. Gilligan and Mr. Gould found just the right pace for this slow transformation here in the first season.  In the blu-ray's special features, they talk about expecting to have transformed Jimmy into Saul at a faster rate, only to discover that the show and the character wound up telling them something different.  They made exactly the right decisions, in my opinion, and the show unfolds at exactly the right pace.  When Jimmy makes a big move towards Saul in the final moments of the season one finale, it is devastating.  A perfect end to a spectacular season.  Had there been only one season of Better Call Saul, that would have been a perfect ending and I would have been satisfied.  But there is more to come (hopefully a lot more), and I am so curious to see where the character goes next in his slow journey to Saul.
Whoever had the idea to also bring back Mike Ehrmantraut (played so wonderfully by Jonathan Banks) from Breaking Bad to make him the series' secondary main character was a genius.  It's so wonderful to see more of this character again.  I hadn't realized how little we actually knew about Mike's past, and therefore how rich this character was for further exploration, but immediately after Mike started popping up in this first season it was clear to me how perfect his inclusion in this show was.  In classic slow-burn Breaking Bad style, I loved how little Mike was involved in the first few episodes, only gradually getting connected with Jimmy McGill's unfolding story until Mike briefly became the lead of the show in the spectacular sixth episode, "Five-O."   That incredible episode was the highlight of the season for me.  It was a far more serious, wrenching episode than the five that had come before, but it felt earned.  It was hugely satisfying to flashback to Mike's Philly cop days, allowing us to finally learn what went wrong for him there.  Jonathan Bank's extraordinarily powerful delivery of the monologue in which Mike tearfully explains to his daughter-in-law what happened to his son was just staggering.  I don't think we've ever before seen Mike string so many words together, and we've certainly never seen him show that kind of emotion before, and the moment was just staggering, beautifully performed by Jonathan Banks.  There were a lot of great Mike moments this season, like the hysterical scene in which he effortlessly took apart another bodyguard hired to protect a nebbishy drug dealer (someone who was surely intentionally designed to remind us of season one Walter White) in "Pimento".  I loved how skillfully the writers wove his story together with Jimmy's.
Moving to the show's new characters, we got to meet Michael McKean as Jimmy's brother Chuck.  This was a fascinating character, and I liked the way the writers slowly unfolded what was happening with him.  When we first meet Chuck, on leave from his law firm and declaring that he's going to "beat this thing," I assumed that he had cancer.  But the truth was more complicated than that, and I loved the way the writers slowly paced out the clues.  Just like Bob Odenkirk, Michael McKean is an extraordinarily talented comedic actor here being asked to play mostly straight, serious drama, and knocking it out of the park.
Rhea Seehorn is also terrific as Kim, a friend of Jimmy's who is a lawyer at the firm Hamlin, Hamlin & McGill where Chuck used to be a partner.  Ms. Seehorn is so good in this role, showing us Kim's intelligence and loyalty and struggle to both do the right thing and to get ahead in the fiercely competitive, mostly male-run world in which she lives and works.  I love this character and the way she was written.  As with Chuck, the writers drop us into the complicated relationship that Kim and Jimmy have, and slowly drop in more clues and information to allow us to discover their past.  (Though there are certainly questions I still have at the end of season one and I'd love to learn more in future seasons.)  I love that they didn't opt for a simplistic "they dated and then broke up" or "Jimmy pines after Kim but she doesn't know" sort of common TV-show male-female relationship.  The friendship/relationship between Kim and Jimmy is more complicated than that, and I love it for that.  There seem to be some romantic feelings there, or at least perhaps there were, and perhaps there is the potential for that in the future, but for the most part what we see here in season one is just a deep friendship that is wonderful.  One of the most devastating aspects of Jimmy's declaration to Mike at the end of the season — his first big step on the road to Saul Goodman — is the thought that I can't imagine much room for Kim on that road, and that is so sad.
The show looks gorgeous, with absolutely incredible production values.  As with Breaking Bad, the show captures an iconic look and beauty from a part of the country not usually seen on TV.  We get to see some gorgeous vistas and landscapes.  There is a connection there, visually, to Breaking Bad, but this show also has its own look and feel which is good to see.
This first season runs for ten episodes, which feels like just the right length.  There was no fat in this first season, no stalling for time to fill out episodes in the middle of the season.  Every episode felt essential.  I love this length for a season and hope future seasons continue this pattern.
With Better Call Saul being set six years before Breaking Bad, there is of course the potential — perhaps I should say, the temptation — to show us younger versions of LOTS of characters from Breaking Bad, beyond just Saul/Jimmy and Mike.  Right away, for instance, we get to see Tuco (once again played by Raymond Cruz), who was killed by Walter White early on in Breaking Bad.  While it's fun seeing Tuco again, for sure, I was glad that he didn't wind up being a big presence here in Saul season one, and also that, at this point, he was the most prominent other Breaking Bad character brought into this show.  Had this first season leaned too heavily on other Breaking Bad reprisals I think it would have weakened the show — Better Call Saul needed to develop its own characters and voice this season, and learn to stand on its own two feet.  Now that the show has unquestionably done that, I would welcome to see Tuco again or other Breaking Bad connections in future seasons.  (The character I — and I suspect many others — are most eager to see again?  Why that would of course be Gus Fring.  Remember, Mike is working for Gus when we first meet him on Breaking Bad.  I can't wait to see how Mike and Gus get connected.)
By the way, before I wrap up this review, a question: Why does every episode title (except one) end with the letter "o"?  Is there some secret message there or were the writers just amusing themselves??  I am very curious about this!!
I usually hate prequels.  I have made no secret about that.  Generally when you know how a story and its characters are going to wind up, a prequel is drained of any intensity or interest.  But Better Call Saul works because it utilizes all of the benefits of a prequel and wisely avoids all of the pitfalls.  It is great seeing some familiar and beloved Breaking Bad characters, many of whom (Mike and Tuco) were left dead by the end of that show, again.  But Better Call Saul doesn't just give us the superficial pleasure of seeing characters who we like again, it takes the harder and ultimately far more worthwhile task of digging deeply into those characters' pasts and showing us how much depth those characters had and how much we didn't actually know about them yet.  Setting up this show as one of transformation — following the journey of Jimmy McGill to Saul Goodman — gives Better Call Saul a wonderful parallel to Breaking Bad's slow arc of Walter White's transformation into Heisenberg, while also creating a wonderfully rich structure to the show that I can imagine sustaining the narrative for many years to come.  Better Call Saul is funny and heartbreaking in equal measure, an extraordinarily difficult balancing act.  I wasn't kidding when I wrote before that I enjoyed this first season of Saul more than any previous season of Breaking Bad save for perhaps Bad's final run of episodes.  I am completely in love with this show right now and I cannot wait for season two, which I will be moving on to watch immediately!