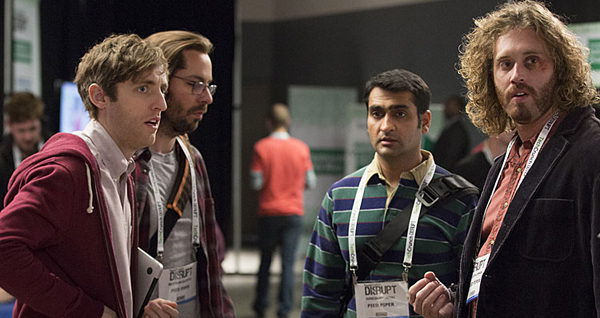 Late to the Party: Josh Reviews Silicon Valley Season One!
Quite a few friends have recommended Silicon Valley to me, but for one reason or another it took me a while to find the time to start watching the show.  I am sorry I waited so long, because now I am hooked!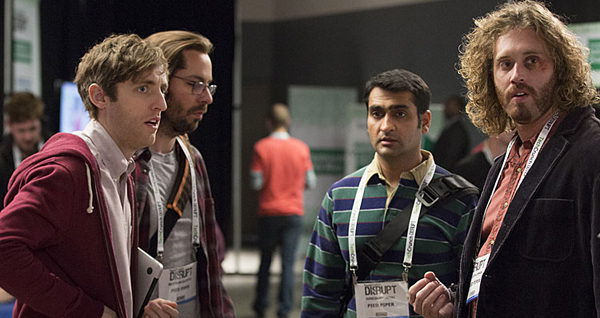 Created by Mike Judge (Office Space), John Altschuler and Dave Krinsky, the series follows the trials and tribulations of a group of Silicon Valley programmers involved in a small start-up company.  Richard Hendricks (Thomas Middleditch) is a small fry working for a huge Google-like company called Hooli.  Like many in Silicon Valley, in his side time Richard is working on an app, which he calls Pied Piper.  It's intended as a music app, but in creating it Richard has also created a potentially revolutionary compression algorithm.  This attracts the interest of Hooli founder Gavin Belson (Matt Ross), who offers Richard ten million dollars for his app.  It also attracts the interest of venture capitalist Peter Gregory (Christopher Evan Welch), who offers Richard a much-smaller $200,000 investment in exchange for a five-percent ownership in Pied Piper.  Richard passes on the easy money from Gavin and takes Peter Gregory's offer, excited by the chance to build his own company.  As the series progresses, we see Richard discover that it's a lot harder than he thinks.
I love shows and movies that explore a particular sub-culture, and Silicon Valley is a wonderful exploration of the intersection of technology and business in this particular corner of the U.S.  This is a show that I suspect people who really know this world will dig for its attention to detail, while also being completely accessible to anyone (like me) who doesn't know much of anything about this sort of thing.
The show is fantastic, absolutely hilarious and filled with wonderful, compelling characters.  Every member of the ensemble could carry his/her own show.  As Pied Piper's nervous, frazzled new C.E.O., Thomas Middleditch is fantastic.  I could see a less interesting version of this show in which Richard was the straight person, surrounded by all the weirdos he has to work and live with.  But Mr. Judge & co., along with Mr. Middleditch, have made Richard just as interestingly flawed and bizarre as all the other characters in the show!  But, importantly, they've also given him an honesty and a earnestness that makes you want to root for this character.
T. J. Miller (Cloverfield, Deadpool, Office Christmas Party) goes big, and then bigger, as Erlich, the blustery, full-of-himself owner of the incubator where Richard and his co-workers live and work.  Erlich got rich when his own app was sold for millions, and so now he fancies himself as a wise mentor for the young turks living and working in his incubator.  Mr. Miller is so great in the role, so funny even (perhaps especially) when he is at his broadest.  Mr. Miller commands the screen whenever he appears, and Erlich's bull-in-a-china-shop antics fuel some of the series' biggest laugh moments (such as his inadvertent double-cuckolding of an important "Tech Crunch" judge late in the season).
I've been a big fan of Martin Starr ever since Freaks and Geeks, and I also loved him in Party Down.  It's great to see him back in another terrific TV series.  He hits similar notes playing Gilfoyle as he did playing Roman in Party Down, but he's so good as this type of dry, sarcastic character that I can't complain.  I love Gilfoyle's bickering relationship with Kumail Nanjiani's Dinesh.  I've been a fan of Mr. Nanjiani's for a while, and this role is a terrific showcase for the type of humor he does so well.  He's able to play Dinesh as being earnest and also an idiot all at the same time.  Mr. Nanjiani is a secret comedy weapon throughout the season.
Rounding out the Pied Piper team is Zach Woods as the nebbishy Jared, who leaves a well-paying job at Hooli to join Richard's team.  Mr. Woods was great on The Office, and very funny in small roles in Spy and Ghostbusters, but he's never been used as well as he is here.  I can't imagine any other performer playing this character.  Mr. Woods makes Jared incredibly bizarre, with all sorts of nerdy behaviors and weird quirks.  But he also plays up Jared's honesty and loyalty and business acumen, allowing the character to be very endearing.
Amanda Crew is great as Monica, Peter Gregory's assistant.  I like that the show allows Monica to be the most normal, well-adjusted character we see, as well as the one who usually seems to have the best grasp of everything going on.  It's great to see a smart, competent female character in this very male-dominated world.  I enjoyed the way the show developed Monica's relationship with her boss Peter Gregory and her new friend and client Richard.  I look forward to seeing where Monica and Richard's connection goes in future seasons.
The late Christopher Evan Welch was absolutely phenomenal as the brilliant and bizarre (boy, I've used that word a lot in describing these characters, huh?) Peter Gregory.  This was a stand-out character, both the most brilliant character on the show and also the most far-out and socially inept.  That scene in which Peter becomes obsessed with Burger King's menu selections was a stand-out of the season.  Sadly, Mr. Welch died mid-way through production of this season.  It's a huge loss, and I will be interested to see how, in future seasons, the show can possibly fill the hole that Mr. Welch's absence will cause.  (I should say that I was impressed by how smoothly Mr. Judge and his team were able to work around Mr. Welch's absence in the final three episodes of the show.  I didn't notice at all that Mr. Welch had disappeared from the show, because of how well those episodes were structured.  That was incredibly skillfully done.)
Matt Ross is terrific as the intense, prickly Hooli C.E.O. Gavin Belson, and Josh Brener was also terrific as Richard's clueless friend "Big Head," who Richard has to exclude from the team as he starts Pied Piper.
Running at only eight episodes in length, this first season of Silicon Valley zips right along and never overstays its welcome.  I enjoyed the way the show was able to make a storytelling meal out of each and every baby step that Richard and his team had to go through in order to get their company started, navigating a tough and eccentric boss, technological hurdles, and even an unfortunately profane logo-design.  I also liked the way the final several episodes linked together as the story built up to the Pied Piper team's make-it-or-break-it presentation at "Tech Crunch" (which I had assumed was made up by the show as a version of something real, but which is actually a real event).  The season ended on a perfect note, bringing this first series of stories to a nice close while also opening the doors to many future stories by hinting at how far Richard and Pied Piper has to go, and how tough that road is going to be.
I loved this first season of Silicon Valley.  I laughed hard and often.  I can't wait to see more of this world and these characters in season 2, which I will now be watching without delay!