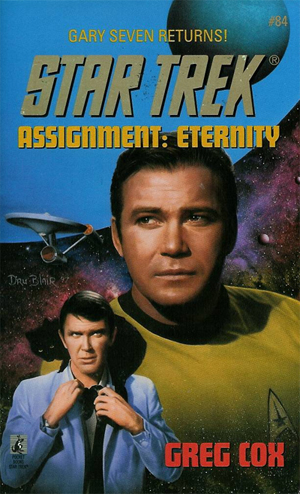 Star Trek: Assignment: Eternity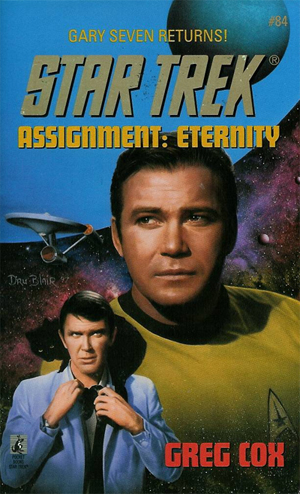 After reading several recent Star Trek novels that played with the history of the Star Trek universe, and that involved Gary Seven and the mysterious Aegis agency for which he worked, I decided to go back to an earlier Star Trek novel that focused on the enigmatic Mr. Seven, Greg Cox's Assignment: Eternity.
I have always loved Mr. Cox's Eugenics Wars duology, two novels that attempted to merge the hints we got in various Star Trek episodes about the Eugenics Wars that gave rise to Khan, with the actual history of the 20th century as it unfolded in the decades after the Original Series.  (Our actual history caught up to the years in which this global Eugenics Wars conflict supposedly took place!  Mr. Cox's brilliant novels suggested that the Eugenics Wars had happened under all of our noses, weaving the story of Khan and his conflicts with the actual history of those years.)  Those novels Eugenics Wars novels also involved Gary Seven and Roberta Lincoln, who were introduced in the Original Series episode "Assignment: Earth".  Mr. Cox had a great handle on those characters, and when I realized that he had written another book involving them, I decided to track it down.
In Assignment: Eternity, a tragedy involving an Aegis operative in the time of Captain Kirk and the Enterprise's five-year mission leads Gary Seven and Roberta Lincoln to travel forward in time to Kirk's era.  But Kirk doesn't trust the mysterious Seven, and with the Enterprise on an urgent mission of mercy, Kirk does not want to divert his ship at Seven's whims.  But a crisis is brewing on the Roman side of the Neutral Zone…
This was a great book.  Gary Seven and Roberta Lincoln (and Isis!) are terrific characters, and their one on-screen appearance left so much to be explored about all three of them.  It's great to get to see these characters again, and as before Mr. Cox has a wonderful handle on their mannerisms.  It's fun to see these characters, and also the mysterious Aegis (and props, by the way, to Howard Weinstein for coining that name in DC Comics' original Star Trek comic-book series) explored in this story.  I'd wondered whether the Aegis was continuing to operate in Kirk's era — apparently they are.  (I liked the note that the Aegis is no longer operating within the Federation, since apparently they have gotten onto the right track.  The Romulans, however…)
I enjoyed the way that Mr. Cox developed an entire story out of an offhand line of dialogue in "Assignment: Earth" about the Aegis having the ability to cloak a planet.  The idea of a hidden Aegis base within Romulan space is a cool idea, and a great setting for the second half of the novel.  I enjoyed getting to meet the (sadly doomed) Aegis agent Septos, and his rather large feline companion Osiris (and interesting counterpart to seven's cat Isis!).  The Romulan Dellas provided a great villain for the story.
I was a little surprised by the ease with which Gary Seven was able to travel through time.  With that powerful time-travel ability, it seems as if Seven could undo any bad things that happen at any point, which undermines the drama somewhat.  The book gives a halfhearted explanation as to why Seven couldn't go back and prevent the death of his fellow Aegis agent, something about his fate falling "within the natural progression of the time line," but that didn't really seem like a satisfactory explanation to me.  That agent died because of the Romulan Della's getting her hands on the Aegis technology and wreaking havoc.  Why was her killing of that agent "within the natural progression of the time line" and so something Seven felt he couldn't/shouldn't undo, but her attempt to murder future-Spock WAS something that Seven was willing to change?  I don't really get that.  Also, since we saw in "Assignment: Earth" that Seven had the ability to transport across enormous reaches of space, I wasn't sure why the Aegis agent in Kirk's era couldn't call for help to another Aegis agent in his own time-frame, even if they were far away across space.  That he had to call to Seven, back in time hundreds of years, seemed like a stretch to me.
I was surprised at first the Kirk and Seven spent so much of the novel at odds with one another, but I can understand how the characters would have different perspectives, and I liked how Mr. Cox used that to provide some tension.  (Had the two worked together instantly, there would have been less drama in the story!)
I loved the hints throughout the book at the variety of adventures that Seven and Roberta Lincoln had gotten up to but that we've never seen, from apprehending the Watergate burglars and preventing a nuclear disaster at Three Mile Island to, to their involvement with the Quasar Tapes (a failed pilot by Gene Roddenberry!) to, apparently, attempting a rescue of  Patrick McGoohan's unnamed spy from "the village" (from the TV show The Prisoner!!).  All of those references were a lot of fun.
I also enjoyed the story's connections to the Khitomer Conference from Star Trek VI: The Undiscovered Country, as well as Spock's meeting at the Conference with the Roman Senator Pardek (as established in the TNG "Unification" two-parter).
Assignment: Eternity is a great Star Trek novel!  Although it was written back in 1998, it meshed well with the more recent Trek novels I have been reading.
Previous Star Trek novel reviews:
Star Trek – Unspoken Truth , Troublesome Minds, Cast No Shadow, Excelsior: Forged in Fire, Allegiance in Exile, Legacies Book 1: Captain to Captain, Legacies Book 2: Best Defense, Legacies Book 3: Purgatory's Key, The Face of the Unknown, From History's Shadow, Elusive Salvation
Star Trek: The Next Generation – The Sky's The Limit, Resistance and Q & A, Before Dishonor and Greater than the Sum, Destiny trilogy, A Singular Destiny, Losing the Peace, Immortal Coil, Cold Equations Book 1: The Persistence of Memory, Cold Equations Book 2: Silent Weapons, Cold Equations Book 3: The Body Electric, The Light Fantastic, Takedown, Armageddon's Arrow, Prey Book 1: Hell's Heart, Prey Book 2: The Jackal's Trick, Prey Book 3: The Hall of Heroes, Headlong Flight, Hearts and Minds
Star Trek: Deep Space Nine – DS9 relaunch overview, The Soul Key, The Never-Ending Sacrifice, Plagues of Night and Raise the Dawn, Section 31: Disavowed, The Missing, Sacraments of Fire, Ascendance, Force and Motion, The Long Mirage, Section 31: Control, Enigma Tales, Gamma: Original Sin
Star Trek: Voyager – Full Circle, Unworthy, Children of the Storm, The Eternal Tide, Protectors
Star Trek: Enterprise — Kobayashi Maru, The Romulan War: Beneath the Raptor's Wing, The Romulan War: To Brave the Storm, Rise of the Federation: A Choice of Futures, Rise of the Federation: Tower of Babel, Rise of the Federation: Uncertain Logic, Rise of the Federation: Live By the Code, Rise of the Federation: Patterns of Interference
Star Trek: Titan – Book 1: Taking Wing, Book 2: The Red King, Book 3: Orion's Hounds, Book 4: Sword of Damocles, Under a Torrent Sea, Synthesis, Fallen Gods, Absent Enemies (e-book), Sight Unseen, Fortune of War
Star Trek: Typhon Pact – Book 1: Zero-Sum Game, Book 2: Seize the Fire, Book 3: Rough Beasts of Empire, Book 4: Paths of Disharmony, The Struggle Within (e-book), Plagues of Night and Raise the Dawn, Brinkmanship
Star Trek: The Fall — Book 1: Revelation and Dust, Book 2: The Crimson Shadow, Book 3: A Ceremony of Losses, Book 4: The Poisoned Chalice, Book 5: Peaceable Kingdoms
Star Trek: New Frontier – Series overview, Stone & Anvil, After the Fall, and Missing in Action, Treason and Blind Man's Bluff
Star Trek: Department of Temporal Investigations – Watching the Clock, Forgotten History, The Collectors (e-book), Time-Lock (e-book), Shield of the Gods (e-book)
Star Trek: The Lost Era – Book 1: The Sundered (2298), Book 2: Serpents Among the Ruins (2311), Book 3: The Art of the Impossible (2328-2346), The Buried Age (2355-2364), One Constant Star (2319)
Star Trek: Mirror Universe (Books 1 & 2) – Star Trek: Mirror Universe: Shards & Shadows – Star Trek: Mirror Universe: The Sorrows of Empire — Star Trek: Mirror Universe: Rise Like Lions –  Star Trek: Myriad Universes (Books 1 & 2) – Star Trek: Myriad Universes: Shattered Light
Beyond the Final Frontier — Josh's favorite Star Trek novels