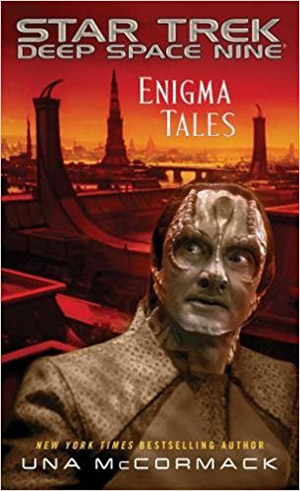 Star Trek: Enigma Tales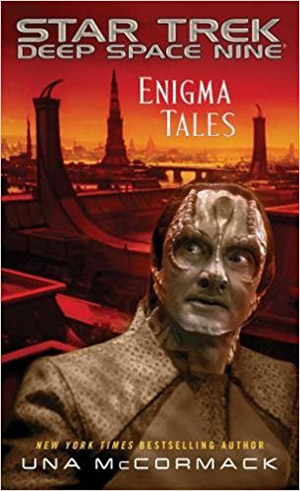 Una McCormack's Enigma Tales is the latest Star Trek novel continuing the interconnected series of books exploring the universe and characters of the 24th Century-set Star Trek shows beyond the events of their series finales.  Ms. McCormack has developed into the writer most often turned to when these books feature Cardassia and DS9′s beloved "plain, simple tailor" Garak, and Enigma Tales is another excellent Cardassian-focused novel.  The novel also continues Ms. McCormack's exploration of the character Peter Alden, a former Starfleet spy (who she created for her novel Brinkmanship) and his unlikely friendship with Dr. Katherine Pulaski (who replaced Dr. Crusher as the C.M.O. on board the USS Enterprise for the second season of Star Trek: The Next Generation, and who Ms. McCormack paired up with Peter Alden in her previous novel, The Missing).
Here in Enigma Tales, Dr. Pulaski, along with Alden, arrive at Cardassia so that Dr. Pulaski can receive a prestigious award.  The blunt Dr. Pulaski almost immediately makes a small mess of Cardassian politics, putting her at odds with Garak, who has (somewhat improbably) ascended to the position of Castellan, leader of the Cardassian Union.  The issue at hand is the debate on Cardassia as to whether any military leaders should be subject to investigation and potential prosecution for war crimes committed during the Cardassian occupation of Bajor.  For Garak, a man with a significant amount of blood on his hands, this debate represents something of a collision between his pragmatism and his morals.  Meanwhile, a minor local issue, the decision as to who will become the new head of a prominent Cardassian university, threatens to explode into a broader scandal when the leading candidate, Natima Lang (the strong-willed Cardassian former dissident, seen in the DS9 episode "Profit and Loss"), is accused of having committed atrocities herself during the occupation.
Enigma Tales is a wonderful next step in the fascinating way in which this continuing series of Star Trek novels has explored the world of Cardassia and the ramifications of where Deep Space Nine left that world and that people following the events of the series finale.  The Cardassians had long been presented as an enemy of the Federation, but the final run of DS9 episodes allowed us to follow the resistance movement on Cardassia, and the men and women there who struggled to throw off the yoke of oppression and be free.  Much of those hopes turned to ash when the Dominion did its best to destroy Cardassia Prime in "What You Leave Behind," the series finale.  What would become of Cardassia, following those dramatic events?  The post-finale Trek novels have taken great care to explore the subsequent decade, showing us how the people of Cardassia, step by step, rebuilt their world and their society, and attempted to create a functioning democracy.  Enigma Tales is another enjoyable piece in that puzzle, as we see the way this new Cardassian society is still haunted by the events of the Occupation and the Dominion massacre (referred to repeatedly in this book as "the fire").  I appreciate the thoughtfulness with which Ms. McCormack (and the other Trek authors) have considered the many challenges this new society would face.
Ms. McCormack has demonstrated a fascination with Garak ever since her first full Trek novel, The Hollow Men, and she has often made Garak a central character in her novels.  Enigma Tales is no different, and I love the way Ms. McCormack has developed the character.  Her Garak retains all the charm, and the fierce intelligence, of the character that we grew to know and love on DS9, while also showing us the many ways in which this man has changed from the character we knew on the show, how he has struggled to shake off his old life and old preconceptions in an effort to find a new path for himself, and Cardassian society as a whole.  I love reading Garak as written by Ms. McCormack.
I was very pleased to see the events of David Mack's Section 31: Control, specifically Garak's taking care of you-know-who (name withheld to avoid spoilers for other books!!) addressed in this follow-up novel.  Those sections of the book are heartbreaking.  I particularly enjoyed the device Ms. McCormack used of Garak's unsent letters to both allow her to develop and describe the geography of Cardassia Prime and, at the same time, give us great insight into Garak's state of mind.  Very clever.
I love that these recent Trek novels, beginning with David Mack's A Ceremony of Losses, have brought Dr. Katherine Pulaski back into the ongoing Trek story.  Dr. Pulaski is a wonderful character with a lot of potential for further development.  In The Missing and now here, Ms. McCormack seems to demonstrate a wonderful affinity for Dr. Pulaski.  It's fun how this TNG character fits so smoothly into the DS9 world.  I'm pleased that Ms. McCormack has incorporated Dr. Pulaski into her "ensemble" of characters.  Speaking of which, I also enjoyed seeing the young Cardassian investigator, Arati Mhevet (introduced in Ms. McCormack's novel The Crimson Shadow) again.  This is a great character, and it's a pleasure watching the way Ms. McCormack has developed her and explored her relationship with Garak.  Speaking with characters with a relationship to Garak, I was pleased to see Kelas Parmak again, as the character was quite missed, by me, in David Mack's Section 31: Control.  Ms. McCormack continues to explore Garak's relationship with Parmak with great delicacy, as opposed to my complaints about the ham-handed way I felt that Section 31: Control handled the issue of Garak's sexuality.  Though I am starting to wonder why these books won't come out and acknowledge a sexual relationship between Garak and Parmak.  Have I been reading too much into this, all this time??  I don't think I am, but I must admit that I am starting to wonder…  Anyways, moving on… the weak link for me in Ms. McCormack's array of characters remains Peter Alden.  Though he's appeared in several novels, now, I still don't feel I quite have a handle on this character, who he is or what he wants.  He seems far less interesting to me than he clearly does to Ms. McCormack.  I hope that will change one of these days.
Ms. McCormack often likes to base her novels around Cardassian literature (see also: The Never-Ending Sacrifice), and I enjoyed the way that continued in this book.  It's a little bit writerly, the way the story of the novel follows what Ms. McCormack tells us is the form of the Cardassian "Enigma Tale," still, I enjoyed the structure that gave the book, and here again I love the way Ms. McCormack has continued to flesh out the Cardassian people and their culture.
Enigma Tales is a wonderful continuation of the Deep Space Nine saga, and the Star Trek continuing story as a whole.  I can't wait to read what's next.
Previous Star Trek novel reviews:
Star Trek – Unspoken Truth , Troublesome Minds, Cast No Shadow, Excelsior: Forged in Fire, Allegiance in Exile, Legacies Book 1: Captain to Captain, Legacies Book 2: Best Defense, Legacies Book 3: Purgatory's Key, The Face of the Unknown
Star Trek: The Next Generation – The Sky's The Limit, Resistance and Q & A, Before Dishonor and Greater than the Sum, Destiny trilogy, A Singular Destiny, Losing the Peace, Immortal Coil, Cold Equations Book 1: The Persistence of Memory, Cold Equations Book 2: Silent Weapons, Cold Equations Book 3: The Body Electric, The Light Fantastic, Takedown, Armageddon's Arrow, Prey Book 1: Hell's Heart, Prey Book 2: The Jackal's Trick, Prey Book 3: The Hall of Heroes, Headlong Flight
Star Trek: Deep Space Nine – DS9 relaunch overview, The Soul Key, The Never-Ending Sacrifice, Plagues of Night and Raise the Dawn, Section 31: Disavowed, The Missing, Sacraments of Fire, Ascendance, Force and Motion, The Long Mirage, Section 31: Control
Star Trek: Voyager – Full Circle, Unworthy, Children of the Storm, The Eternal Tide, Protectors
Star Trek: Enterprise — Kobayashi Maru, The Romulan War: Beneath the Raptor's Wing, The Romulan War: To Brave the Storm, Rise of the Federation: A Choice of Futures, Rise of the Federation: Tower of Babel
Star Trek: Titan – Book 1: Taking Wing, Book 2: The Red King, Book 3: Orion's Hounds, Book 4: Sword of Damocles, Under a Torrent Sea, Synthesis, Fallen Gods, Absent Enemies (e-book), Sight Unseen
Star Trek: Typhon Pact – Book 1: Zero-Sum Game, Book 2: Seize the Fire, Book 3: Rough Beasts of Empire, Book 4: Paths of Disharmony, The Struggle Within (e-book), Plagues of Night and Raise the Dawn, Brinkmanship
Star Trek: The Fall — Book 1: Revelation and Dust, Book 2: The Crimson Shadow, Book 3: A Ceremony of Losses, Book 4: The Poisoned Chalice, Book 5: Peaceable Kingdoms
Star Trek: New Frontier – Series overview, Stone & Anvil, After the Fall, and Missing in Action, Treason and Blind Man's Bluff
Star Trek: Department of Temporal Investigations – Watching the Clock, Forgotten History
Star Trek: The Lost Era – Book 1: The Sundered (2298), Book 2: Serpents Among the Ruins (2311), Book 3: The Art of the Impossible (2328-2346), The Buried Age (2355-2364), One Constant Star (2319)
Star Trek: Mirror Universe (Books 1 & 2) – Star Trek: Mirror Universe: Shards & Shadows – Star Trek: Mirror Universe: The Sorrows of Empire — Star Trek: Mirror Universe: Rise Like Lions –  Star Trek: Myriad Universes (Books 1 & 2) – Star Trek: Myriad Universes: Shattered Light
Beyond the Final Frontier — Josh's favorite Star Trek novels