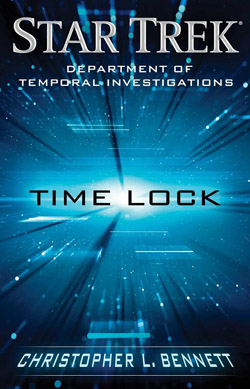 Star Trek: Further Adventures of the Department of Temporal Investigations!
The Department of Temporal Investigations was mentioned in one single Star Trek episode, Deep Space Nine's "Trials and Tribble-ations."  But many fans (myself included!) loved what we saw of the DTI, and its agents Dulmur and Lucsley.  Author Christopher L. Bennett must have felt the same way, as he expanded upon those characters and concepts in his two wonderful DTI novels, Watching the Clock and Forgotten History.  I had hoped for many more DTI novels, but I guess that was not to be.  Still, I was happy that Mr. Bennett continued the series in three novellas, which were released as e-books.  I quite enjoyed the first one, The Collectors, and I eagerly continued to read the next two, Time Lock and Shield of the Gods.
Novella #2, Time Lock, is a fantastic mind-bender in which a Time-Lock security device is activated to slow down times within the DTI's vault on Eris, when a group of bandits assault the location in an attempt to steal some of the valuable time-travel devices the DTI has found over the years (as discussed in the previous DTI e-book novella, The Collectors).  And so the 90-minute attempted heist within the vault takes place over the duration of nine months in the outside world.  As the story progresses, DTI agents within and without the time locked vault attempt to work together to save the day, with the ever-increasing time-difference alternatively proving an advantage and a disadvantage.
Mr. Bennett's wonderfully clever, and mathematically precise, story is a delight, and at a short e-book length this novella races along at a gripping pace.
This is a very cool concept for a story, and Mr. Bennett keeps this complicated story clear and easy to understand.
I loved seeing Dulmer get to have a successful romantic relationship.  And I particularly loved that he gets involved with a Denobulan, Dr. Phlox's race (from Star Trek: Enterprise) which Mr. Bennett had recently explored in his novel Rise of the Federation: Live By the Code.
When reading The Collectors, I had wished that agents Garcia and Ranjea (introduced in Mr. Bennett's first DTI novel, Watching the Clock) had more to do, a wish that was thankfully granted in this novella.
I enjoyed the reference to the prism stone from Voyager: Eternal Tide, now stored in the DTI vault.
The novella ends on a terrific cliffhanger, which was a big surprise!  Thankfully I had already downloaded Shield of the Gods and could proceed to the conclusion without delay…
This final novella was a wonderful conclusion to Mr. Bennett's e-book DTI trilogy.  The kidnapped DTI agent Ranjea attempts to determine the mastermind's plan, while his partner Agent Garcia and the other DTI team-members work to track him down.
I enjoyed the exploration of the mastermind character, Daiyar's, background, and Mr. Bennett sets up a wonderful philosophical quandary for our heroes as we can perhaps see some reason in Daiyar's attempts to wipe out a hideous, dangerous race.  I enjoyed the way Mr. Bennett sketched out the tragic relationship between the Fethetrit and the Rikeen, two very different alien species from different planets in a binary star-system.
I also loved the way this story allowed us to learn a little more about the mysterious Aegis (introduced in the Original Series episode "Assignment: Earth" and named by Howard Weinstein in issue #50 of DC Comics' Star Trek series from the eighties/nineties.)  It was great to further explore this organization and to meet another one of their agents, the Cardassian Rodal.  And we even got to visit to one of their never-before-seen bases!  That was fun.
I was surprised by the story's sad ending, but in the end I enjoyed it.  It certainly was an emotional conclusion to this series.  I wonder if Mr. Bennett would have gone this way with his story had there been a prospect of more DTI novels.
I am very sad that Shield of the Gods seems to be the end of these DTI stories, at least for now.  I do hope that Mr. Bennett is able to return to these characters at some point in the future.  But for now, I am happy and satisfied!
Previous Star Trek novel reviews:
Star Trek – Unspoken Truth , Troublesome Minds, Cast No Shadow, Excelsior: Forged in Fire, Allegiance in Exile, Legacies Book 1: Captain to Captain, Legacies Book 2: Best Defense, Legacies Book 3: Purgatory's Key, The Face of the Unknown
Star Trek: The Next Generation – The Sky's The Limit, Resistance and Q & A, Before Dishonor and Greater than the Sum, Destiny trilogy, A Singular Destiny, Losing the Peace, Immortal Coil, Cold Equations Book 1: The Persistence of Memory, Cold Equations Book 2: Silent Weapons, Cold Equations Book 3: The Body Electric, The Light Fantastic, Takedown, Armageddon's Arrow, Prey Book 1: Hell's Heart, Prey Book 2: The Jackal's Trick, Prey Book 3: The Hall of Heroes, Headlong Flight
Star Trek: Deep Space Nine – DS9 relaunch overview, The Soul Key, The Never-Ending Sacrifice, Plagues of Night and Raise the Dawn, Section 31: Disavowed, The Missing, Sacraments of Fire, Ascendance, Force and Motion, The Long Mirage, Section 31: Control, Enigma Tales, Gamma: Original Sin
Star Trek: Voyager – Full Circle, Unworthy, Children of the Storm, The Eternal Tide, Protectors
Star Trek: Enterprise — Kobayashi Maru, The Romulan War: Beneath the Raptor's Wing, The Romulan War: To Brave the Storm, Rise of the Federation: A Choice of Futures, Rise of the Federation: Tower of Babel, Rise of the Federation: Uncertain Logic, Rise of the Federation: Live By the Code, Rise of the Federation: Patterns of Interference
Star Trek: Titan – Book 1: Taking Wing, Book 2: The Red King, Book 3: Orion's Hounds, Book 4: Sword of Damocles, Under a Torrent Sea, Synthesis, Fallen Gods, Absent Enemies (e-book), Sight Unseen
Star Trek: Typhon Pact – Book 1: Zero-Sum Game, Book 2: Seize the Fire, Book 3: Rough Beasts of Empire, Book 4: Paths of Disharmony, The Struggle Within (e-book), Plagues of Night and Raise the Dawn, Brinkmanship
Star Trek: The Fall — Book 1: Revelation and Dust, Book 2: The Crimson Shadow, Book 3: A Ceremony of Losses, Book 4: The Poisoned Chalice, Book 5: Peaceable Kingdoms
Star Trek: New Frontier – Series overview, Stone & Anvil, After the Fall, and Missing in Action, Treason and Blind Man's Bluff
Star Trek: Department of Temporal Investigations – Watching the Clock, Forgotten History, The Collectors (e-book)
Star Trek: The Lost Era – Book 1: The Sundered (2298), Book 2: Serpents Among the Ruins (2311), Book 3: The Art of the Impossible (2328-2346), The Buried Age (2355-2364), One Constant Star (2319)
Star Trek: Mirror Universe (Books 1 & 2) – Star Trek: Mirror Universe: Shards & Shadows – Star Trek: Mirror Universe: The Sorrows of Empire — Star Trek: Mirror Universe: Rise Like Lions –  Star Trek: Myriad Universes (Books 1 & 2) – Star Trek: Myriad Universes: Shattered Light
Beyond the Final Frontier — Josh's favorite Star Trek novels