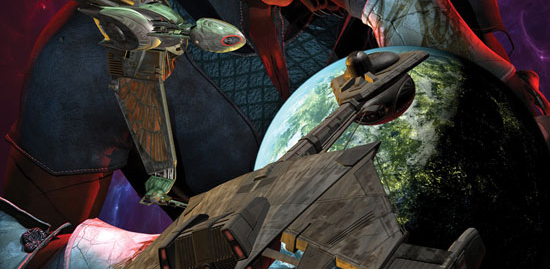 Star Trek: Prey Book 2: The Jackal's Trick
I really loved Hell's Heart, Book 1 in John Jackson Miller's new Prey trilogy of Klingon-centric novels.  Continuing Pocket Books' expanding post-Nemesis Star Trek saga, Prey sees the Federation-Klingon alliance frayed to the breaking point.  Discommendated Klingons have banded together, calling themselves the Unsung, to strike out at enemies across the Klingon empire.  They are led by the man they believe to be the Klingon warrior Kruge (who fought Kirk on the Genesis Planet in Star Trek III: The Search for Spock), apparently returned from the dead.  When Klingon nobles under Starfleet protection are murdered by the Unsung, Starfleet is embarrassed and made the target of rage from other Klingons across the Empire.  Facing attacks from the Unsung and a loss of trust from the rest of the Klingon Empire, Captain Picard and Admiral Riker race to track down the villains, but they are continually several steps behind a centuries-long plot for revenge hatched by the Klingon Korgh, the heir of Kruge.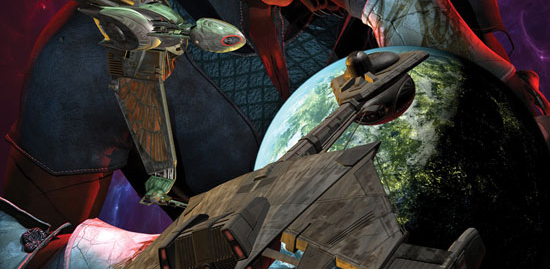 I thoroughly enjoyed Book 1 of Prey, and Book 2 is just as enjoyable.  Mr. Miller orchestrates a vast story with multiple characters and multiple locations across the Alpha and Beta Quadrant.  Despite the book's constant shifts around the galaxy, Mr. Miller's story is always easy to follow and a joy to watch unfold.  Mr. Miller allows us to understand and follow Korgh's complicated plot — as well as the plotting of other characters with competing interests as the story's scale grows ever more vast — while still being able to enjoy a variety of twists and surprises as the book progresses.
For me, a highlight of the book was a spectacular action sequence, about half-way through the novel, as the Unsung attack Riker's interstellar peace conference on the Klingon planet H'atoria.  Mr. Miller sets up the scene beautifully, describing a wonderfully unique location: the lava-surrounded island the Klingons calls "Spirit's Forge."  Mr. Miller cuts rapidly between multiple locations and multiple characters, allowing us to follow every step of the complex engagement as it unfolds.  This is riveting, page-turning writing, as exciting as the best action sequence in any filmed Trek adventure.
The novel's climax depicts another complex, riveting space-battle as multiple factions (including the Unsung, loyal Klingon Defense Force ships, the team of con-artists manipulating events, the small ship crewed by Geordi La Forge and Lt. Tuvok chasing those manipulators, The Enterprise, The Titan, and Typhon Pact forces) all converge on a nebula known as Cragg's Cloud and duke it out.  Mr. Miller juggles this huge assemblage of players with ease, rapidly cutting back-and-forth to allow the reader to follow multiple characters' viewpoints as the chaos erupts.  It's masterful story-telling and a tremendous climax to this book.
I'd commented in my review of book 1 that I felt like Mr. Miller's story was ignoring the rift in the Federation-Klingon peace accords that took place in Deep Space Nine seasons four and five.  Here in Book 2 that feeling intensified, as at one point Riker directly states that "the Federation has been at peace with the Klingon Empire since Kirk visited Khitomer."  Except that's not the case at all.  Rather than ignoring that interruption to the century of Federation-Klingon peace, I'd have preferred had this story acknowledged that, and attempted to convey why this situation was different, and perhaps more threatening, than that incident.
I liked seeing that Mr. Miller referenced newly-introduced Titan crew-members Sarai and Kyzak, including giving Kyzak a key role in the action at H'atoria.  This is a nice touch of continuity with the last Titan-centric novel, James Swallow's Sight Unseen.
It seems like Mr. Miller recognized that there might be confusion (as I'd expressed in my review of book 1) about the significance of Riker's planned H'atoria peace conference, because Mr. Miller devotes time very early in book 2 to explain more about the conference.  Unfortunately, that explanation didn't tell me anything more than I'd already understood from reading book 1, and I still don't think it felt quite significant enough to have the weight Mr. Miller intended.  Also, the sequence in which the conference is explained involved Kyzak acting like a total moron, so that Titan's Captain Vale can explain the conference to Kyzak (and the readers) as if he was a five-year-old, rather than a highly-qualified Starfleet officer.  This sequence was a rare few pages of the book that didn't work for me at all.
Just as Book 1 had a fun and unexpected interlude taking place in an earlier era of Trek history (in Book 1, it was a flashback to the Enterprise A soon after its launch at the end of Star Trek IV: The Voyage Home), here in book 2 about halfway through the novel we get a fun flashback to a young Ensign Tuvok on board Captain Sulu's Excelsior.  Mr. Miller even brings a young Curzon Dax into the story, providing another great and unexpected Trek connection.  I love that Mr. Miller references Curzon's pursuit of the Albino, an incident referred to in the DS9 episode "Blood Oath" and recounted in detail in Andy Mandels and Michael A. Martin's spectacular Trek novel Excelsior: Forged in Fire.
My main disappointment with The Jackal's Trick is that this terrific Trek story is hidden behind one of the worst covers I've ever seen on a Star Trek novel.  Take a look: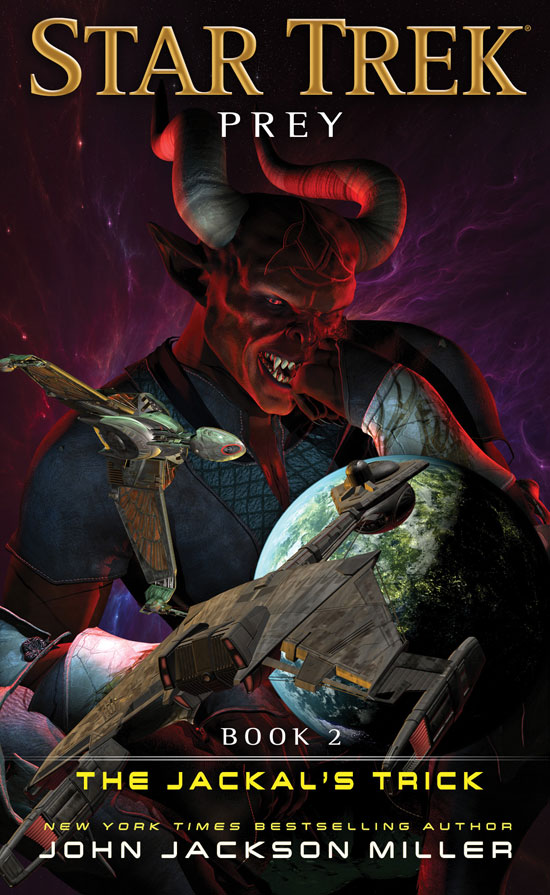 Ugh.  The devil figure looks silly and super-fake.  And what is going on with its left arm and hand — is the devil resting his face on his hand?  Is he punching himself in the head?  It looks awkward and weird.  I've been loving the covers on Pocket Books' Trek novels recently, but this one is embarrassingly amateurish.
(It also has the supplementary sin of spoiling the story's connection to the TNG episode "Devil's Due."  That's supposed to be a surprise, but I knew this would be the case ever since I saw an early solicitation image of the devil on this book's cover, months ago.  Sigh!)
Still, I did love this story's connection to Ardra.  I like how Mr. Miller has fleshed out the backstory of the society of "magicians" and con-artists from whom Ardra came.
As this novel raced towards it's conclusion, it felt like the story was coming to a close.  I like the mysteries and developments that happen in the book's final pages, even though I raised my eyebrows a teensy bit at what seemed like a bit of a delay/distract tactic in an attempt to stretch this story out to three books.  I'm curious to see, reading book 3, whether I think there really is a full book's worth of story left in this tale.  But I shouldn't doubt — books 1 and 2 have been incredibly strong.  I am excited to see where this story goes from here, and very much hope that Mr. Miller can stick the landing.
Previous Star Trek novel reviews:
Star Trek – Unspoken Truth , Troublesome Minds, Cast No Shadow, Excelsior: Forged in Fire, Allegiance in Exile, Legacies Book 1: Captain to Captain, Legacies Book 2: Best Defense, Legacies Book 3: Purgatory's Key
Star Trek: The Next Generation – The Sky's The Limit, Resistance and Q & A, Before Dishonor and Greater than the Sum, Destiny trilogy, A Singular Destiny, Losing the Peace, Immortal Coil, Cold Equations Book 1: The Persistence of Memory, Cold Equations Book 2: Silent Weapons, Cold Equations Book 3: The Body Electric, The Light Fantastic, Takedown, Armageddon's Arrow, Prey Book 1: Hell's Heart
Star Trek: Deep Space Nine – DS9 relaunch overview, The Soul Key, The Never-Ending Sacrifice, Plagues of Night and Raise the Dawn, Section 31: Disavowed, The Missing, Sacraments of Fire, Ascendance, Force and Motion
Star Trek: Voyager – Full Circle, Unworthy, Children of the Storm, The Eternal Tide, Protectors
Star Trek: Enterprise — Kobayashi Maru, The Romulan War: Beneath the Raptor's Wing, The Romulan War: To Brave the Storm, Rise of the Federation: A Choice of Futures, Rise of the Federation: Tower of Babel
Star Trek: Titan – Book 1: Taking Wing, Book 2: The Red King, Book 3: Orion's Hounds, Book 4: Sword of Damocles, Under a Torrent Sea, Synthesis, Fallen Gods, Absent Enemies (e-book), Sight Unseen
Star Trek: Typhon Pact – Book 1: Zero-Sum Game, Book 2: Seize the Fire, Book 3: Rough Beasts of Empire, Book 4: Paths of Disharmony, The Struggle Within (e-book), Plagues of Night and Raise the Dawn, Brinkmanship
Star Trek: The Fall — Book 1: Revelation and Dust, Book 2: The Crimson Shadow, Book 3: A Ceremony of Losses, Book 4: The Poisoned Chalice, Book 5: Peaceable Kingdoms
Star Trek: New Frontier – Series overview, Stone & Anvil, After the Fall, and Missing in Action, Treason and Blind Man's Bluff
Star Trek: Department of Temporal Investigations – Watching the Clock, Forgotten History
Star Trek: The Lost Era – Book 1: The Sundered (2298), Book 2: Serpents Among the Ruins (2311), Book 3: The Art of the Impossible (2328-2346), The Buried Age (2355-2364), One Constant Star (2319)

Star Trek: Mirror Universe (Books 1 & 2) – Star Trek: Mirror Universe: Shards & Shadows – Star Trek: Mirror Universe: The Sorrows of Empire — Star Trek: Mirror Universe: Rise Like Lions –  Star Trek: Myriad Universes (Books 1 & 2) – Star Trek: Myriad Universes: Shattered Light
Beyond the Final Frontier — Josh's favorite Star Trek novels