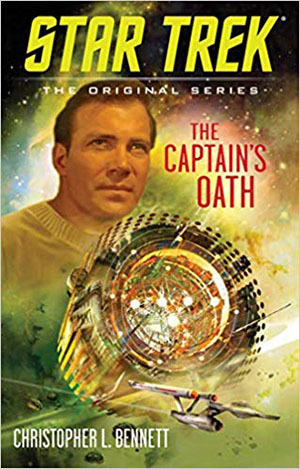 Star Trek: The Captain's Oath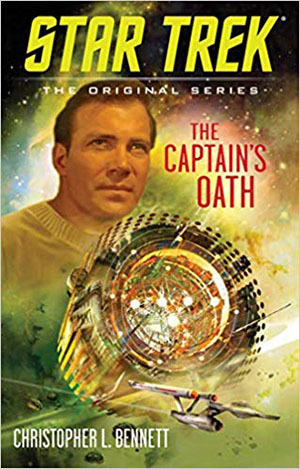 Christopher L. Bennett's fantastic new Star Trek novel, The Captain's Oath, serves as something of an origin story for Captain James T. Kirk.  But whereas J.J. Abrams' rebooted Star Trek movie, and its sequels, told a story outside of established Star Trek continuity, The Captain's Oath embraces continuity, beautifully weaving between established backstory to tell an exciting new tale.
The Captain's Oath is wonderfully structured to take place across several different points in the career of Captain Kirk.  In 2265, we see Captain Kirk just after assuming command of the U.S.S. Enterprise from Christopher Pike (so this part of the story is set after the events of the first Star Trek pilot, "The Cage," and before the events of the second pilot, "Where No Man Has Gone Before").  In 2262, we see that Kirk is posted to the Vega colony, following a disastrous mission on board his first starship command, the U.S.S. Sacagawea.  It is here that Kirk first meets Leonard McCoy, who will become his stalwart friend for the rest of his life.  And in 2261, we see Kirk as the newly-minted Captain of the Sacagawea, with his old friend Gary Mitchell at his side.  As the novel unfolds, we see how these events in different times & locations draw together, and we're given a fascinating picture of how Kirk built the skills, and close circle of friends and comrades, that would serve him so well as the captain of the Enterprise.
This is a fantastic book, and as a long-time Star Trek fan I particularly love how this story doesn't toss out established continuity in order to tell its story, but instead how it pulls together the pieces of established canon to create a story that is new and unexpected while at the same time being perfectly in synch with pre-established continuity.  It's a beautiful balancing act, one that Christopher L. Bennett has made look very easy.
It's fun to see characters from the early days of Star Trek brought into the novel.  We read of the retirement Dr. Piper (Captain Pike's Chief Medical Officer from "The Cage"), which of course creates the opening that Leonard McCoy will fill.  I quite liked the small story given to Lee Kelso (the helmsman from "The Cage"), and how he reacts poorly to Kirk's assignment as his new commanding officer.  I thought that the character of Janet Miller, with whom Kirk has a brief fling in this novel, was a new character created for the book, but after reading Mr. Bennett's fantastic annotations to his novel, I was pleased to discover that was was the Janet referred to in the TOS episode "The Deadly Years".  I also enjoyed seeing Kirk's early interactions with Commodore Bob Wesley (from "The Ultimate Computer") and Captain Ron Tracey (from "The Omega Glory").
I really loved the depiction of Kirk's first meeting with Koloth (from "The Trouble with Tribbles"), and seeing how the two fell into the habit of greeting one another with mock courtesan politeness.  That was a great touch.
There are lots of other fun connections to Trek history throughout the novel.  I liked the reference to Kirk's lapse as a Lieutenant that lead to many deaths on the Farragut, as per the Original Series episode "Obsession".  The book also references Kirk's posting on the Republic, as per "Court Martial", and also Kirk's posting on the Constitution, which I believe is a detail that comes not from TOS but from Michael Jan Friedman's My Brother's Keeper trilogy of novels.
I particularly like the story Mr. Bennett tells of the origin of McCoy and Kirk's friendship.  It's not what I expected, but it wound up being one of my favorite aspects of the story.  (Though I've never needed an origin for McCoy's "Bones" nickname, and I didn't find the one presented here much more compelling than the one given in J.J. Abrams' 2009 Star Trek film.)
One of the first Star Trek novels I ever read was Vonda N. McIntyre's Enterprise: The First Adventure, which told a different story of Captain Kirk's first mission as captain of the Enterprise.  I haven't re-read that book in decades; I am pretty sure the 2265 portions of this novel contradict that book, but Ms. McIntyre's novel was published long before Pocket Books attempted a stronger continuity between their novels, and I am OK with Mr. Bennett's telling his own version of these events.
I love how Mr. Bennett opens each chapter with a quotation.  Some are drawn from previous Trek canonical adventures/episodes, while others are made up for this novel.  Details like this help make the Trek universe feel broad and real.
The Captain's Oath has everything I want from a Star Trek novel.  It tells a strong, interesting character-based story; it features new aliens and new mysteries; it demonstrates an attentive eye for Star Trek continuity and is filled with wonderfully pleasing nods and connections to the entire franchise.  I eagerly await Mr. Bennett's next novel…!
Previous Star Trek novel reviews:
Star Trek – Unspoken Truth , Troublesome Minds, Cast No Shadow, Excelsior: Forged in Fire, Allegiance in Exile, Legacies Book 1: Captain to Captain, Legacies Book 2: Best Defense, Legacies Book 3: Purgatory's Key, The Face of the Unknown, From History's Shadow, Elusive Salvation, Assignment: Eternity, The Rings of Time, The Weight of Worlds, No Time Like the Past, Foul Deeds Will Rise
Star Trek: The Next Generation – The Sky's The Limit, Resistance and Q & A, Before Dishonor and Greater than the Sum, Destiny trilogy, A Singular Destiny, Losing the Peace, Immortal Coil, Cold Equations Book 1: The Persistence of Memory, Cold Equations Book 2: Silent Weapons, Cold Equations Book 3: The Body Electric, The Light Fantastic, Takedown, Armageddon's Arrow, Prey Book 1: Hell's Heart, Prey Book 2: The Jackal's Trick, Prey Book 3: The Hall of Heroes, Headlong Flight, Hearts and Minds, Available Light, Collateral Damage
Star Trek: Deep Space Nine – DS9 relaunch overview, The Soul Key, The Never-Ending Sacrifice, Plagues of Night and Raise the Dawn, Section 31: Disavowed, The Missing, Sacraments of Fire, Ascendance, Force and Motion, The Long Mirage, Section 31: Control, Enigma Tales, Gamma: Original Sin
Star Trek: Voyager – Full Circle, Unworthy, Children of the Storm, The Eternal Tide, Protectors
Star Trek: Enterprise — Kobayashi Maru, The Romulan War: Beneath the Raptor's Wing, The Romulan War: To Brave the Storm, Rise of the Federation: A Choice of Futures, Rise of the Federation: Tower of Babel, Rise of the Federation: Uncertain Logic, Rise of the Federation: Live By the Code, Rise of the Federation: Patterns of Interference
Star Trek: Titan – Book 1: Taking Wing, Book 2: The Red King, Book 3: Orion's Hounds, Book 4: Sword of Damocles, Under a Torrent Sea, Synthesis, Fallen Gods, Absent Enemies (e-book), Sight Unseen, Fortune of War
Star Trek: Typhon Pact – Book 1: Zero-Sum Game, Book 2: Seize the Fire, Book 3: Rough Beasts of Empire, Book 4: Paths of Disharmony, The Struggle Within (e-book), Plagues of Night and Raise the Dawn, Brinkmanship
Star Trek: The Fall — Book 1: Revelation and Dust, Book 2: The Crimson Shadow, Book 3: A Ceremony of Losses, Book 4: The Poisoned Chalice, Book 5: Peaceable Kingdoms
Star Trek: New Frontier – Series overview, Stone & Anvil, After the Fall, and Missing in Action, Treason and Blind Man's Bluff
Star Trek: Department of Temporal Investigations – Watching the Clock, Forgotten History, The Collectors (e-book), Time-Lock (e-book), Shield of the Gods (e-book)
Star Trek: The Lost Era – Book 1: The Sundered (2298), Book 2: Serpents Among the Ruins (2311), Book 3: The Art of the Impossible (2328-2346), The Buried Age (2355-2364), One Constant Star (2319)
Star Trek: Mirror Universe (Books 1 & 2) – Star Trek: Mirror Universe: Shards & Shadows – Star Trek: Mirror Universe: The Sorrows of Empire — Star Trek: Mirror Universe: Rise Like Lions –  Star Trek: Myriad Universes (Books 1 & 2) – Star Trek: Myriad Universes: Shattered Light
Beyond the Final Frontier — Josh's favorite Star Trek novels