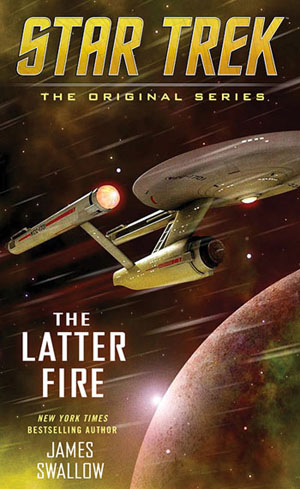 Star Trek: The Latter Fire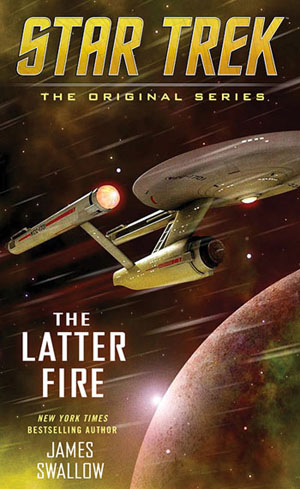 As James Swallow's Original Series Star Trek novel opens, Captain Kirk and the crew of the USS Enterprise are en route to the planet Syhaar Prime to begin the process of welcoming them into membership of the United Federation of Planets.  A year previously, the Enterprise crew had made first contact with the Syhaari, when they came across one of their damaged ships and assisted with repairs.  But now, as the Enterprise reaches their world, they discover that the Syhaari have made astounding advances in warp technology, far beyond what would naturally be expected.  The Federation's ranking diplomatic officer suspects that Kirk or a member of his crew violated the Prime Directive by giving the Syhaari advanced technology when they assisted them in their repairs, but Kirk & company soon discover that something else is at work…
The Latter Fire is a great novel.  It's a fun, fast-paced read.  Mr. Swallow has developed some intriguing new alien races and characters, and presented Kirk & co with some exciting new challenges that elevated this book.
I was particularly taken with the concept of the planet-sized life-form.  This reminds me of some silly sci-fi concepts, such as Ego The Living Planet from Marvel Comics (though Ego was brought to on-screen life remarkably well in Guardians of the Galaxy vol. 2) and Unicron from Transformers: The Movie.  But the life-form presented in this book is entirely different from those sort-of silly antecedents, and I was impressed by how carefully Mr. Swallow presented and developed this sci-fi concept.  There is some precedence in Star Trek for this type of giant, space-faring life-form, from the giant amoeba from the Original Series Episode "The Immunity Syndrome" (which is referenced in this book) to the cosmozoan creature from the Next Gen episode "Tin Man".  But Mr. Swallow has managed to acknowedge and build upon those previous stories to create something unique and interesting.
The novel is set after the third season of the Original Series, and the very first chapter is a fantastic scene with Chekov, showing us the moment that he departed the Enterprise in order to begin an advanced security training course.  Chekov's absence from the Enterprise at some point between the end of the Original Series and start of Star Trek: The Motion Picture has been much speculated upon in various Trek books, comics, fan-films, etc. over the years, because the navigator Chekov suddenly was a security officer in TMP (and because Chekov was sadly excluded from Star Trek: The Animated Series, which most fans identify as taking place during year four of the Five Year Mission).  We've seen many versions of Chekov's journey/promotion/departure before (for example, the fan-film series Star Trek: New Voyages/Star Trel: Phase II showed their Chekov shifting into a red uniform as the series progressed).  Chekov doesn't play any role in this novel after this first chapter, and so one could say that there wasn't much reason to include him.  But I love that first chapter!!  It's a great opening to the book.  I appreciated getting a sense of where in the Five Year Mission this story took place, and this was a wonderful piece of character development for Chekov.
As Chekov departs, we get to see the arrival of his replacement: Lt. Arex.  I was delighted that Mr. Swallow included both Arex and M'ress, two great characters from Star Trek: The Animated Series.  They're not just included in small cameo roles; Arex is a major character in the novel, as Mr. Swallow explores his adjustment to life on board the Enterprise.  (Here too, there have been various different versions of the chronology, with some books/comics/fan-films depicting Arex and Chekov serving concurrently aboard the Enterprise in the latter years of the Five Year Mission.  But it's logical that Arex might have arrived as a replacement for Chekov, since he served as navigator in Chekov's stead in the Animated Series).  (By the way, I was also pleased that Mr. Swallow included the idea that Arex had served as Chekov's nagivation instructor at Starfeet Academy, a tidbit that apparently has its origins in a 1973 Star Trek newsletter written by Gene Roddenberty and D.C. Fontana!)
It was very nice to see Uhura so important to the solution to the crisis in the latter part of the novel.  This was a great use of both her communications skills and musical talents.  I like seeing Uhura get a bit of spotlight.  (Though I was bummed that she wasn't able to do much to assist when she and Spock were taken hostage at the end.  When Spock fought with the alien Tormid, I'd hoped Uhura would use that opportunity to jump to a console and reverse the damage Tormid had done.  Instead she just went to check on a fallen colleague.  I understand that Uhura is deeply compassionate, but I'd expected her duty to the mission to take priority in that moment, and frankly I'd been rooting for more of a "hero" moment for her.  Instead, the situation stays dire until Captain Kirk arrives to save the day, which is the more predictable sort of resolution.)
I enjoyed the way Mr. Swallow explored and developed all of the new alien characters and races, including the Syhaari and the Breg'Hel, in this novel.  I particularly enjoyed the development of Kirk's friendship with fellow starship captain Kaleo.  It's nice to see this female alien character presented as an equal to Kirk, rather than someone to be condescended to or otherwise looked down upon.  Interestingly, this was the second Trek novel in a row I'd read that included a story about Kirk's finding comradeship with a fellow starship captain.  (This relationship turned out better than the one in The Shock of Adversity…)
Mr. Swallow utilized an interesting narrative style in this novel, incorproating a slightly more flowery, descriptive form of narration that is the norm for Star Trek novels.  I enjoyed it.  (With only one glaring exception: the roll-my-eyes moment in which the narration told us that "it was impossible to predict" that the bad guy would break out of the Enterprise's brig at a critical juncture.  I had absolutely predicted exactly that, the moment the novel revealed that the villain had been kept in the Enterprise's brig while they rushed off on their perilous mission to save the day, rather than his having been removed from the ship immediately after he was caught.  Oh well.)
Mr. Swallow incorporated a number of fun nods to Trek continuity.  In addition to all the Animated Series connections I've already mentioned, I appreciated his page one reference to Axanar (the site of an important battle in Trek history and also the name of the fan-film project that CBS/Paramount sadly crushed via lawsuit).  I was also happy that Lieutenants Leslie and Erikson, two recurring background players from the Original Series, were both included in the story.
The Pocket Book Star Trek novels that get me most excited are the ones advancing the 24th-century-set interconnected tale these books have been weaving for the past many years, moving forward the lives and adventures of the Next Gen, DS9, and Voyager crews beyond the end of their TV shows/movies.  But I love being reminded how enjoyable a great, stand-alone Original Series story can be!
Please support MotionPicturesComics.com by clicking through one of our Amazon links the next time you need to shop!  We'll receive a small percentage from any product you purchase from Amazon within 24 hours after clicking through.  Thank you!
Previous Star Trek novel reviews:
Star Trek – Unspoken Truth , Troublesome Minds, Cast No Shadow, Excelsior: Forged in Fire, Allegiance in Exile, Legacies Book 1: Captain to Captain, Legacies Book 2: Best Defense, Legacies Book 3: Purgatory's Key, The Face of the Unknown, From History's Shadow, Elusive Salvation, Assignment: Eternity, The Rings of Time, The Weight of Worlds, No Time Like the Past, Foul Deeds Will Rise, The Antares Maelstrom, The Shocks of Adversity, Crisis of Consciousness
Star Trek: The Next Generation – The Sky's The Limit, Resistance and Q & A, Before Dishonor and Greater than the Sum, Destiny trilogy, A Singular Destiny, Losing the Peace, Immortal Coil, Cold Equations Book 1: The Persistence of Memory, Cold Equations Book 2: Silent Weapons, Cold Equations Book 3: The Body Electric, The Light Fantastic, Takedown, Armageddon's Arrow, Prey Book 1: Hell's Heart, Prey Book 2: The Jackal's Trick, Prey Book 3: The Hall of Heroes, Headlong Flight, Hearts and Minds, Available Light, Collateral Damage
Star Trek: Deep Space Nine – DS9 relaunch overview, The Soul Key, The Never-Ending Sacrifice, Plagues of Night and Raise the Dawn, Section 31: Disavowed, The Missing, Sacraments of Fire, Ascendance, Force and Motion, The Long Mirage, Section 31: Control, Enigma Tales, Gamma: Original Sin
Star Trek: Voyager – Full Circle, Unworthy, Children of the Storm, The Eternal Tide, Protectors
Star Trek: Enterprise — Kobayashi Maru, The Romulan War: Beneath the Raptor's Wing, The Romulan War: To Brave the Storm, Rise of the Federation: A Choice of Futures, Rise of the Federation: Tower of Babel, Rise of the Federation: Uncertain Logic, Rise of the Federation: Live By the Code, Rise of the Federation: Patterns of Interference
Star Trek: Titan – Book 1: Taking Wing, Book 2: The Red King, Book 3: Orion's Hounds, Book 4: Sword of Damocles, Under a Torrent Sea, Synthesis, Fallen Gods, Absent Enemies (e-book), Sight Unseen, Fortune of War
Star Trek: Typhon Pact – Book 1: Zero-Sum Game, Book 2: Seize the Fire, Book 3: Rough Beasts of Empire, Book 4: Paths of Disharmony, The Struggle Within (e-book), Plagues of Night and Raise the Dawn, Brinkmanship
Star Trek: The Fall — Book 1: Revelation and Dust, Book 2: The Crimson Shadow, Book 3: A Ceremony of Losses, Book 4: The Poisoned Chalice, Book 5: Peaceable Kingdoms
Star Trek: New Frontier – Series overview, Stone & Anvil, After the Fall, and Missing in Action, Treason and Blind Man's Bluff
Star Trek: Department of Temporal Investigations – Watching the Clock, Forgotten History, The Collectors (e-book), Time-Lock (e-book), Shield of the Gods (e-book)
Star Trek: The Lost Era – Book 1: The Sundered (2298), Book 2: Serpents Among the Ruins (2311), Book 3: The Art of the Impossible (2328-2346), The Buried Age (2355-2364), One Constant Star (2319)
Star Trek: Mirror Universe (Books 1 & 2) – Star Trek: Mirror Universe: Shards & Shadows – Star Trek: Mirror Universe: The Sorrows of Empire — Star Trek: Mirror Universe: Rise Like Lions –  Star Trek: Myriad Universes (Books 1 & 2) – Star Trek: Myriad Universes: Shattered Light
Beyond the Final Frontier — Josh's favorite Star Trek novels