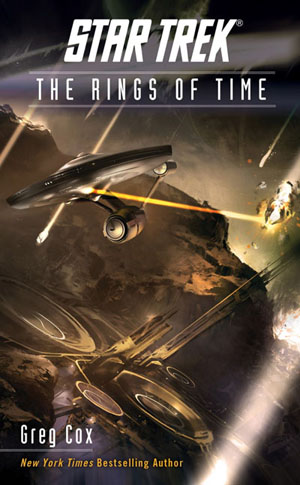 Star Trek: The Rings of Time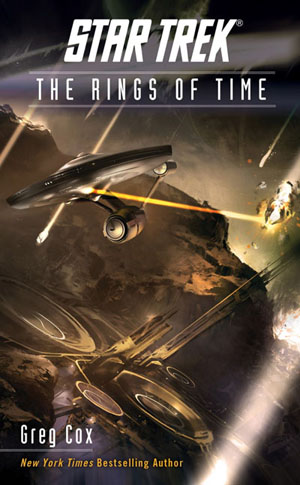 Looking at my "to-read" bookshelf a few months ago, I realized that I had a backlog of unread Star Trek novels from the past few years.  Most of these were stand-alone novels set during the Original Series era.  It wasn't that I was uninterested in reading those novels.  But I am very busy and so as new Star Trek books have been published, I often had to choose which ones to read first, and I found I always chose to read novels that were a part of the wonderful continuity that Pocket Books and its talented array of Trek authors have created, telling interconnected stories set after the 24th century era of the finales of Next Gen, Deep Space Nine, and Voyager.  Novels from Kirk's era, that were not a part of this broader continuity and continuing story, were usually the books I chose to put aside and save for later.
But as I'd continued to do that over the past few years, I found I had about ten Kirk-era Star Trek novels sitting unread!  And quite a few of them were by Greg Cox.  Having thoroughly enjoyed reading Mr. Cox's novel Assignment: Eternity recently, I decided the time had come to finally get caught up on these Original Series novels, and I decided to start with the bunch written by Mr. Cox.  The first one up was The Rings of Time.
The novel is set in two eras.  In 2020, the U.S.S. Lewis & Clark, commanded by Colonel Shaun Christopher, is on a mission to Saturn.  But Colonel Christopher and his crew are surprised to discover that the rings of Saturn are not behaving as they had expected.  Centuries later, Captain Kirk and the U.S.S. Enterprise respond to a distress call from a colony on the moon of the ringed gas giant Klondike VI.  The planet's rings are beginning to disintegrate, and the resulting bombardment of ring-fragments threatens to destroy the colony.  What is the connection between these two events, taking place in different time-periods and different parts of the galaxy?  And what is the secret of the mysterious probe that appears to be involved in both eras, and both situations?
The Rings of Time is a great book.  I particularly enjoyed the sections set in 2020 onboard the Lewis & Clark.  This section felt like it captured the spirit of the great sci-fi writings of Isaac Asimov and Arthur C. Clarke, in particular Mr. Clarke's 2001 series of novels.  Mr. Cox's novel, like Mr. Clarke's 2001 books, told a fantastic sci-fi mystery focused on one of the planets in our solar system.  That was wonderful, and the mystery really kept me guessing right up to the end.  I loved this exploration of Saturn and its hexagonal patterned storm-system, and the fantastic suggestion that that hexagon might be more than it seemed.  That was fascinating (and, again, reminded me so favorably of Mr. Clarke's 2001 novels).
I also really enjoyed Mr. Cox's development of Shaun Christopher and his crew-mates on the Lewis & Clark.  I grew to love those characters over the course of the book — I'd love to read about their further adventures!  (And I enjoyed Colonel Christopher so much that one of my only complaints about this book was that Colonel Christopher wound up getting somewhat sidelined in the second half of the story.)
Colonel Christopher is, of course, the son of Captain John Christopher, whom Kirk and the Enterprise encountered when they accidentally traveled back to 1969 in the Original Series episode "Tomorrow is Yesterday."  Spock mentioned that John Christopher's son Shaun would command the first successful mission to Saturn.  Shaun Christopher had previously appeared briefly in Mr. Cox's Eugenics Wars duology from a decade ago.  It was a delight to finally let that character take center stage here, and to allow his story to be told.
I did catch, very early on, that two characters (one from each of the eras in which this story was taking place) shared a very similar name, and so that aspect of the story didn't come as much of a surprise when we learned the truth.  I did enjoy the reveal that these connected characters shared a link to a certain omnipotent being from TNG.  Well, let's just say the letter that began part of both characters' names was a strong hint…
While my feelings about this novel are overwhelmingly positive, I do have to say that, wowsers, the book has an ugly cover.  Generally these Star Trek novels have awesome covers; particularly in the past few years, these Trek books have been graced by some gorgeous art.  (My favorites have been the beautiful space-ship designs created by Doug Drexler.)  But this one looks like a rough sketch of a cover, not an actual finished product.  The Enterprise is a mess, all out of proportion, and the image of the colony beneath the Enterprise doesn't look anything at all like what was described in the book.  This was a big swing and a miss.
But otherwise, this was a fantastic novel, and one I am glad to have finally read!!
Previous Star Trek novel reviews:
Star Trek – Unspoken Truth , Troublesome Minds, Cast No Shadow, Excelsior: Forged in Fire, Allegiance in Exile, Legacies Book 1: Captain to Captain, Legacies Book 2: Best Defense, Legacies Book 3: Purgatory's Key, The Face of the Unknown, From History's Shadow, Elusive Salvation, Assignment: Eternity
Star Trek: The Next Generation – The Sky's The Limit, Resistance and Q & A, Before Dishonor and Greater than the Sum, Destiny trilogy, A Singular Destiny, Losing the Peace, Immortal Coil, Cold Equations Book 1: The Persistence of Memory, Cold Equations Book 2: Silent Weapons, Cold Equations Book 3: The Body Electric, The Light Fantastic, Takedown, Armageddon's Arrow, Prey Book 1: Hell's Heart, Prey Book 2: The Jackal's Trick, Prey Book 3: The Hall of Heroes, Headlong Flight, Hearts and Minds
Star Trek: Deep Space Nine – DS9 relaunch overview, The Soul Key, The Never-Ending Sacrifice, Plagues of Night and Raise the Dawn, Section 31: Disavowed, The Missing, Sacraments of Fire, Ascendance, Force and Motion, The Long Mirage, Section 31: Control, Enigma Tales, Gamma: Original Sin
Star Trek: Voyager – Full Circle, Unworthy, Children of the Storm, The Eternal Tide, Protectors
Star Trek: Enterprise — Kobayashi Maru, The Romulan War: Beneath the Raptor's Wing, The Romulan War: To Brave the Storm, Rise of the Federation: A Choice of Futures, Rise of the Federation: Tower of Babel, Rise of the Federation: Uncertain Logic, Rise of the Federation: Live By the Code, Rise of the Federation: Patterns of Interference
Star Trek: Titan – Book 1: Taking Wing, Book 2: The Red King, Book 3: Orion's Hounds, Book 4: Sword of Damocles, Under a Torrent Sea, Synthesis, Fallen Gods, Absent Enemies (e-book), Sight Unseen, Fortune of War
Star Trek: Typhon Pact – Book 1: Zero-Sum Game, Book 2: Seize the Fire, Book 3: Rough Beasts of Empire, Book 4: Paths of Disharmony, The Struggle Within (e-book), Plagues of Night and Raise the Dawn, Brinkmanship
Star Trek: The Fall — Book 1: Revelation and Dust, Book 2: The Crimson Shadow, Book 3: A Ceremony of Losses, Book 4: The Poisoned Chalice, Book 5: Peaceable Kingdoms
Star Trek: New Frontier – Series overview, Stone & Anvil, After the Fall, and Missing in Action, Treason and Blind Man's Bluff
Star Trek: Department of Temporal Investigations – Watching the Clock, Forgotten History, The Collectors (e-book), Time-Lock (e-book), Shield of the Gods (e-book)
Star Trek: The Lost Era – Book 1: The Sundered (2298), Book 2: Serpents Among the Ruins (2311), Book 3: The Art of the Impossible (2328-2346), The Buried Age (2355-2364), One Constant Star (2319)
Star Trek: Mirror Universe (Books 1 & 2) – Star Trek: Mirror Universe: Shards & Shadows – Star Trek: Mirror Universe: The Sorrows of Empire — Star Trek: Mirror Universe: Rise Like Lions –  Star Trek: Myriad Universes (Books 1 & 2) – Star Trek: Myriad Universes: Shattered Light
Beyond the Final Frontier — Josh's favorite Star Trek novels