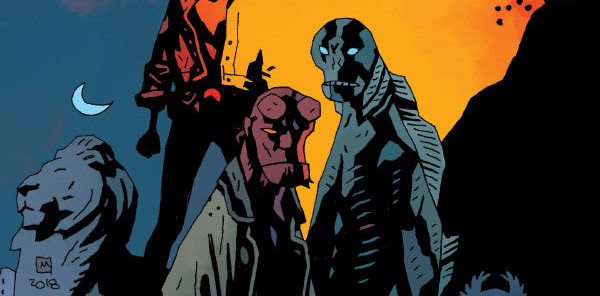 The Ever-Expanding Universe of Mike Mignola's Hellboy!
For over twenty years now, Mike Mignola's Hellboy comics have been one of my very favorite comic book series.  This series has expanded from an occasionally-published series of mini-series and short stories to a vast universe of stories, with multiple interconnected stories chronicling over 100 years of the history of these characters and this universe.  This is my favorite currently-published comic book series!  I cannot recommend it highly enough.  (If you're new to the Hellboy universe, you can dip your toes into the water with the Hellboy Omnibus vol. 01: Seed of Destruction, a relatively inexpensive lengthy collection of the first several Hellboy mini-series.)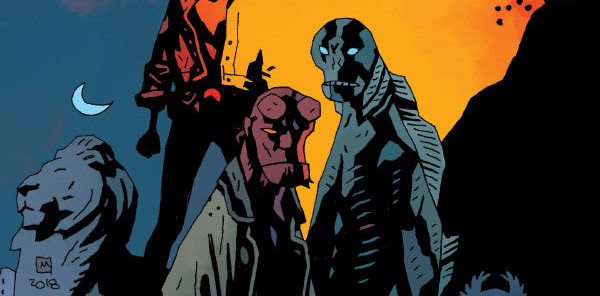 A little while back I spent a long time re-reading the entire saga from the very beginning, and writing about it, and then last year I checked in with the saga again.  Here's what's been cooking in my favorite comic book universe in the months since then:
Hellboy: Krampusnacht (2017) — Extraordinary artist Adam Hughes illustrates this one-shot in which, well, Hellboy fights the Krampus.  It's a fun little yarn, elevated by Mr. Hughes' gorgeous imagery.  I particularly loved the "Christmas Memories" epilogue, especially that wistful shot of H.B. and Alice.  Here's hoping there's a possibility of a happy ending for those two somewhere down the line…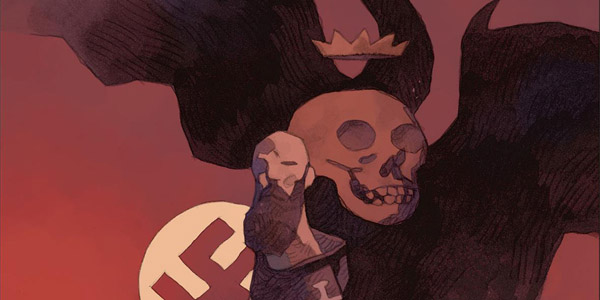 Rasputin: The Voice of the Dragon (2017-18) — This delightful five-issue mini-series has Rasputin in the title, but it's really about Trevor Buttenholm and how, in 1941, he transitioned from an office-bound academic to an in-the-field adventurer.  I love seeing more of Bruttenholm in his prime!  (Hellboy's mentor and father-figure Bruttenholm was famously killed off in the very first Hellboy mini-series, Seed of Destruction, but in the years since we've thankfully gotten many stories exploring who Bruttenholm was.)  Even more delightfully, this story sees Bruttenholm crossing paths with A.N. Sandhu (from Rise of the Black Flame)!  It was great to see Sandhu again, though a bummer that he didn't make it out of this story alive.  (In issue #3, when Sandhu recounts what he's been up to since Rise of the Black Flame, I was excited to see he'd crossed paths with the were-yeti monks from 2009's B.P.R.D.: The Black Goddess!)  It was also nice to see Bruttenholm's chum Harry Middleton (who recently popped up in Hellboy and the B.P.R.D. 1955: Occult Intelligence) again (and a reference to their first brush with the supernatural as boys that led to the death of their friend Billy, as seen in Hellboy and B.P.R.D.: 1953).  I also smiled when Lady Cynthia Eden-Jones popped up to lead a seance.  (Lady Cynthia was first introduced way back in Hellboy: Seed of Destruction, but we never learned much about her.  I've been pleased that, after a long absence from the Hellboy universe, she's made several reappearances in recent years, most recently in Hellboy and the B.P.R.D. 1954: Ghost Moon and Hellboy and the B.P.R.D. 1955: Occult Intelligence.)  On the Nazi side of things, it was interesting to see Rasputin in the days leading up to his experiment which would bring young Hellboy to Earth.  And, of course, I also loved seeing Ilsa and Kroenen and Kurtz.  This mini-series was filled with fantastic Hellboy universe connections!  (I love that author Chris Roberson has been digging so deeply into old Hellboy lore for his new stories.)
Speaking of connections, it was also interesting to see the Heliopic Brotherhood of Ra again, in the form of the ghost of Heliopic Grand Master Albert Mayhew.  (Has he appeared before in the Hellboy universe?)  We also get mention of Eugene Remy, the founder of the Brotherhood.  It was neat to see how Rasputin used his tomb — an interesting new connection between the Brotherhood and the origin of Hellboy!  I enjoyed hearing Bruttenholm's uncle Simon describe (in issue #1) how Sir Edward Grey had run afoul of the brotherhood.  It was also interesting to see Simon comment that not all of the members of the Brotherhood were evil.  I had been wondering about that, since some of the Brotherhood's investigations into the occult and the secret history of the world parallel what Edward Grey and later Bruttenholm and the B.P.R.D. would do, so it's interesting to get this perspective that maybe they weren't all so bad.  (Click here to purchase the collected edition of Rasputin: The Voice of the Dragon on Amazon.)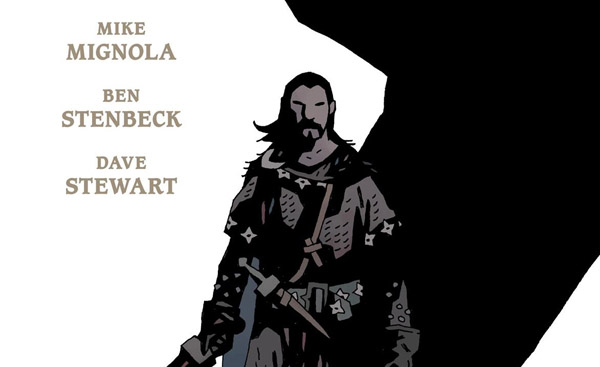 Koschei The Deathless (2017-18) — This six-issue mini-series is one of my absolute favorite Hellboy comics of the past several years!!  It's not exactly critical to the ongoing saga (though there are plenty of fun connections to spot, such as a reference to the Bog Roosh from 2002's Hellboy: The Third Wish and, in issue #5, the reappearance of the skull-faced man/creature (Death?) who we have seen observing Hellboy throughout the years, and Hellboy's sister pops up in issue #6), but it's filled with the type of fantastical weirdness that made the early Hellboy short stories so great.  Gorgeously illustrated by Ben Stenbeck (who is my favorite artist working with Mr. Mignola's team these days), this mini-series was pure joy for me from start to finish.  Which is ironic because this mini-series tells the gruesome, heartbreaking story of how Koschei because the "deathless" warrior in thrall to the Baba Yaga as we saw him back in 2007's Darkness Calls.  This one is absolute magnificence from the first page to the very last.  (Click here to purchase the collected edition of Koschei the Deathless on Amazon.)
Hellboy and the B.P.R.D. 1955 Burning Season (2018) — In this one-shot, Hellboy, Bruttenholm, and Susan Xiang investigate reports of human combustion in Florida.  Susan uses the trident given to her by Dr. Sandhu (the daughter, I presume, of A.N. Sandhu, whose demise we just saw in Rasputin: Voice of the Dragon) in Hellboy and the B.P.R.D. 1955 Occult Intelligence.  Paolo Rivera's art is excellent and a perfect fit for this period-piece Hellboy adventure. (Click here to purchase the collected edition of Hellboy and the B.P.R.D.: 1955 on Amazon.)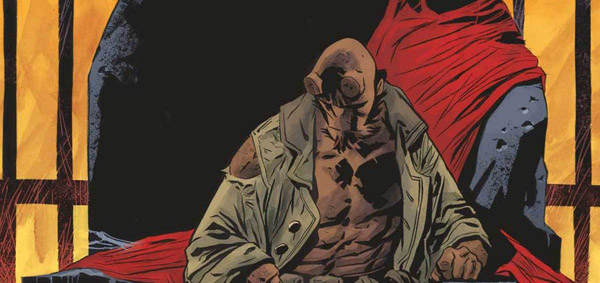 B.P.R.D. The Devil You Know: Pandemonium #6-10 (2018) — The main B.P.R.D. series makes a triumphant return, as Liz, Devon, Ashley Strode and the gang seek to unravel the mystery of the apparent-resurrected Hellboy, and then confront the demon Varvara head-on.  This is a terrific run of issues, weakened only by the artwork that I don't think is the right fit for these stories.  Both Sebastian Fiumara and Laurence Campbell are terrific artists, but the down-to-Earth, sketchy and shadowed nature of their styles doesn't quite bring the noise I was looking for in the humongous fantasy battles and events of these issues.
Mike Mignola steps in to illustrate the first three pages of #6, bridging the gap between the end of Hellboy in Hell and this series, as a dead Hellboy is visited by Sir Edward Grey and, in a big surprise, Roger (!!!), who summon him back to life.  Edward Grey mysteriously tells Hellboy that "the end — the real end — it's very close now" and that "there are just two things left to do."  I am not sure what this means, but it's ominous!
In issue #6, we get a glimpse of former B.P.R.D. director Manning, who we haven't seen in a long time.  Apparently that's because he's near death — the glimpse we get of his zombie-like face in one panel is horrifying.  Urgh.  Also ugly: looks like Zinco C.E.O. Evelyn McDonald hung herself.  That's sad, even for someone as morally questionable as she was.
In issue #7, we get to see Hellboy and Abe and Liz reunited, which is amazing!  Ashley Strode also plays a major role, which is fantastic, as she performs an exorcism (or, rather, attempts to perform one), that sets the B.P.R.D. gang on a collision course with Varvara, who is wreaking havoc in what's left of New York City.
There are lots of great continuity connections.  We see that Varvara has summoned two demons we've seen before: Balam from B.P.R.D.: Hell on Earth: The Exorcist (where he and Ashley crossed paths) and Bifrons from Abe Sapien: A Darkness so Great.  Hellboy flashes back to Hecate's prediction from way back in Hellboy: The Island that she and he will be together "on the last day," an event that seems to be fast approaching!  The panel of Abe looking at a tombstone is a connection to the similar shot from Abe Sapien #27: Itchyo Sapien.  Also, we meet B.P.R.D. agent Morrow, who I didn't remember seeing before, but reading online it turns out that he's from the story "The Promised Smile" by Rio Youers, from the prose short story collection Hellboy: An Assortment of Horrors.  Wow!
In issue #8, the highlight is the dramatic panel of Liz, Abe, and Hellboy, reunited and ready for action.  (Liz: "Screw it.  Let's go.")  This moment has been such a long time coming!  I like that Fenix is key to the B.P.R.D. agents putting the pieces together (just as Ashley Strode played an important role in #7), and I was delighted that it was the Russian Leonid who figured out that their enemy was Varvara, who used to run the Soviet occult division.  Nice!  (By the way, I love that the panel of Varvara strolling along a conference table while a body burns behind her is a scene we'd  seen before in B.P.R.D.: A Cold Day in Hell… and which we'll actually get to see in context a few months later in Crimson Lotus #2!!  Amazing continuity.)  Also: Kroenen buys the farm, murdered by Varvara!  Wow, I didn't see that coming.  Kroenen has come back from seeing death before, but this finally looks like the end for that evil Nazi.
In issue #9, we finally, finally, finally catch up with Liz's vision from way back in B.P.R.D.: King of Fear #4 of the crashed B.P.R.D. airship!!  BUT, if I am understanding the issue correctly, Liz changes things and is able to save the ship so it puts down safely.  Wow!  Does this mean our heroes also have a chance of avoiding the other prophecies of doom for mankind, about which we've been reading for years in these series?  We'll find out soon, it seems.  Meanwhile, things look grim here as we see New York in almost total ruins, as predicted for years and glimpsed in prophecies such as the one from all the way back in Hellboy: The Right Hand of Doom and also Hellboy: The Wild Hunt.  Also: R.I.P. Leonid.  I wish his death had been given a little more drama (as it's almost an aside in the small panel where it happens.)
Things really go nuts in issue #10, as Ashley Strode succeeds in exorcising the demon that had been possessing the girl Varvara (whose name was revealed just a few issues before as Yomyael)… only for it to be revealed that this demon was "the only thing holding her back" — and Rasputin emerges from within Varvara and is revealed that he is Varvara's father!  Rasputin then brutally murders Ashley.  That was a huge shock, and I was very sad to see this great character taken out.  Both Devon and Carla Giarocco also perish in this huge body-count issue.  Wow.  (One negative: the artwork fails the story here, as I found it very confusing as to what was happening at the end.  For the longest time, I thought the red demon who was defeated and who said he was "the only thing holding her back" was either Balam or Bifrons, one of the other two big red demons who has been serving Varvara for the past several issues.  I only eventually realized that what happens is that Ashley was successful at separating the demon Yomyael from the girl Varvara… which then cleared the path for Rasputin's return.  I wish that had been clearer.)
(Click here to purchase the collected edition of B.P.R.D.: The Devil You Know "Pandemonium" on Amazon.)
Witchfinder: The Gates of Heaven (2018) — In 1884, The Queen of England tasks Sir Edward Grey with investigating the spectral figure who has been stealing occult objects.  A new Witchfinder series is always a delight, and this one doesn't disappoint.  It's fun to see Sir Edward once again tangling with the heliopic Brotherhood of Ra, and I was so happy when Sir Edward met Panya on the final page of issue #2!  (Panya, of course, would reappear a century later in a variety of B.P.R.D. stories before meeting her apparent end in B.P.R.D. Hell on Earth #145.)  I loved the flashback to Panya's youth in Egypt at the beginning of issue #3, and I was intrigued to read of her prediction of the future destruction of England (which we saw happen in The Fury).  I enjoyed the artist D'Israeli's clean, crisp, slightly cartoony style.  (Click here to purchase the collected edition of Witchfinder: The Gates of Heaven on Amazon.)
Hellboy: Winter Special (2018) — This one-shot features several fantastic short tales.  In the first, Happy New Year, Ava Galluci, Hellboy participates in a seance that turns ugly.  The phenomenally talented Ben Stenbeck returns to illustrate this short story, and as he's now my favorite of the current stable of Hellboy artists, I was thrilled to revel in his gorgeous artwork.  This is a great ghost story and the bit at the end with the frogs was incredibly creepy.  In Lost Ones, Gabriel Ba & Fabio Moon tease us with a story that connects to the unfinished cliffhanger ending of B.P.R.D.: Vampire from back in 2013.  Will we finally see a conclusion to this story??  I hope so!  In the mean-time, this short tease was a delight.  The final story, The Empty Chair, is written and gorgeously illustrated by Tonci Zonjic (who is my #2 favorite current Hellboy artist, after Ben Stenbeck!!).  It's a Lobster Johnson tale, and boy is it special to see Mr. Zonjic back illustrating a Lobster story.  It's not a particularly memorable short story, but fun nonetheless.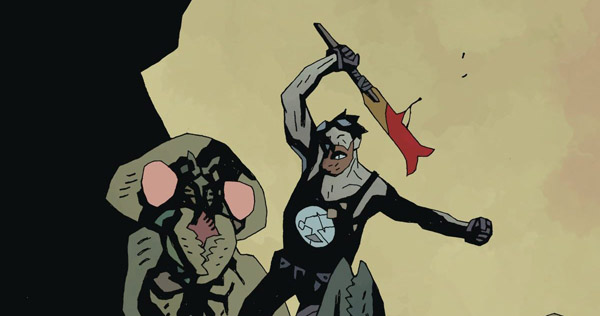 B.P.R.D. The Devil You Know: Ragna Rok #11-13  (2018-19) — Everything comes to a climax here!  Rasputin is back and devastation is unfolding world-wide.  It is Ragna Rok on a global scale — remember, this was Rasputin's goal all along.  His project that resulted in Hellboy's "birth" on Earth, from way back in the first Hellboy story, Seed of Destruction #1, was called Project Ragna Rok!
I love the gorgeous Mike Mignola covers for issues #11-13!  Amazing!
Issue #11 opens with a fantastic flashback to Varvara's youth in Russia in the early 1900's.  We see that she was, indeed, Rasputin's daughter.  This also clarifies the ending of #11, as we see that Varvara isn't a demon taking the form of a young girl, but actually that the demon Yomyael possessed the young human girl Varvara.  This is horrifying.  (My only objection is that the end of the flashback feels rushed and is hard to understand.  Why is Varvara's mother screaming when Rasputin hands the girl a cloak?  Did Rasputin have anything to do with the demon possessing Yomyael, or was that really a totally random happenstance when Varvara and her dying mother encounter a man on the road, at which point, if I am reading these hard-to-understand pages correctly, the demon jumps from possessing the man into possessing young Varvara?)
In issue #12, the death-count of these recent stories continues to climb, as Kate's former lover, the German Bruno, returns in the opening scene, only to be murdered by the vampires who have emerged from the ground, their plan disrupted by the arrival of the Ogdru Jahad and the devastation being wrought all over the planet.  That's cold.  It's great to see the long-simmering vampire storyline come back into focus, though.  Meanwhile, more and more of the planet is being devastated, and the surviving humans are instructed (via Hellboy's vision of Sir Edward Grey) to flee underground, an event that has been hinted at for years.  I love that one of these hidden sanctuaries (which the girl Maggie calls Hyperberum — is this story going to end with humanity recreating Hyperborea, underground?  Will we be seeing Frankenstein's monster, last seen in Frankenstein Underground, soon??) is under Cavendish Hall, from the very first Hellboy story, Seed of Destruction!  Amazing!
Also amazing is the great Edward Grey sequence, as we learn that he and others (including Mohlomi from The Third Wish!!) learned of Rasputin's plans and attempted to stop him, but failed.  (I'm not sure why Edward didn't give Hellboy any of this information back in Hellboy in Hell, though.)  I love that Sir Edward Grey is an important figure in these climactic events.
In issue #13, the bodycount rises still higher as a more long-time supporting characters get killed, including O'Donnell and Stazz.  (I wish the series was able to take a breath to show the effects of these deaths on the other characters; that would give these deaths a greater impact.)  I enjoyed seeing the giant Rhinoceros god in Africa (from Makoma) confronting an Ogdru Hem, and the shot of Alice and the other fantasy creatures waiting, sadly, for whatever fate awaits Hellboy.
There are still two issues left to go in this series… I cannot wait for the conclusion!
Crimson Lotus #1-4 (2018-2019) — It's the origin story of The Crimson Lotus!  Wow!  This is not something I ever expected to see!  (The Lotus was first mentioned way, way back in the early B.P.R.D. mini-series The Dead and Killing Ground, and we saw the Lobster facing the Lotus in A Scent of Lotus from 2013… and her crazy smiling monkeys popped up again in 2017's Lobster Johnson: Mangekyo.)  The opening sequence in issue #1, in which we see the Lotus as a young girl and watch her father get brutally, horribly murdered by Rasputin (Rasputin!  What a connection!) is haunting and has stuck in my mind ever since.  In another clever twist, this story features as a hero Captain Daimio, as a young, strapping, handsome man!  Once again the twisty-turny Hellboy world is filled with wonderfully unexpected and clever connections, with characters popping up when you least expect them.  Mindy Lee's artwork is great, and fits well with this tale which is one part globe-trotting pulp adventure and one part horror.  (So far, four of the five issues of this series have been published.)
Hellboy and the B.P.R.D.: 1956 #1-4 (2018-2019) — This series of mini-series, telling the story of Hellboy's history with the B.P.R.D. chronologically since 1952, continues to be genius-level stuff and thoroughly enjoyable.  In this latest mini-series, set in 1956, we finally catch up to Hellboy's drunken "Somewhere in Mexico" adventures, something I have been eagerly anticipating for a while now!  Issue #1 gives us some long-needed conquest for HB's drunken Mexico misadventures, as we see how sad and lonely he is at B.P.R.D. headquarters.  In a brilliant and heartbreaking piece of storytelling, Professor Bruttenholm's right-hand-woman Margaret brushes Hellboy off, thinking when he asks to talk to her about Mac that he's looking for someone to look after his dog… but as we see H.B. drive away on his mission, he passes a small grave and we realize that Mac is dead.  It's a shot-in-the-gut moment that is incredibly powerful and suddenly recontextualizes Hellboy's months-long drunken bender in Mexico.  He was trying to bury his broken heart.  Wow.
I was also pleased that they found a clever way to show how this story intersects with Hellboy's Mexican escapades without having to retell them.  The one "Somewhere in Mexico" panel in the middle of issue #2  and #3 tells us the whole story.  (And, of course, the clever reuse of that "Somewhere in Mexico" caption tells long-time Hellboy fans everything we need to know.)
We also see the continuing mystery of Enkeladite — both the U.S. government's secret uses of the stuff, as well as the Soviets' pursuit of it — which is a story-thread we've been following all the way back since B.P.R.D.: 1948.  Very cool.
Speaking of the Soviets, it's fun to see Varvara in this era, in control and wreaking havoc.  I was shocked and delighted to finally see, in issue#4, the moment in which Varvara was imprisoned by the Soviets who she'd been controlling!  She's going to be kept in that jar for a loooong while, until Iosif will release her decades later.
I liked seeing Margaret finally get some focus in this story.  (There's a great scene at the start of issue #2 in which she calls out Buttenholm on his erratic behavior).
Wow!  After teasing us with the still-unresolved cliffhanger ending of B.P.R.D.: 1947 in the Hellboy: Winter Special (see above), Jacob Stegner (from B.P.R.D. 1946 & 1947) re-enters the story at the end of issue #2!  That was fantastic, and I was excited to see this character back involved in this series… only to have the rug pulled out from under me when Jacob was shot and killed in issue #4.  Wow.  That was unexpected… and, for now, disappointing to have Jacob killed in such a useless moment.  I hope we will see more of this character in the future.  (Even though he's dead, someday I am hoping the B.P.R.D. Vampire cliffhanger will be resolved, in a story that I assume will involved him.)
I loved seeing Bruttenholm and Jacob's investigations of the huge Colorado structure that will, decades later, become the B.P.,R.D. headquarters!  It was always suggested that building had a hidden past… it's fun to see that finally get elaborated upon.
I'm intrigued to see Susan Xiang's slowly discovering the secrets that Bruttenholm has been keeping from her.  In issue #3 she learns that Burttenholm knew that Varvara killed Bob Amsel (in Hellboy and the B.P.R.D.: 1952)… and in issue #4, she has a shocking vision of the events currently happening in B.P.R.D. The Devil You Know (including the return of the Ogdru Jahad and Hellboy's resurrection).
They used a technique with this series to have different artists illustrating different sections of the story.  It works because of the skill of all of the artists involved.  Mike Norton illustrates the main Hellboy/B.P.R.D. story; Yishan Li illustrates Susan Xiang's story; and the great Michael Avon Oeming (illustrator and co-creator of Powers) illustrates the Varvara/Soviet stuff.  All there artists are terrific.
(So far, four of the five issues of this series have been published.
I love these series!  I can't wait for what new Hellboy adventures await in 2019…
Please support MotionPicturesComics.com by clicking through one of our Amazon links the next time you need to shop!  We'll receive a small percentage from any product you purchase from Amazon within 24 hours after clicking through.  Thank you!