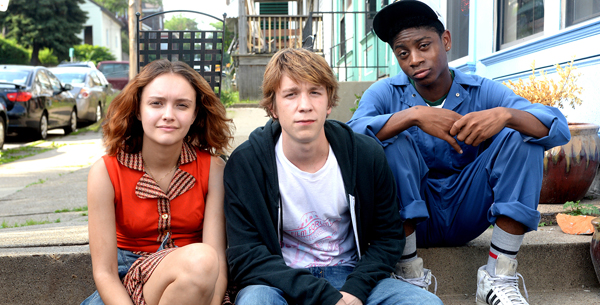 Catching Up on 2015: Josh Reviews Me and Earl and the Dying Girl
Back in December, before finalizing my Best of 2015 lists, I watched a ton of movies, trying to catch up on 2015 films I'd missed.  I've been writing about them in this "Catching up on 2015" series of blogs, and I believe I have now finally arrived at the last of those 2015 films that I'd seen but not yet reviewed.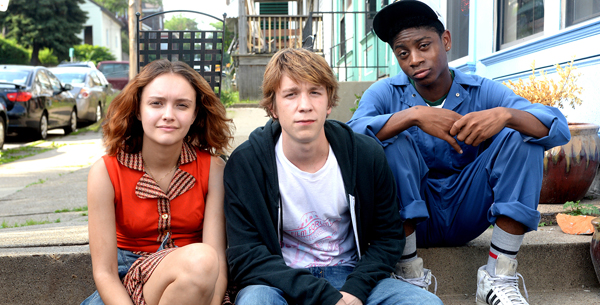 Me and Earl and the Dying Girl, written by Jesse Andrews (based on his 2012 novel of the same name) and directed by Alfonso Gomez-Rejon, tells the story of the year of friendship between High School seniors Greg (Thomas Mann), Earl (RJ Cyler), and Rachel (Olivia Cooke).  Greg's strategy for surviving High School has been to try to float between all of the school cliques, without ever joining nor alienating any group, though he finds himself breaking many of his personal rules over the course of his eventful Senior Year.  Though Greg and Earl have been friends for years, working together on a bizarre project to film short reenactments of many of their favorite movies, Greg initially only talks to Rachel when forced to by his parents, who feels sorry for Rachel and her mom when Rachel is diagnosed with cancer.  What begins as an obligation eventually blossoms into a friendship, with brings with it some of the types of connections, and complications, that Greg had been trying so hard to avoid.
I enjoyed this film.  It has a very idiosyncratic tone that I found appealing, and the performances of the three teen-aged leads are all terrific.  But I can't say that I loved this film, and I think that's because I felt somewhat held at arm's length by it.  I didn't feel that I got to know any of the characters, particularly Earl or Rachel, as well as I had expected I would.  Now, part of that might be on purpose, as one of the film's best and most emotional scenes comes at the very end, when Greg discovers something about Rachel's bedroom that floors him, suggesting that perhaps he never knew her as well as he'd thought.  But I would have enjoyed getting inside each of these three kids in a way that I didn't feel the film ever really allowed me to do.
I also have a strong objection to a plot twist involving a choice that Rachel makes in the third act.  I don't want to spoil everything by getting too specific, but for me it took the wind completely out of my sails.  Up until that point, I thought I had been watching a sweet but sad story about kids growing up and learning to somehow deal with the unavoidable tragedies of which life is full.  But Rachel's choice makes the central tragedy of the film feel like it could have been avoided, which for me totally muddles the story and drives a film that I had been enjoying right off the rails.  (Forgive me for mixing a sailing metaphor with a trains metaphor.)
However, I did still really dig the work by all three leads, all of whom I hope to see a lot more of in future films in the coming years.  I was especially taken by Olivia Cooke's work as Rachel.  This is a tough role to play, and it would have been easy for her to fall into the trap of the idealized dying girl for whom we can all feel sorry (and feel good about ourselves for feeling sorry for her).  (I actually enjoyed the film adaptation of The Fault in our Stars from a few years ago, but this film — and specifically Olivia Cooke's wonderful performance — feels very intentionally designed to tell a very different type of story than that one did.)  Ms. Cooke is marvelously honest and low-key, wonderfully fleshing out a character who we basically only see from Greg's viewpoint.  This is very sweet, very subtle work, and I was very impressed.
The film brings in a little bit of star power to play the kids' parents.  Molly Shannon is terrific as Rachel's mother.  Ms. Shannon tones down her usual schtick to just the perfect level, allowing some silliness to shine through while also letting us see the terrible sadness of a mother who knows her daughter is dying.  Parks and Recreation's Nick Offerman and Connie Britton play Greg's parents, and they are phenomenal.  I really want to see a movie focusing on this couple.  Then there is Jon Bernthal, who's had a hell of a past few years (most recently being amazing as the Punisher on the second season of Netflix's Daredevil), as a teacher who is something of a mentor to Greg and Earl.  I want to see a whole movie focusing on this guy, too!  Mr. Bernthal is terrific, playing a very different type of character than I'm used to seeing him do, and the script cleverly avoids the usual ways this one-nice-teacher character usually goes in this sort of coming-of-age film.
One of my favorite aspects of the film was getting to see the crazy low-tech but hugely-creative reenactments of famous movies that Greg and Earl create together.  Yes, this concept is hugely derivative of the idea of "sweding" a movie from the underrated Be Kind Rewind.  But it's so much fun, and the short-film reenactments that we see in this film are so clever and funny, that I really can't complain.
Perhaps Me and Earl and the Dying Girl wasn't quite the film I wanted it to be or hoped it would be, but I enjoyed it nonetheless.  It's a quirky coming-of-age story (a genre of movies that I adore), and it manages to be both funny and sad.  It's worth a watch.