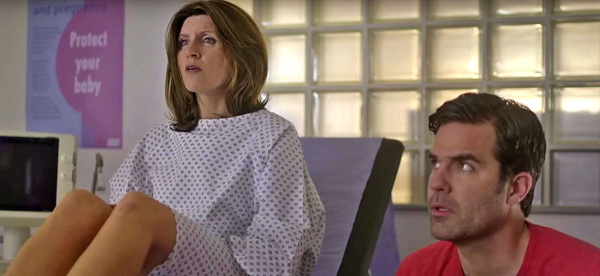 Josh Reviews Catastrophe Season One!
Amazon's six episode series Catastrophe, which originally aired in the U.K. on Channel 4, is a concentrated burst of comedic genius, fall-on-the-floor funny and staggeringly profane. I loved every minute of it.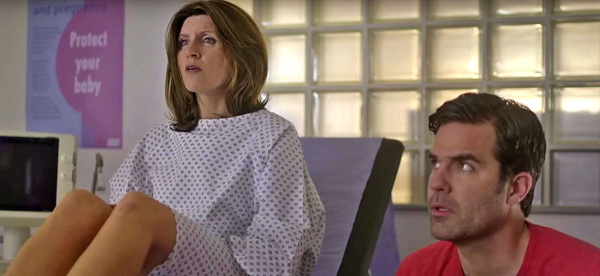 The series was written by Sharon Horgan and Rob Delaney, who also star as Sharon and Rob.  The two meet when Rob is in England for a week for business, and they have a torrid few days of enthusiastic sex.  Then Rob goes home and neither truly expects to see the other again.  Until Sharon discovers she's pregnant.  So Rob moves to London and he and Sharon decide to make a go if being a couple.  The series follows the following months of Sharon's pregnancy.
Catastrophe is a magnificent creation.  It doesn't go easy on either of its characters or the problems they face trying to get through a pregnancy and build a life together.  It's a show that is very frank and honest about how hard this situation would be for Sharon and Rob, rather than giving us the gauzy-eyed rom-com version of this story.  But it does so without ever being anything less than blisteringly funny.  The jokes come fast and furious.  That the show is able to so deftly balance feeling so real, with being so consistently funny, is astounding.
I adore both Sharon Horgan and Rob Delaney in these roles.  They are so funny, and also so human.  These are magnificent performances in instantly iconic roles.  I was not familiar with either Ms. Horgan or Mr. Delaney before watching Catastrophe, but believe me I will now be paying close attention to anything they do in the future.  Catastrophe works because of the delicious chemistry between these two leads.  (And remember, they also wrote the show together!)  I love the way they can each say truly horrible (yet very funny) things to the other, and then give a small grin to show how much they like the other, and that the way they bait each other is a part of the special and unique way that these two characters connect.
There's a sweetness to Catastrophe underneath all the filthy jokes that surprised me, but that is part of why I loved the show so much.  Thankfully, though, the show is careful to never over-step into treacly over-sweetness.  In the finale, Mr. Delaney and Ms. Horgan give us one of the show's most tender moments, in which Rob is willing to cut Sharon's toenails on their wedding night, and immediately follows it up with their harshest, meanest argument.  That argument was deeply unsettling to watch, but I can understand why they included it.  As I commented above, this is a very human show.
For a tremendously funny comedy, I was blown away by how well the show was able to dramatize complicated emotional stories.  The highlight of this, for me, was in episode four, in which Sharon is given the news that a test has revealed a high likelihood that her child will have Down Syndrome.  Sharon is floored by this news, and has to struggle with whether she wants to undertake a risky procedure to find out for sure, and also with the prospect of what her life would be like raising a child with a disability, something she had never before considered.  This is very heavy stuff.  Many dramas would not be able to bring this topic to life with anything near the honest emotion as this episode does.  And being able to also ensure that the episode is still hysterically funny, without falling into the trap of a comedy doing a saccharine "Very Special Episode"?? Extraordinarily impressive.
I also enjoyed the structure of Catastrophe, and the way that Ms. Horgan and Mr. Delaney were not afraid to move the story forward.  Most sitcoms would mine this premise for years, but Catastrophe tells the entire story of Sharon's pregnancy in six less-than-thirty-minute episodes.  This left me wanting more, rather than feeling that they took a strong premise and ran it into the ground.
The show succeeds because of its two terrific leads, but by the end of the six episodes I had also grown to love the crazy collection of kooks surrounding Sharon and Rob.  (Seeing them all gathered together at the wedding was a terrific payoff.)  They're all great, each and every one of them: Fran and Chris (Ashley Jensen and Mark Bonnar), Sharon's brother Fergel (Jonathan Forbes), Rob's crazy one-friend-in-England Dave (Daniel Lapaine).  Tobias Menzies (Rome, Game of Thrones, Outlander) is a fairly big name for a very small role as Sharon's second doctor, but he kills in all his scenes.
Then there is Carrie Fisher as Rob's mother.  Holy cow is this great casting for a great role.  You keep waiting for the show to redeem this character, but nope, Rob's mom is pretty much a monster from beginning to end.  But a very funny one!  Ms. Fisher really digs her teeth into the role.  I wasn't bowled over by Ms. Fisher's work in Star Wars: The Force Awakens.  I felt she was pretty stiff.  But she is absolutely terrific here, perfect as this character and so fun to watch.
Catastrophe is terrific, a tremendous comedic discovery.  It's an extraordinarily impressive and unique creation by Ms. Horgan and Mr. Delaney, who wrote it and star in it.  If you haven't seen it, go watch it right now.  Meanwhile, I am thrilled that a six-episode second season is already available on Amazon.  I will be digging into that without delay.