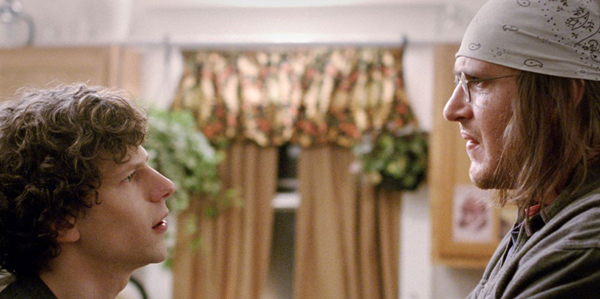 Catching Up on 2015: Josh Reviews The End of the Tour
I missed The End of the Tour when it was first released last summer, but it was a top priority for me to check out when it was released on DVD/blu-ray.  I usually watch a ton of films in December, trying to catch up on as many films from the previous year as I can, before I write my Best of the Year lists.  I'm glad I caught The End of the Tour in time for it to make my list (it clocked in at number nineteen), but I've been remiss in posting a full review.  Time to remedy that.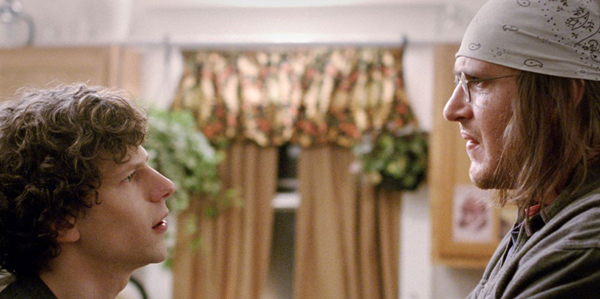 Based on the memoir Although Of Course You End Up Becoming Yourself by David Lipsky, the film chronicles the days in 1996 that Mr. Lipsky, as a young reporter for Rolling Stone, spent in the company of David Foster Wallace following the release of Mr. Wallace's enormous novel Infinite Jest.  Mr. Lipsky is envious of everything that Mr. Wallace has, while Mr. Wallace is deeply ambivalent about his burgeoning fame.  The entire film (with the exception of a brief framing device) takes place over the course of the handful of days that these two men spent together as Mr. Lipsky interviewed Mr. Wallace for his Rolling Stone piece.
The film is an engrossing character study of the two men, Wallace and Lipsky, and it is a magnificent showcase for actors Jesse Eisenberg (who plays David Lipsky) and Jason Segel (who plays David Foster Wallace).  Both actors are incredibly talented, and together they are phenomenal.
Jesse Eisenberg has made it his specialty playing characters who are fiercely intelligent and also sort of assholes, and I love how he is not afraid to make his characters seem unlikable to an audience with his choices.  In the film, it's clear that Mr. Lipsky has enormous respect and admiration for David Foster Wallace, and at the same time also a deep envy for the success that Mr. Wallace has found with his writing (and that Mr. Lipsky, at the time, had not).  Mr. Eisenberg keeps both aspects of Lipsky's complicated feelings in focus at all times.  As he baits and pushes Mr. Wallace over the course of their extended conversation, it seems as if Mr. Lipsky isn't sure whether he wants Wallace's answers to let him down (so that he can feel, in his mind, superior to his idol) or whether instead he wants David Foster Wallace to have the answers that he himself lacks.  Mr. Eisenberg plays this duality brilliantly.  It's such a human portrayal.  There are times in the film in which Mr. Lipsky's behavior made me shake my head in disappointment, and other times when I was struck by how similarly I'd bet I'd feel were I in his shoes.
Jason Segel, meanwhile, is equally terrific as David Foster Wallace.  In many ways this strikes me as an even harder acting challenge than the one faced by Mr. Eisenberg.  Portraying a real person on-screen is always complex, but it seems to me that the late David Foster Wallace was and is an enormous enigma to his readers and fans.  As with any successful author, I'm sure many of his readers felt that they knew him through reading his books (we see at the start of the film that Mr. Lipsky feels this somewhat) and yet, how could they?  I have no way of knowing whether Mr. Segel's portrayal of David Foster Wallace is anything like the real man, but what I can say is that he is utterly convincing and compelling in the film.  Mr. Segel plays David Foster Wallace as a man deeply uncomfortable in his own skin and ambivalent about the fame that his work has brought him.  Compared to Mr. Lipsky, David Foster Wallace seems at many points in the film like a wizened sage.  And yet, Mr. Segel never lets us forget that Mr. Wallace was, in his own way, as lost as Mr, Lipsky was.  He was struggling with his own internal demons in the same way that every human being on this planet does.  It's a magnificent performance.  I know that many people were surprised to see Jason Segel in a dramatic, as opposed to comedic role.  But having been a fan of Mr. Segel ever since his wonderful work on Freaks and Geeks and Undeclared, I knew that he could play drama and pathos just as well as he could land a joke.  I was not disappointed.
The film finds great joy in its steady exploration of the days-long conversation that these two men shared.  I love the structure of the film, how it's basically just one long conversation.  I love ow skillfully the filmmakers allowed the conversation to ebb and flow over the course of the film, while always keeping the audience engaged.  This is masterful work by writer Donald Margulies and director James Ponsolt.  Mr. Ponsolt has quickly risen in my mind as a director who can seemingly do no wrong.  He also helmed The Spectacular Now (a film that I adored), and, more recently, several terrific episodes of Aziz Ansari's Netflix show Master of None.
In addition to being a compelling character study, The End of the Tour is also a fascinating meditation on the nature of creativity and fame.  What's so great about the film is that, while it's structured so that the extended conversation reveals the characters of David Lipsky and David Foster Wallace, the actual content of their long conversation is equally as fascinating!  The issues that the two men are debating are wonderfully complex and interesting.  The next time I watch this film, I want to try to pay even closer attention to the actual conversation, and to the issues that the two men discuss and argue about over the course of the film.
I think The End of the Tour was the last film I added to my Best Movies of 2015 list.  I'm so glad I saw it.  I case you can't tell, I loved it.  The film is another triumph from director James Ponsolt, and the work by Jesse Eisenberg and Jason Segel is superb.  This is a movie told in a low key.  From a plot point of view, not much happens in the film.  But don't let that fool you.  This is a film with a lot to say, and one that left me with a lot to think about after the credits rolled.