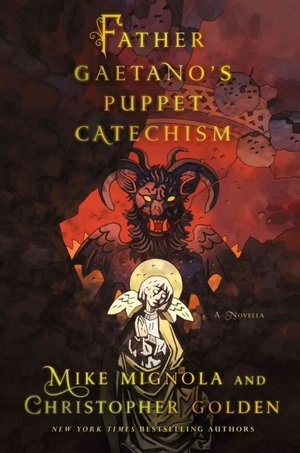 Father Gaetano's Puppet Catechism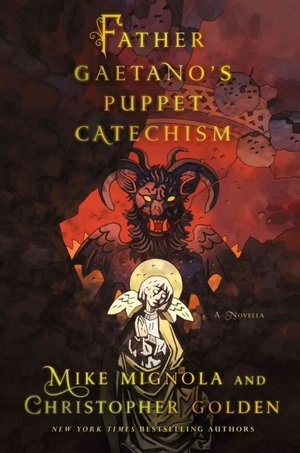 Mike Mignola has been one of my favorite comic book artists for decades, and I have also fallen in love with his writing and storytelling skills through his Hellboy universe of comics, which Mr. Mignola has guided for twenty-five years (and which consistently tops my annual Best Comic Book Series of the year lists, as it did this year).  Mr. Mignola has collaborated with author Christopher Golden on many of the best Hellboy comics (most notably an extended series of B.P.R.D. miniseries).  The two men have also co-authored two amazing and wonderful illustrated novels: Baltimore, or, The Steadfast Tin Soldier and the Vampire and Joe Golem and the Drowning City.  I highly recommend them both!!!  I recently discovered that the two had collaborated on a third novel — actually, a novella, published in 2012, called Father Gaetano's Puppet Catechism.  How had I missed this??
In the final months of World War II, a new priest arrives at the convent of San Domenico in a small town in Sicily.  The town has been battered by war, and the nuns at the convent have become the overseers of an orphanage, caring for the dozens of children left orphaned by the war.  The young priest, Father Gaetano, wrestles with his responsibility to teach these traumatized children about God.  How can he convey God's love to these kids, who the horror or war has left angry and lost?  Inspired by the clown puppet that nine-year-old Sebastiano clings to as his only and best friend in the world, Father Gaetano decides to use puppets to teach his young charges their catechism.  And then, well… I will spoil nothing!
This novella is phenomenal.  I think its is Mr. Mignola and Mr. Golen's finest collaboration!!  (And that's saying something.)
Father Gaetano's Puppet Catechism reminded me, in the best possible way, of the Spanish-language work of Guillermo del Toro, especially his film The Devil's Backbone.  The novella, like that film — and like all of the best fantasy stories — has a fantasy element, but the story and the characters are so strong that the story could conceivably be compelling and interesting even without the fantasy element.
I was immediately captivated by the strong sense of setting, of time and place, that Mr. Mignola and Mr. Golden were able to create, and by their wonderful characters.  They do a delightful job fleshing out the various children (especially Sebastiano) as well as the various nuns.  And I was particularly taken by the attention paid to Father Gaetano.  I loved how they explored this man and his humanity, attempting to step into his role, not just as Father and leader to the nuns (many of whom were much older than he), but also as father and caretaker to all of the children in the orphanage.  I enjoyed, too, the novella's explorations of Father Gaetano's worldview and his faith, the prism through which he saw the world, and the ways in which he was able to accept both the horrors of war as well as God's love for humanity, and how he attempted to convey that to the children.
The novella's wonderful and haunting brief final chapter left me moved, and I found myself re-reading those final pages several times in order to suss out every clue I could as to what became, ultimately, of all of the characters in the story.  That Father Gaetano's future path was left so vague was heartbreaking for me.  What became of this young man, in whom I had so invested??  The power of this story is such that I was left desperate to know more.  Alas, I guess the answers are left up to my imagination.
At only 163 pages, the novella is a brisk read.  And yet, it feels like a totally full and complete story.  It didn't need another page.
Mr. Mignola has provided an absolutely gorgeous and haunting full-color cover, as well as a number of beautiful and enigmatic interior illustrations.  (Mostly of puppets.  Based on this and the many times that puppets have popped up over the years in Mr. Mignola's Hellboy stories, it's clear that he has quite a fascination with puppets!!)
I highly recommend this book.
Please support MotionPicturesComics.com by clicking through one of our Amazon links the next time you need to shop!  We'll receive a small percentage from any product you purchase from Amazon within 24 hours after clicking through.  Thank you!