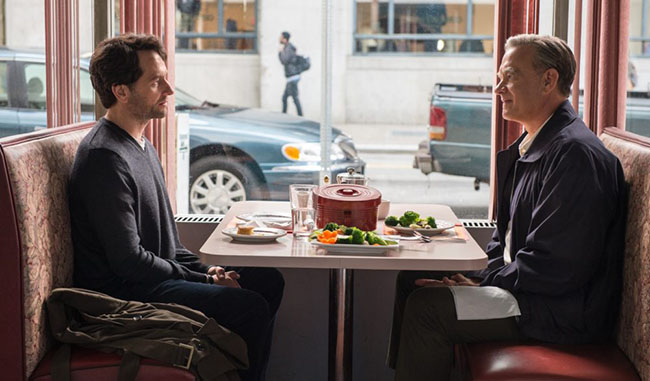 Josh Reviews A Beautiful Day in the Neighborhood
Late in A Beautiful Day in the Neighborhood, journalist Lloyd Vogel (played by The Americans' Matthew Rhys) shows his wife Andrea (Susan Kelechi Watson) the article he'd written about Fred Rogers.  It's not really about Mister Rogers, she comments.  Neither is this film, despite the marketing.
But that's OK.  I still found A Beautiful Day in the Neighborhood to be a wonderfully moving piece of work.  In fact, I think the story the film tells is more interesting than what I'd been expecting (basically a live-action version of last year's spectacular Fred Rogers documentary by Morgan Neville, Won't You Be My Neighbor?).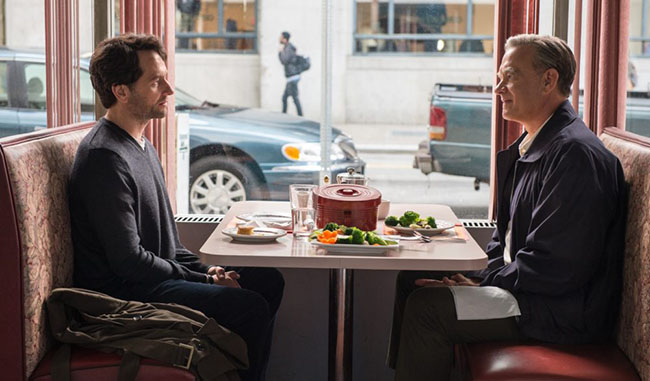 A Beautiful Day in the Neighborhood was directed by Marielle Heller and written by Micah Fitzerman-Blue and Noah Harpster, based (loosely) on Tom Junod's 1998 Esquire article "Can You Say … Hero?"  (It's a beautiful article, and after being moved by this film, I found the article and read it and was moved all over again.  Give it a read, why don't you?  It's worth your time.)
Tom Hanks stars in the film as Fred Rogers.  This is the kind of casting that sounds perfect on paper.  Of course, who else but Tom Hanks could portray Mister Rogers?  But I was a bit concerned, going in.  Tom Hanks is a marvelous actor, but he's also very known to me as Tom Hanks.  Just as known to me as Mister Rogers.  Would I be able to forget both Tom Hanks and the real Mister Rogers in order to accept Tom-Hanks-as-Mister-Rogers?  I needn't have been worried.  Once again, Tom Hanks has dazzled me with the depth and gentleness of his work.  It's a marvelous performance.  (In a seemingly counterintuitive way, it's helped, not hindered, by the decision not to make too much effort to actually make Mr. Hanks look like the real Mister Rogers.)
Just as good, if not better, is the wonderful, heartbreaking work done by Matthew Rhys.  After watching The Americans, I've become a fan-for-life of Mr. Rhys, and I've enjoyed watching him pop up in small roles in recent films such as The Post and Mowgli.  But he takes his work to the next level here, as he charts Lloyd's slow journey from broken, burdened, and cynical back into life and light.  (Is it a coincidence that Tom Hanks also starred in The Post?  He and Mr. Rhys didn't share any scenes in that film, but I wonder if they made a connection then.)
At the root of Lloyd's problems is his bitter estrangement with his father, Jerry, played by Chris Cooper (Lone Star, American Beauty, Adaptation, The Town).  The always-reliable Mr. Cooper brings extraordinary depth and complexity to Jerry.
Susan Kelechi Watson is great as Lloyd's wife Andrea.  I recognized Ms. Watson from her appearances as Louie's wife on Louie, and it was a pleasure to see her in a major role here.  Christine Lahti is a hoot as Lloyd's editor, and Enrico Colantoni (Galaxy Quest) makes the most out of his smallish role as an important handler protecting Fred Rogers.
I enjoyed the playful way the film used childlike models — in the familiar style of those seen on Mister Rogers' Neighborhood — to represent all of the location establishment shots seen in the film.  That was a clever idea.
I enjoyed the way the film slowly peeled back the layers of Lloyd's past and pain.  It was very effective to use this character as a window through which to allow the film's audience to meet and get to know Fred Rogers, and to discover him and his world just as Lloyd does.  This is a far more interesting approach than that of a standard bio-pic.  The best scenes in the film are the ones between these two men, Lloyd and Fred Rogers.  The cathartic scene in a diner (see the photo above), in which Fred asks Lloyd — and, in a beautifully meta touch, the audience sitting in the theater watching the film, as well — to sit quietly from a minute and think about everyone who has loved them into existence, is extraordinary.  I defy you not to feel something during that minute of silence.  (A minute of silence in a movie, here in the year of our lord two thousand and nineteen!  Wow!  That might be the film's most impressive feat.)
I was also profoundly moved by the late-in-the-film scene in which Fred Rogers speaks a few words to help Lloyd's family deal with the grief of an impending loss.  "Everything mentionable is manageable," he says.  There is a universe of wisdom contained in those words.
For a film about Fred Rogers, there is some dark stuff here in A Beautiful Day in the Neighborhood.  I wasn't expecting that.  But I was delighted to experience this lovely, aimed-at-adults drama.  For the most part, the heavy material focuses on Lloyd.  But in thinking about the film, I find myself struck by the final moment we see Tom Hanks' Fred Rogers.  For much of the film, Mister Rogers has been something close to a saint.  But here, at the very end, for a moment while playing the piano, we're allowed to see the human crack in this saintly facade.  It's a minor detail, but a critical one, I think.
For anyone who, as I did, grew up with Mister Rogers' Neighborhood, I can't imagine your not loving this film.  If I had a gun to my head and I had to choose only one film, I guess I'd go with Morgan Neville's documentary.  But thank goodness, I don't have to choose!  I loved the documentary, and I also thoroughly enjoyed this live-action film.  I'm happy that both exist.  In today's world, we need to be reminded of Mister Rogers' messages of love and kindness more than ever.