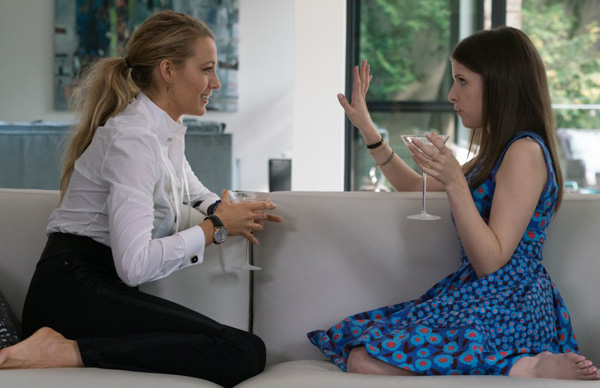 Josh Reviews A Simple Favor
In Paul Feig's 2018 film, A Simple Favor, we follow the unlikely friendship between tight-laced, goody-two-shoes single mom Stephanie (Anna Kendrick) and the mysterious, dynamic, sexy Emily (Blake Lively).  When Emily disappears one day without a trace, the determined Stephanie sets out to find her, only to get drawn into a web of twists and turns, lies and murder.  The film was written by Jessica Sharzer, and it's based on the novel of the same name by Darcey Bell.
I'm a huge fan of Paul Feig (Bridesmaids, The Heat, Spy).  He's a master of comedy, but A Simple Favor represented his first foray into drama in quite some time.  Still, those of us who knew and loved Freaks and Geeks have always known that Mr. Feig could handle drama just as skillfully as he could handle comedy.
Still, for the first twenty-or-so minutes of A Simple Favor, I wasn't sure if this was going to be a film I would like at all.  I found Stephanie to be so over-the-top annoying that I wasn't sure I could take watching this character for an entire film.  But I should not have doubted Ms. Kendrick's skill as an actress or Mr. Feig's careful hand on the wheel.  Once Stephanie meets and befriends Blake Lively's Emily, the film takes the first of many right-hand-turns, and the story quickly started to heat up.
This is a film that constantly kept me guessing.  I was never sure what was going to happen next or what type of movie this was going to be.  It's so rare that I can be surprised by a movie these days!  I loved that about A Simple Favor.
I was also impressed by Mr. Feig's deft handling of tone.  There is comedy in A Simple Favor — some very funny moments, in fact, such as Stephanie's encounter with fashion mogul Dennis Nylon, or her supremely uncomfortable conversation with a private eye while dressed in one of Emily's sleek black dresses.  But at heart this is a mystery/thriller, and those aspects work like gangbusters.  It's what sucked me into the film, even though at first I wasn't sure this was a film I'd be into.  The mystery works great, and the film's twists and turns are fun and surprising.
Both Ms. Kendrick and Ms. Lively are fantastic.  The two are dynamite on screen together.  Their oil-and-water combination is a hoot to watch.  It's a credit to their work that they made me believe that these two supremely different women could perhaps become friends, which is key to the film's story working.  I wrote above that I was annoyed by Anna Kendrick's depiction of Stephanie for the start of the film, and that's true.  But I'm pretty certain that was intentional, and looking back I was very impressed by the nuanced way that Ms. Kendrick was able to ever so gently continue to modulate her performance as the film progressed, so that the audience could go from hating Stephanie to being truly invested in her and rooting for her.  At least, I did.  Meanwhile, I loved Blake Lively's energy as the bizarre and mysterious Emily.  Emily's actions and dialogue in the first half of the film need to be able to be interpreted on many different levels, and Ms. Lively made that work exceptionally well.  Also — and I'm treading lightly here so as to avoid spoilers — as the film progresses, Ms. Lively is called upon to depict several very different shades of Emily, and I was very impressed by how skillfully she executed those scenes.
The supporting cast is very strong.  Henry Golding has a very tough role as Emily's husband Sean, a man caught between these two very powerful women.  I loved how interesting Mr. Golding allowed Sean to be.  In lesser hands, this character could have been very flat or boring.  (Apparently this role was one of Mr. Golding's very first acting roles, which is doubly impressive!)  Andrew Rannells, Kelly McCormack, and Aparna Nancherla play a sort of greek chorus of parents whose kids are in the same class at school as Stephanie's and Emily's sons, and all three of them are hilarious.  I want to watch a sequel film in which these three unite to solve crimes.
I was delighted to see Freaks and Geeks' Linda Cardellini appear as a figure from Emily's past.  She's only in one scene, but wow does she kill it.  Ms. Cardellini is so consistently great.  Speaking of killing it in their one scene: Rupert Friend as Emily's boss Dennis Nylon.  This is one of the only straight-comedy roles in the film, and Mr. Friend just hits this one way out of the park.  He is so perfect.  He's so outrageous and so funny while still somehow working within the context of the film.  (Once again, Mr. Feig's mastery of tone comes in handy.)  The great Jean Smart is another superstar called in for a key sequence, and she's marvelous as always.
A mystery/thriller has to be satisfying in the end, and I was impressed by how well everything came together in the film's final third.  I thought the ending was perfection — that's a key reason why I was as happy with the film as I wound up being.
A Simple Favor is a weird little film.  I don't think it made too much of a splash when it came out a few years ago.  It certainly feels different from much of the rest of Paul Feig's filmography.  I'm sure I'll return to revisit his films like Bridesmaids or Spy far more than I will this one.  But I'm so happy to have seen it.  I was surprised by how much I enjoyed it.  On second thought, maybe this is a film I need to rewatch soon…!
Click here to purchase my "Maclunkey" Star Wars/Highlander mash-up t-shirt!

Please support MotionPicturesComics.com by clicking through one of our Amazon links the next time you need to shop!  As an Amazon Associate, I earn from qualifying purchases.  That means I'll receive a small percentage from any product you purchase from Amazon within 24 hours after clicking through.  Thank you!