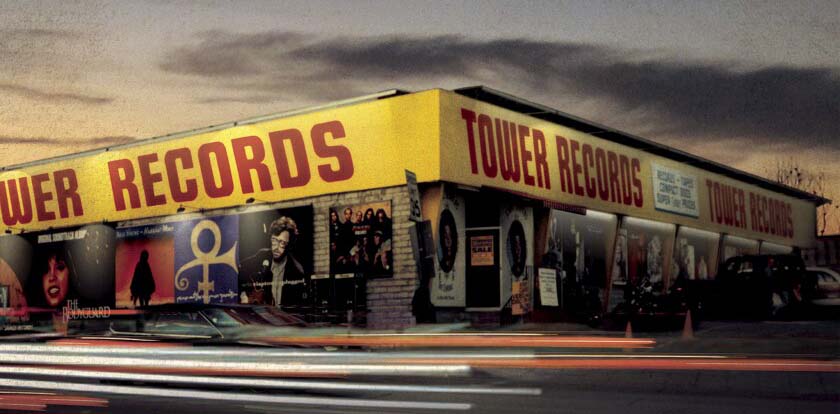 Josh Reviews All Things Must Pass: The Rise and Fall of Tower Records
Colin Hanks' 2015 documentary All Things Must Pass: The Rise and Fall of Tower Records is a loving look back at the history and impact of the record store franchise.  I've been interested in watching this film for years.  I have fond memories of the iconic Tower Records location in Boston, on the corner of Boylston and Comm Ave.  I used to visit that Tower store every week to shop for DVDs (rather than music) in the early years of the DVD explosion.  I loved that store and I was excited to dig deep into the history of Tower Records.
Mr. Hanks' documentary is terrific.  It's filled with love for Tower Records, which was very engaging for me as a viewer.  I got quite sucked into the story of this small business that then exploded into an empire… only to then collapse.
The film is packed with interviews with so many of the men and women who were involved in Tower in the early days.  We hear extensively from the founder of Tower Records, Russ Solomon, as well as many of the store's early employees and patrons (many of whom would go on to become employees) who devoted so many years of their life to the early stores and eventually to the expanding company.  It's fun to hear their stories of the early days of Tower Records and how these inexperienced young people channelled their love for music into the creation of stores that became special places to the people who worked and shopped there.
It's fun too to hear from the many musicians, including Elton John, Dave Grohl, and Bruce Springsteen, who shopped at Tower Records and loved it.  The doc also makes good use of David Geffen, who provides a lot of the context of what was happening in the music industry during the years that Tower was growing.
I watched this documentary soon after watching Francis Ford Coppola's film Tucker: The Man and His Dream.  It's interesting to see the similarities between these two very American rise-and-fall stories.  Tower Records was far more successful than Tucker ever was, and for a lot longer.  But there's a similarity between the dreamers Preston Tucker and Russ Solomon that intrigued me.
There were aspects of Tower Records' eventual fall that I knew about, such as the impact of Napster.  How can any store selling music compete with free music on the burgeoning internet?  I was also fascinated to learn about the behind-the-scenes corporate machinations that I didn't know anything about; how the company over-extended and took on too much debt, eventually falling under the control of the banks and debtors that ate the company from the inside out in their efforts to make money wherever and however they could.  Most interesting to me was that I never realized how Tower was brought down by the growth of other "big box" stores like Best Buy that dramatically discounted their music/DVDs/etc.  I remember experiencing exactly the phenomenon that the documentary describes.  After years of buying my DVDs at Tower Records, suddenly there were these Best Buy stores around where I could get my DVDs much cheaper than at Tower.  Everything always seemed a little more expensive at Tower; now I understand why.
The biggest discovery of the documentary for me was that there are still eighty-five Tower Records locations in Japan!  Wild!
I really got into this doc!  It's a nostalgic, joy-filled look back at a company that, for a while, had a huge impact on the music industry and music-lovers all over the U.S. and beyond.  Colin Hanks has skillfully consolidated a long, complex story into a jauntily-paced but still comprehensive look back at this company and the people who worked there and who loved it.  I'm glad to have finally found the time to see this film.
Click here to purchase my "Maclunkey" Star Wars/Highlander mash-up t-shirt!

Please support my website by clicking through one of my Amazon links the next time you need to shop!  As an Amazon Associate, I earn from qualifying purchases.  That means I'll receive a small percentage from any product you purchase from Amazon within 24 hours after clicking through.  Thank you!