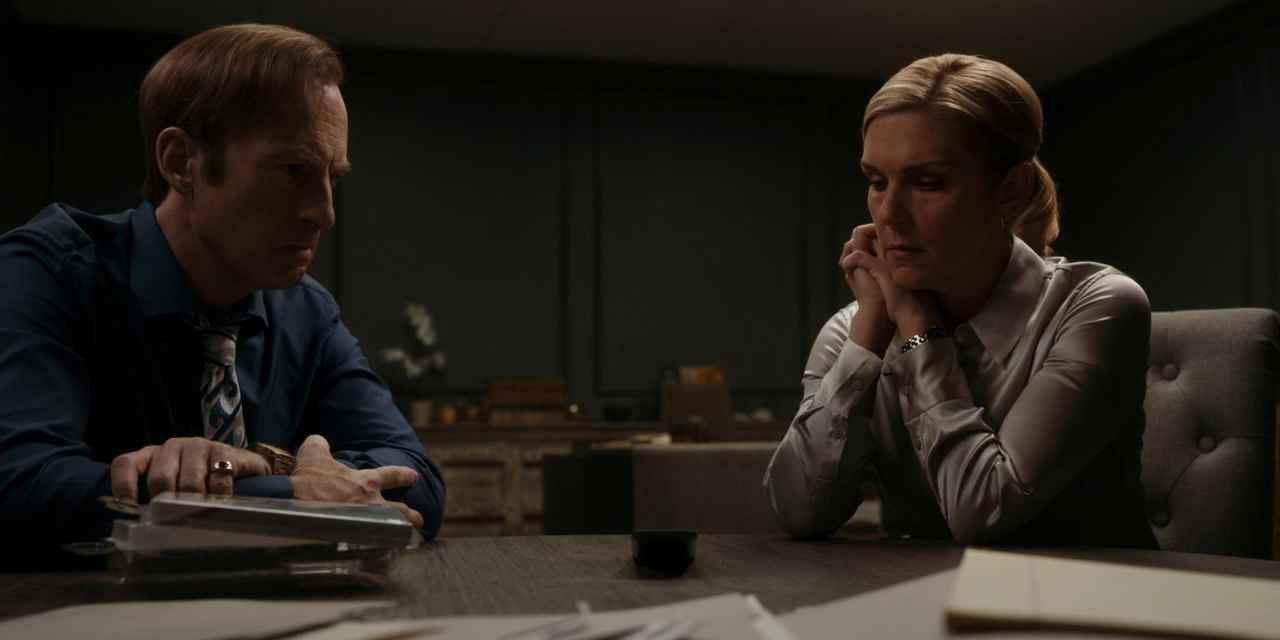 Josh Reviews Better Call Saul Season Six (Part One)!
It's been a long, pandemic-extended wait for the final season of Better Call Saul!  The first seven episodes aired in April-May, and thankfully they aren't making us wait too long for the final six episodes (the first of which is airing the day this blog post goes live)!
As has been the case with many of the TV shows I love whose production and release was delayed by the pandemic, my tremendous excitement for the release of new episodes of Saul was somewhat tempered by my fear that too much time had passed and I wouldn't have any recollection of what was going on.  So I decided to go back and re-watch the last several episodes of season five, starting with the incredible episode "Bagman", in which Saul and Mike wind up stranded together in the middle of nowhere.  It was fun to dig my toe back into Saul and remind myself where we'd left all the characters.
And then as I started watching season six, all my worries evaporated.  I was quickly immersed once again in the world of this show, and I absolutely adored this fast-paced, funny and extremely tense run of episodes.
SPOILERS ahead, my friends!
I was shocked that the premiere didn't jump forward to give us another sequence with Gene!!  We'd left things on a tense note at the end of the Gene sequence in the season five premiere, and I've been waiting years to see what would happen next!  So this was torturous… though also cause for optimism for me.  I've been hoping for years that the show would someday give us more time with Gene than the annual extended sequence at the start of the season premiere.  I assume and hope that withholding Gene from this first run of season six episodes means we'll get to spend more time with him in the second batch.  I can't wait.
I did enjoy the pre-Gene, post-Saul flash-forward that opened the season six premiere, as we got to see the Feds going through Saul's (surprisingly opulent!!) digs, presumably after Saul's flight from the law as seen at the end of Breaking Bad.  I was trying to parse the details in order to try to determine: was Kim living in this house with Saul???  (I continue to hope that somehow Kim and Saul will get a happy ending… though I suspect that will not be what happens…!)  (I wonder: was Saul's expensive home paid for with the Sandpiper money that he and Kim seem to successfully swindle out from Howard at the end of this batch of episodes…?)
Speaking of Howard… wow.  I did not see that coming.  One of the great magic acts this show has performed is how, in the last several seasons, they made Howard — who started the show as such a condescending prick — into someone for whom I felt great affection and sympathy.  That all pays off big-time — in an exceedingly horrible way — in the final moments of the cliffhanger that ended episode seven.  I'm sorry to see Howard go, but I'm impressed at the years of groundwork that went into that moment's feeling as shocking and horrible as it did.  Patrick Fabian did incredible work throughout the run of the show as this character; he will be missed.
Which brings me to Howard's executioner: Lalo.  As with Howard, the years of careful groundwork this show has put into developing his character are bearing glorious fruit.  Breaking Bad had a variety of villains who cycled through to menace Walt; I'm loving how Better Call Saul has spent so much time in its past several seasons to build up Lalo as an incredibly menacing supervillain.  He's smart and cunning and patient and an imposing physical presence.  And all the while Tony Dalton plays Lalo with such unrelentingly fierce charisma!!  Lalo is so watchable, even when he's doing the most horrible stuff!!!  (And he does some horrible stuff this season; even before murdering Lalo in cold blood, he kills a lot of innocent people in Mexico in order to keep his survival a secret.)  I love this character even as I'm eagerly awaiting his getting what's coming to him.  (Will he??  Is Lalo still alive and active during Breaking Bad??)
And then there is poor Nacho.  Unlike Howard, I suspected that Nacho would not make it to the end of the series alive, though I dared to hope.  Nacho has been on the show since season one, though he dropped out of the stories for a while in those early years.  But I've loved how recent seasons have come back to Nacho and spent so much time fleshing out his predicament — stuck between horrible criminals with ever-shrinking paths out from under their thumbs.  Michael Mando is able to do so much with so little dialogue.  We see it all on Nacho's face and in his eyes.  I've really grown to love Nacho, and I'd hoped that maybe, just maybe (with some help from Mike?) he'd be able to make it out of all of this OK.  But it was not to be.  I loved everything with Nacho this season, from the long, mostly dialogue-free sequences of his attempts to get out of Mexico right up to that final, heartbreaking phone call with his father.  Oh man.  That was something.
Jonathan Banks continues to be incredible as Mike Ehrmantraut.  What a perfect combination of actor & character.  Talk about someone who can convey so much emotion with so little dialogue!  At this point in the show, Mike seems to have basically settled into his role as Gus Fring's right-hand-man (which was his status in Breaking Bad), though I was surprised to see a lot of disagreement this season between Mike and Gus.  I wonder how that will all play out in the end.  If there was one thing that I thought was a little missing this season it's that I'd have loved to have had a better understanding of where Mike's head is at.  Is he all-in on working with/for this criminal Gus?  Does Gus' casual abandonment of Nacho give Mike pause?
Speaking of Gus: Giancarlo Esposito continues to be so perfect as Gus Fring.  It was interesting this season to see Gus rattled!  We've never quite seen that before!  While Gus has been a major player on Saul for a while now, I've felt his character has felt a little superficial, at least compared to the rich character development given to pretty much everyone else.  It's a tough spot for the writers, because while Gus definitely needs to be around during this time-period, we already were given a pretty complete story for him in Breaking Bad.  So there's not too much room for the writers to embellish here.  Still, Mr. Esposito is so eminently watchable as Gus that I've never found this to be much of a problem.
At the center of the show, of course, are Bob Odenkirk as Jimmy/Saul and Rhea Seehorn as Kim Wexler.  These two both continue to be absolutely extraordinary.  I love both of these characters so much!!!  I desperately want them to have a happy ending.  Is there any chance this could happen???  Probably very little, but I continue to hope.
Obviously the biggest mystery of this show is what Kim's fate will be.  I have loved the twist in recent seasons as we've slowly seen Kim Break Bad.  (We've also gotten glimpses into her past that show us that maybe the seed of that was always there.)  Watching Kim relish the series of cons that she and Jimmy pulled on Howard Hamlin this season has been heartbreaking.  Don't go down this road, I have repeatedly wished for Kim!!!  I love how well the writers have woven her story's twists and turns.  It all has the painful inevitability of watching a slow-motion car-wreck right now.  This is great drama and incredible writing… and, as always, an absolutely picture-perfect performance by Ms. Seehorn.
As for Jimmy/Saul… I would never have guessed that, this deep into the show, I'd still feel that the character was far more the sweet Jimmy of season one than the callous criminal lawyer we saw in Breaking Bad.  Jimmy is completely Saul Goodman professionally now… but I still don't feel he's Saul in his heart.  What a surprising development this is!!  I love it!!  Is something horrible going to happen (involving Kim??) in this final run of episodes that causes Jimmy to finally and fully lose his soul and his heart?  Or will we discover that the Saul we thought we knew in Breaking Bad wasn't a full picture of who this guy was??  I have no idea, and I can't wait to find out.
Other comments:
I loved how many familiar faces from Better Call Saul and Breaking Bad popped up in this half-season: Mark Margolis as Hector Salamanca; Daniel and Luis Moncada as "the cousins", the twin Salamanca hitmen; Ed Begley Jr. as Clifford Main; Javier Grajeda as Juan Bolsa; Tina Parker as Saul's secretary Francesca; the cadre of film students who Jimmy/Saul have often used to help with his ideas; Julie Ann Emery and Jeremy Shamos as Betsy and Craig Kettleman; Rex Linn as Mesa Verde CEO Kevin Wachtell; Dennis Boutsikaris as Rich Schweikart; Eileen Fogarty as Mrs. Nguyen, the nail salon owner; Kerry Condon as Stacey Ehrmantraut; Joe DeRosa as Dr. Caldera, the somewhat-criminal veterinarian with whom Saul has had dealings; Lavell Crawford as Huell… and so many more!
I spent many episodes trying to guess what Kim & Jimmy/Saul's endgame was to humiliate Howard… the final con did not disappoint.  What a wild and bizarre plan.  Brilliant.  (I also almost fell off my couch watching the audacious earlier sequence of Jimmy/Saul's accusing the club of Antisemitism as a way to gain access to Howard's locker…)
I cannot wait for the final run of episodes… though at the same time I truly do not want to see this show end!!
Please support my website by clicking through one of our Amazon links the next time you need to shop!  As an Amazon Associate, I earn from qualifying purchases.  That means I'll receive a small percentage from any product you purchase from Amazon within 24 hours after clicking through.  Thank you!