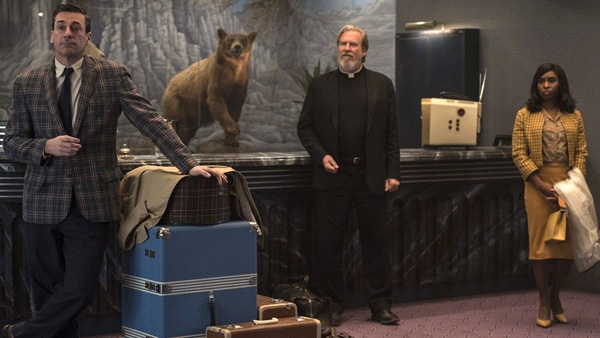 Josh Reviews Bad Times at the El Royale
Bad Times at the El Royale takes place over one long day and night at the titular El Royale hotel, located on the border of California and Nevada.  The El Royale used to be a happening spot, but its glory days are long in the past.  Everyone who has chosen to come stay at the El Royale on this particular unfortunate day has something to hide… and as this tense puzzle-box of a film unfolds, those secrets come out and collide in unfortunate ways…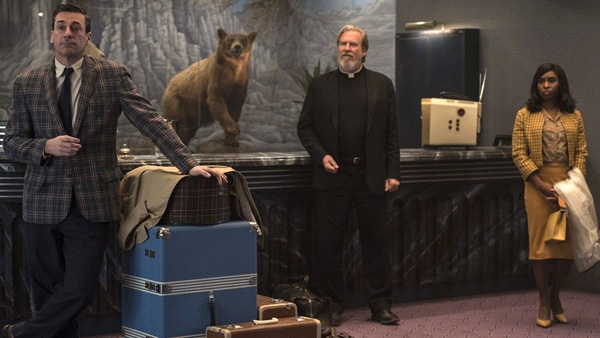 I found Bad Times at the El Royale to be a delight, a deliriously enjoyable noir-ish tale with a complicated but perfectly calibrated fractured timeline in which every piece eventually clicks into place with the precision of a Swiss watch.
If the film has a weakness, it's that at times it can feel like something of a Tarantino knock-off.  Many of its superficial aspects — the fractured timelines, the bursts of intense violence, the cast of memorably unique characters thrust together in a unique location, the pleasure the film takes in allowing those characters to speechify at one another — are for sure examples of the stylistic devices that Mr. Tarantino has used so memorably and made his own.  But the film is so good and so much fun that I find it hard to complain too much about that.
I'm a big fan of Drew Goddard's writing (Cloverfield, The Martian, The Cabin in the Woods), and Bad Times at the El Royale shows off his strengths.  The script is incredibly sharp.  Again and again I was thrilled by the way the film shifts around in time, and the perfect pace at which the script allows the audience to learn the characters' backstories and secrets.  Each and every character in the film is incredibly interesting and could be considered the star of the film.  Bad Times is only the second film Mr. Goddard has directed (after 2012's The Cabin in the Woods), but you'd never know it.  The film is gorgeous and packed to the brim with extraordinarily clever and memorable shots.  I particularly enjoyed the fantastic leisurely opening sequence in the hotel lobby in which we're introduced to most of the film's main characters, as well as the gorgeous and tense long unbroken shot in which we first discover the corridor running behind all the rooms.  That sequence in particular is a master class in timing, as the camera moves between the corridor and the action taking place in multiple different hotel rooms.  Everything appears perfectly in sequence; I can't imagine how long it took them to create that shot.  It's glorious.  Mr. Goddard and cinematographer Seamus McGarvey have collaborated to create something very special.
But what really makes this movie is the cast.  Sometimes you see a film with a cast of superstars, but the film itself feels like less than the sum of its parts.  Not here.  Let's start with Jeff Bridges, who gives an all-time great performance Father Daniel Flynn, a man with diminished faculties whose past has a secret connection to the hotel.  Every moment in which Mr. Bridges is on screen was pure cinematic joy for me.  Mr. Bridges is magnetic and compelling, creating a character who is endearingly warm and also very dangerous.  His monologue about losing his memory is absolutely electric and brilliant.  This is magnificent work by one of our best living actors.
Cynthia Erivo nearly steals the movie right out from under Mr. Bridges with her work as Darlene Sweet (isn't that a perfectly Tarantino-esque name for a character??), an extraordinarily talented singer whose career was sidetracked when she resisted the advances of a white executive.  Ms. Erivo blew me away with her singing chops, but not as much as she dazzled me with her richly nuanced dramatic skills.  And when the two come together — such as in the tense sequence in which she sits in a chair in her room and sings "You Cam't Hurry Love" — she is absolutely riveting.
Jon Hamm exquisitely utilizes both his comedic and dramatic skills as the chatty salesman Laramie Seymour Sullivan.  Mr. Hamm basically narrates the entire opening sequence of the film, and it's a delight to watch Mr. Hamm take all that verbosity and make it seem absolutely natural.  And when Laramie drops his mask and we see Mr. Hamm morph into a very different character… it's incredible.
Although Dakota Johnson has been in a number of big-time movies in the past few years (such as the 50 Shades films and Suspiria), I haven't seen any of those films, so this performance was basically my introduction to her work.  I was impressed by how compelling she was here as Emily Summerspring, a desperate but determined young woman who, when we first meet her, appears to have kidnapped a young hippie girl (played by Cailee Spaeny).
Chris Hemsworth takes his movie-star charisma and shifts everything a few degrees to create quite a scary and menacing figure in cult leader Billy Lee.  The film enjoys spotlighting Mr. Hemsworth's perfect body, while Mr. Hemsworth himself does a tremendous job at delivering several lengthy — and critical — monologues in the film's third act.
Lewis Pullman plays the El Royale's only employee, Miles Miller, and Mr. Pullman is magnificent at moving Miles from mousy to dangerous as the film progresses.
The only other actor who appears on-screen is Nick Offerman in a small role as someone from Father Flynn's past.
What a cast!  I love how the film allows each and every actor to shine.
I really dug Bad Times at the El Royale.  The film looks great, the dialogue crackles, and Mr. Goddard is able to build and hold tension with masterful skill.  This is a film I bet it'll be fun to watch through again…
Click here to purchase my "Maclunkey" Star Wars/Highlander mash-up t-shirt!

Please support MotionPicturesComics.com by clicking through one of our Amazon links the next time you need to shop!  As an Amazon Associate, I earn from qualifying purchases.  That means I'll receive a small percentage from any product you purchase from Amazon within 24 hours after clicking through.  Thank you!