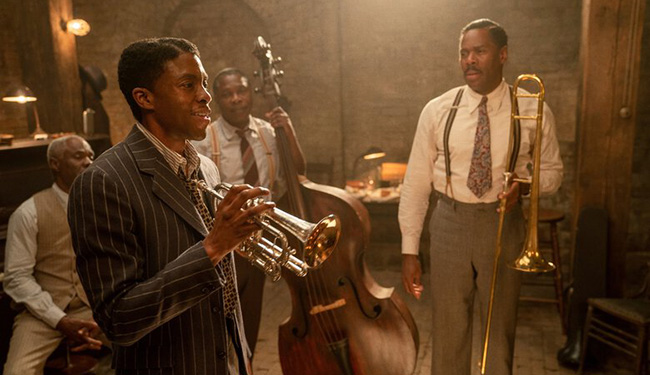 Josh Reviews Ma Rainey's Black Bottom
Ma Rainey's Black Bottom was adapted from the play by August Wilson.  Set in 1927, it depicts a very contentious day in the life of African-American blues singer Ma Rainey and her band.  They're recording Ma Rainey's music in Chicago for a white record producer, as arranged by her white agent.  As the day winds on, the tensions rise between the members of Ma's band and also between Ma and the two white men overseeing the session.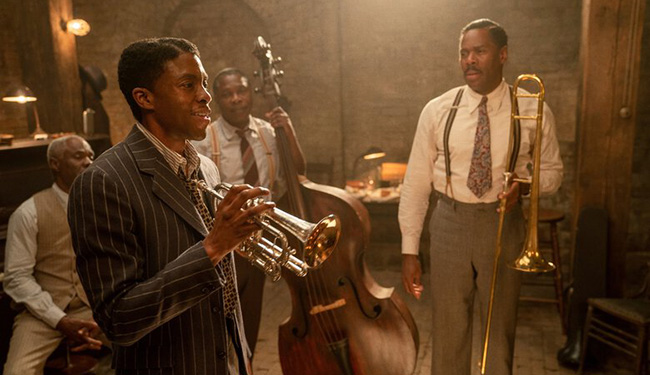 Ma Rainey's Black Bottom is beautiful and heartbreaking.  Director George C. Wolfe and screenwriter Ruben Santiago-Hudson have done a terrific job adapting August Wilson's play for this film.  The film retains the feeling of a theatrical experience.  The theatrical rhythm of the dialogue has been thankfully preserved.  And the fact that the film basically takes place in only two rooms belies its theatrical origins.  But this film never felt like a dry, limited adaptation, a pale reflection of what might have been more lively on the stage (the way films adapted from plays can sometimes be).  Mr. Wolfe and his collaborators have beautifully brought this story and these characters to life on the screen in a way that works perfectly as a movie.
Viola Davis plays Ma Rainey, and it's a powerhouse of a performance.  Ms. Davis' fiery charisma commands the screen with her presence.  At first, I wasn't sure what to make of Ma.  After just recently watching Mank, at first I wasn't wild to be watching what seemed to be another story of a misbehaving, over-entitled, selfish "artist".  But there's a lot more to this character, and one of the best delights of this film is the way the story very slowly peels back the layers of Ma Rainey until we understand what's really going on.
Ma Rainey's Black Bottom is sadly the final performance of the late, great Chadwick Boseman.  And what a performance it is.  Mr. Boseman is absolutely mesmerizing as Levee, the brash young trumpeter in Ma's band.  Levee is a hot young turk with tremendous energy and enthusiasm, and he seems to have the musical skills to back up his ego.  But there's anger underneath Levee's beaming smile, and a hunger for more than he has.  Mr. Boseman gets to deliver two crucial monologues in the film, and they are both showstoppers.  I don't believe Mr. Boseman was ever better, and that's saying something.  His work here is a bravura performance that only twists the knife of anguish over this great artist who passed away at far too young an age.
The entire ensemble is terrific.  Glynn Turman (Baltimore mayor Royce on The Wire) is fiercely compelling as Toledo, the soft-spoken piano player who's the old hand among Ma's band.  Toledo seems to be the character in the story with the most wisdom; wisdom that sadly goes unheeded.  Colman Domingo is tremendous as Cutler, the guitar and trombone player who seems to be Ma's right hand man, and the man primarily responsible for keeping young Levee in line.  Michael Potts (another alum of The Wire; he played Brother Mouzone) is also great as "Slow Drag", the double bass player.  Jeremy Shamos (Better Call Saul) plays Irvin, Ma's white manager, while Jonny Coyne is Mel Sturdyvant, the white owner of the recording studio.  Both are terrific character actors whose faces I recognized from various appearances over the years, and both do strong work here.
The only choice in the film that I questioned was the depiction of Ma Rainey's young girlfriend Dussie Mae (played by Taylour Paige).  Ma is clearly a lesbian, and Dussie is her girlfriend.  And yet, when Levee starts flirting with Dussie, she reciprocates, and the two later have sex.  On the one hand, it's perfectly reasonable that Dussie could be bi-sexual.  On the other hand, my eyebrows raised somewhat at what struck me as the old-fashioned idea that Dussie might shift out of her lesbianism after just a little flirting with a handsome young man.
That's a small complaint about an otherwise terrific film.  I found Ma Rainey's Black Bottom to be very entertaining and profoundly moving.  I'm so glad to have seen it.
Please support MotionPicturesComics.com by clicking through one of our Amazon links the next time you need to shop!  As an Amazon Associate, I earn from qualifying purchases.  That means I'll receive a small percentage from any product you purchase from Amazon within 24 hours after clicking through.  Thank you!