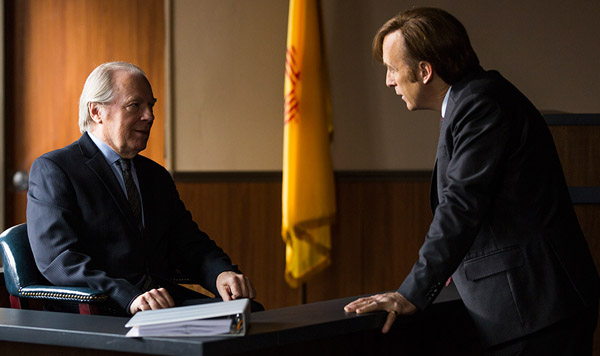 Josh Reviews Better Call Saul Season Three!
So, I am late getting this review together!  I finished watching season three of Better Call Saul last spring, but for whatever reason haven't found the time to get my review finished until now.  In short: it's great!  I have adored the Breaking Bad spin-off Better Call Saul since the very beginning.  In fact, as I have written before, there have been times when I have thought that Saul might be an even BETTER show than the undeniably great Breaking Bad.  That is staggeringly impressive.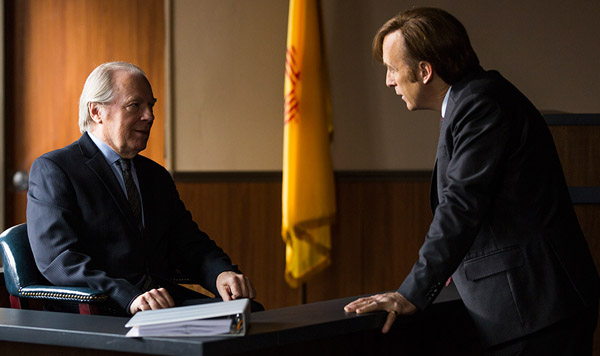 Season three of Better Call Saul takes some dark turns.  This is a grimmer, more downbeat version of the show.  This was inevitable, as we knew since minute one the sad fate that would await Jimmy McGill at the end of Breaking Bad.  (Not even the end.  Forget what happens to him by the end of the series; the man called Saul Goodman is already a sad fate for the good-hearted Jimmy McGill when we first meet Saul in Breaking Bad.)
When Better Call Saul began, I, like most viewers, thought I'd be a rush for the show to show Jimmy's transformation into Saul, since Saul was such a fun presence on Breaking Bad.  But it is a mark of how great this show has been that that I quickly fell in love with Jimmy McGill and have been dreading his transformation to the immoral Saul.
I was pleasantly surprised by how much FUN I found Better Call Saul to be in the early going.  Breaking Bad certainly had some funny moments, but as a whole that series was so bleak that I often found it hard to watch, even as I always has great respect for how terrific a show it was. But Saul, while always having rich emotional stakes, was a hoot to watch!  That changed somewhat this season, as things turned sour for many of the characters.  Saul is as good a show as it has ever been, perhaps BETTER, but as the series has gotten closer to its Breaking Bad end-game, there was no way for the fun not to start to fall away as the tragedies began to mount.
This season had an unusual structure in that I felt the emotional climax came in episode five, "Chicanery," in which Jimmy and Chuck confronted one another in court.  Things had been building to this since the very beginning, and it was incredible to see the two brothers finally do battle with one another, and in such a public way.  In an incredibly astute move by Vince Gilligan, Peter Gould, and their writers, they finally gave Jimmy an unabashed win over his brother, exposing his mental illness for all to see, while at the same time making sure they didn't allow the audience or the characters to relish this victory.  In fact, this "victory" looks at this point to be one of the central tragedies of the show, and one of the key events that turned Jimmy into Saul.  "Chicanery" was a magnificent hour of television, thrilling and heartbreaking.
Nothing that happened in the back half of the season could equal the power of those events, for me.  The final five episodes felt like a prolonged epilogue to "Chicanery," as we explored the repercussion of those events on all of the show's characters.  This is not a criticism, just a comment on the season's unusual structure.
Will the season finale, "Lantern," represent the end for Chuck McGill?  Since the very beginning, I have wondered whether any of Saul's supporting characters would make it out alive, since we don't see any of them in Breaking Bad.  But I could definitely see a scenario in which all of these characters (Kim, Chuck, Harry, etc.) were still alive and well by the end of the series, just estranged from Jimmy/Saul.  I could also imagine that some of them (Kim??) might still be in Jimmy/Saul's life during the events of Breaking Bad, and that towards the end of Saul's run maybe we would get to see more of Jimmy/Saul's perspective on the events of Breaking Bad, and see what other characters like Kim were doing as those events unfolded.
"Lantern" seems to show a definitive end for Chuck, but I have learned not to try to guess what surprises and twists Mr. Gilligan and Mr. Gould have in mind for viewers.  If this was the end of Chuck, it was a fitting end for that sad character.  Michael McKean's work on the series has been magnificent.  Chuck has been a great villain for the show, but a fully-realized and often-sympathetic character as well.  This is one of the great TV characters and great TV performances, career best dramatic work for the reliably great Mr. McKean.
Better Call Saul has always felt like two different shows, the Jimmy McGill family drama and the Mike Ehrmantraut crime story.  Somehow, these two VERY different story-lines have been able to coexist smoothly side-by-side.  Sometimes they intersect, but usually they have been completely separate, which is what makes it all the more remarkable that Mr. Gilligan and Mr. Gould have been able to balance these two very different halves of the show.  The Jimmy and Mike story-lines felt more separate than ever this season, and the Mike story often felt sidelined to me.
But that being said, there was still a lot of great stuff on the Mike part of the show this year.  Jonathan Banks only gets better and better as Mike Ehrmantraut. This man can do more with silence than any other actor I know.  Season three contained several lengthy, wordless Mike sequences that bowled me over with their audacity, most notably the long sequence in the season premiere, "Mabel," in which we see Mike turn the tables on the folks tailing him through the tracker in his car's gas cap cover.  I love that the show has the patience to give these sequences the time they need to breathe, to allow us to begin to see the depth of Mike's incredible patience and craftiness.
Also, the Mike half of the show allowed us to see the return of one of Breaking Bad's best characters, Giancarlo Esposito's Gus Fring!  I can't believe how long it has taken me in this review to get to Gus!!  It's a sign of how great the show is that all of the other character drama was even more memorable to me than the long-awaited, and very successfully-executed, return of the great villain Gus!
It was SO GREAT seeing Gus back on the show!  Getting to see him match wits with Mark Margolis' Hector Salamanca was a standout pleasure of this season.  (Though I am still not entirely clear on all the details of Gus' plan to get the better of Hector — what was his endgame had Nacho not come along?)
Speaking of Nacho, it was great to see this character step back into the forefront this season.  Nacho was involved in the early Better Call Saul episodes but had only been minimally involved for a while now.  It was great to see him returned to a central role.  Everything with Nacho and Hector and Nacho's father was absolutely heartbreaking this year.  (Speaking of the show's patience, I loved all the buildup to the tense sequence in which Nacho switched Hector's pills.  So clever, and such a great exercise in suspense!)
As I have done in previous reviews, I must once again lavish praise on Rhea Seehorn's magnificent work as Kim Wexler.  I love Kim so much, and one of the reasons that Better Call Saul has gotten harder and harder to watch is that I am filled with more and more fear that her story is not going to have a happy ending.  the car accident at the end of "Fall" was shattering to me as a viewer, and I suspect things are going to get worse and not better for Kim.  I love that the writers have allowed so much of Kim's emotional state to be conveyed to the audience via subtext rather than elaborate speeches, and Ms. Seehorn is spectacular at conveying so much with just a look or with the subtle inflection she gives a line of dialogue.
Other thoughts:
* Season two ended on a spectacular cliffhanger as it was revealed that Chuck had secretly taped Jimmy incriminating himself, and I was glad that season three didn't make us wait too long to see how Chuck would use that information.  All that stuff in the early episodes was gripping.
* I loved seeing Kimberly Hebert Gregory (so terrific on Vice Principals, and also great as a guest star on Brooklyn Nine Nine this past season) pop up as the lawyer working with Chuck in the early part of the season.
* That was Krazy-8, from Breaking Bad, getting beat up by Nacho at Hector's behest in "Off Brand."  Nice continuity touch!
* An even more fun continuity touch?  Seeing Lydia Rodarte-Quayle again in "Fall" as Mike, now in business with Gus, gets hired by Madrigal!  That was great!!
* It was fun to see the nerdy Pryce, who was a fun supporting character in season one, pop back into the story, this time helping Nacho with his scheme to replace Hector's pills.
* It was fun, and sad, to see Slippin' Jimmy actually perform a slip-and-fall con in "Slip."  Those video store jerks had it coming, as they'd reneged on their deal with Jimmy/Saul, and it was neat to see this type of con that we'd heard talked about over and over again over the life of the series.  Still, it was painful to see Jimmy reduced to such an act.
One of the most significant moments in season three came in episode six, "Off Brand," in which Jimmy McGill first assumed the alias Saul Goodman.  But how close are we to Jimmy's fully becoming the Saul Goodman we knew from Breaking Bad, here now at the end of season three?  It's hard to say.  On the one hand, at the end of "Lantern," we see Jimmy doing one of the most self-sacrificial things we have ever seen him do, giving up all of his sandpiper money to help make this right for sad, lonely, elderly Irene.  That makes it seem as if Saul is still far away, and good-natured Jimmy is still with us.  On the other hand, if Chuck is dead, and Jimmy has lost (for a while, anyway) the Sandpiper money, then his future as Saul seems perilously close.
I can't wait to see where season four takes us.  I love this show!