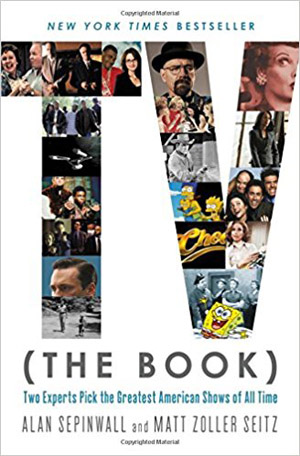 Josh Reviews TV: The Book!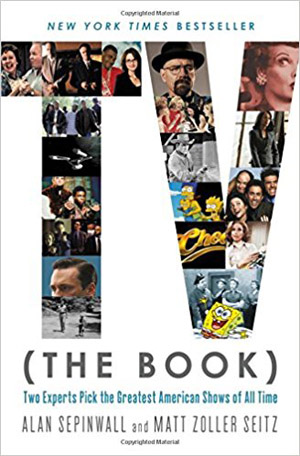 I love reading TV critic Alan Sepinwall's work; I have followed his on-line writing for years.  I loved his book, The Revolution was Televised, which analyzed twelve dramas that, in Mr. Sepinwall's estimation, changed the face of television in the 21st century.
And so I was eager to read Mr. Sepinwall's next book, co-written with fellow TV critic Matt Zoller Seitz, TV: The Book.
In this fantastic book, published in 2016, Mr. Sepinwall and Mr. Zoller Seitz set out to identify what they feel are the 100 greatest scripted American TV shows in history.
I knew I would love this book right away from the very first chapter, in which Mr. Sepinwall & Mr. Zoller Seitz lay out, in wonderfully geeky levels of detail, the systems by which they analyzed and ranked hundreds of TV shows they loved in order to boil them down to this list of 100.  In broad strokes, they evaluated TV shows based on: innovation, influence, consistency, performance, storytelling, and the quality of the show at its peek.  Right here at the beginning, Mr. Sepinwall and Mr. Zoller Seitz describe how they wrestled with the challenges of comparing shows that ran for only one season with shows that ran for many years; with how to compare shows that were great at times but terrible at others with shows that were more consistent but without those highest highs; with how to compare comedies to dramas; with why they limited their list to scripted shows, and to American shows only.  I immediately fell in love with the care and detail, and the systematic approach these two TV critics used to create their list.
What makes up the bulk of the rest of the book is their list of 100, with brief essays written about each show.  (The top five get more lengthy analyses.)  Reading this book was an absolute delight.  I loved reading their essays about shows that I knew and loved and, as with The Revolution was Televised, I found I also enjoyed reading about shows that I'd never seen, as their their passionate descriptions of those shows made me want to track them down without delay.
The best chapter in the book is the second chapter, titled "The Great Debate," in which we follow a back-and-forth GChat conversation between Mr. Sepinwall and Mr. Zoller Seitz, as they take the shows that wound up in a five-way tie for first place based on their systems, and debate which show should be number one.  I absolutely loved reading this debate/argument.  It was a hoot reading them discuss and consider, weighing the many relative merits of each of the five shows.  (Their finalists were: The Sopranos, Breaking Bad, Cheers, The Simpsons, and The Wire.)  Right away, knowing that those are the five shows that these two critics listed as their top five, you should know if these two men's opinions have any correspondence with your own.
Spoiler alert: they chose The Simpsons as their number one show.  These guys are critics after my own heart.
I loved that so many of my favorite shows were included on Mr. Sepinwall & Mr. Zoller Seitz's list, including The Simpsons and The Wire, of course, and also: Arrested Development, the reimagined Battlestar Galactica, Curb Your Enthusiasm, Freaks and Geeks, The Larry Sanders Show, Louie, Parks and Recreation, Seinfeld, Sports Night, Star Trek, The West Wing, The X-Files, and many more.
I was also delighted that several somewhat fringe shows that I love were included on this list: Star Trek: Deep Space Nine, Firefly, Futurama, Newsradio, and even Batman: The Animated Series.  Those shows don't usually appear on "Best Of" lists, but I love them dearly and think they are all remarkable TV shows, and so I was so thrilled that Mr. Sepinwall and Mr. Zoller Seitz saw fit to recognize them.  Again, these guys are critics after my own heart!
Of course, there are places where I disagree with Mr. Sepinwall and Mr. Zoller Seitz's list!  For instance: I am glad that the original Star Trek made the list, but at only number 66 I felt it was WAY too low.  Star Trek below Spongebob Squarepants?  Below Hannibal?  Below Malcolm in the freaking Middle???  Madness, I say!!  But that's the fun of this sort of thing: to debate and to discuss and to argue about shows that we love.  In their introduction, Mr. Sepinwall and Mr. Zoller Seitz are clear that this book lists THEIR opinions, not an attempt at unassailable, eternal truth.
The later chapters of the book also list a number of other TV shows of note.  Mr. Sepinwall and Mr. Zoller Seitz devote a chapter to great TV shows that are currently running and so ineligible for their list (shows such as The Americans, Better Call Saul, Game of Thrones, Transparent, Veep, and more).  They have a chapter called "A Certain Regard" in which they discuss other TV shows that they love, but that didn't make the list (shows such as Murphy Brown, Chuck season two, Quantum Leap, Treme, True Detective season one, and more).  They even have a chapter for great TV mini-series, and another for great made-for-TV-movies.  Let it not be said that this book is not thorough!
I absolutely loved TV: The Book.  Mr. Sepinwall and Mr. Zoller Seitz's love for the medium is contagious.  I love their writing style — their passion for these TV shows leaps off the page.  Reading this book made me want to revisit these great shows that I love, and also to track down the many shows they discussed that I hadn't seen.  But even more than that, this book on its own is a wonderful piece of television scholarship and of entertainment.  For anyone who loves TV, this book is a pleasure to read.