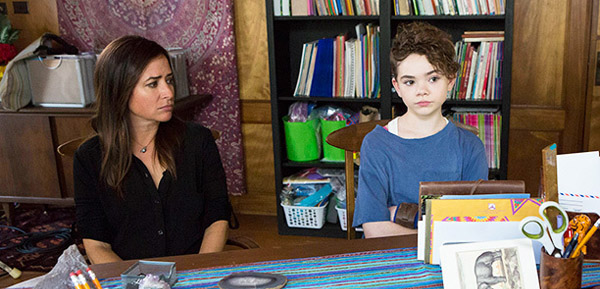 Josh Reviews Better Things Season One!
Why did I wait a year to watch this amazing show???  I loved Pamela Adlon's appearances on Louie C.K.'s wonderful show Louie (in many of my reviews of Louie I have written about how I have wanted their two characters to get together on the show, because I loved their dynamic so much) and I knew from watching the credits that she was involved as a writer and a producer.  So when I read last year that she would be leading her own show, Better Things, which she co-created with Louis C.K., I was immediately interested!  But for some reason the ten episodes have sat unwatched in my DVR for the past year.  (Season two actually just began last week!!)  Finally, my wife and I decided to watch the first episode, and we immediately fell head over heels in love with this amazing show, and we devoured the ten first-season episodes in just a few days.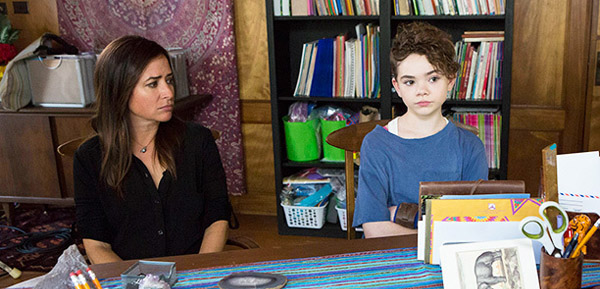 Pamela Adlon stars as Sam, a divorced mom working in Hollywood as an actress and raising her three kids: the sixteen-year-old Max, the twelve-year-old Frankie, and the eight (I think!)- year-old Duke.
Better Things is a phenomenal showcase for Ms. Adlon.  As I wrote above, she co-created the show with Louie C.K. and she plays the lead character.  Additionally, she wrote or co-wrote eight out of the ten episodes, and she directed two of them.  Wow!!
When I DVRed this show a year ago, my hope was that, due to Louie C.K.'s involvement, Better Things would sort of be like a sixth season of Louie.  And, indeed, Mr. C.K. was very deeply involved with the show.  He directed the pilot, and wrote or co-wrote nine of the ten episodes.  There are certainly surface similarities between Louie and Better Things.  Both shows are very funny and also unafraid to get very dramatic and very real.  Both shows strive for verisimilitude, in terms of presenting the realities of their lead characters' everyday lives, without applying the usual TV sugar-coating.  And both shows demonstrate a similar playfulness with the narrative of their episodes, eschewing the usual half-hour TV episode structure for a shifting, often stream-of-consciousness feeling in which an episode might consist of multiple short vignettes rather than a single story that runs straight through the half-hour.
And yet, don't be mistaken: Better Things is not just Louie by any other name.  This is an incredibly unique show that feels extraordinarily personal for Ms. Adlon, who plays a character whose life situation is very similar to Ms. Adlon's own.  Both Sam on the show and Ms. Adlon are divorced mothers of three, who have had a long career in Hollywood filled with a lot of small parts and voice-over work, without ever reaching a level of "stardom."
In fact, let me make a bold statement: I think I liked this first season of Better Things more than any season of Louie!!
And I love Louie!  But I found Better Things to be absolutely spectacular, funny and heartwarming and heart wrenching all at the same time.
Better Things is a little bit lighter than Louie, a little bit gentler.  (Though the show is certainly profane at times, and also shares much of Louie's unflinching honesty about life and love and sex and lots of other topics.)  I love that Better Things uses aspects of the vignette style used by Louie, but what I partcularly love about Better Things is how, on this show, the different vignettes — as well as the occasional use of very brief, sometimes only seconds-long cutaways to other events, or memories — fit together into a thematic whole that allows each episode to feel like a complete story, whereas a half-hour of Louie sometimes felt like two or three totally disconnected stories put together.
I think that Better Things also digs deeper into its characters than Louie did.  I love how central to the stories all three of Sam's kids are.  We know all three of Sam's kids far better after only one season of Better Things than we know Louie's two kids after five seasons of Louie.  That's because, for the most part, Louie's kids were used on Louie to launch stories that focused on Louie himself, whereas here in Better Things the kids themselves are the focus of stories, with the impact their actions have on Sam being an important part of the story but not the sole focus.  This is a subtle but critical difference.  And please don't think I am criticizing the genius-level Louie in any way!!  That was simply a differently-designed show.
Just as Louie gave us a peek into Louis C.K.'s life as a working comedian, so too does Better Things give us a glimpse at Pamela Adlon's life as a working actress and voice-over artist.  I love that aspect of both shows.  It's fun seeing these "inside baseball" peeks into this type of life and career.  I love the scenes of Sam joking around with the technicians at various voice-over gigs; advising a young actor that an important part of surviving in Hollywood is learning how to get fired well; or showing up at an audition with dozens of women who look exactly like her.
But the main focus of Better Things is clearly not on those stories, instead, it's on the stories of Sam and her three kids' daily loves.  All three young actresses (Mikey Madison, Hannah Alligood, and Olivia Edward) are absolutely fantastic.  Each one of Sam's kids is given multiple stories here in this first season that explore who they are and where they are at, and the three kids do terrific work with the material they are given.  The show of course digs deeply into exploring Sam herself, as the main character, but its focus is usually on Sam's relationships with her daughters.  (As an example, consider the way the show references men in Sam's life, but other than the dinner with the man played by Lenny Kravitz and one awkward scene with Sam's ex-husband, these men are mostly kept off-screen.  The show acknowledges that Sam has a romantic life, such as it is, but Better Things is not about Sam's romantic entanglements.)  The fifth important woman in the show's main ensemble is Phyllis, Sam's mother who lives across the street from her.  Phyllis (played by Celia Imrie) and Sam have a fraught relationship, which the show explores gently, allowing us to peel back the layers and discover this for ourselves, without any chunky expository scenes to spell everything out for us.  This is the mark of very skillful writing by Ms. Adlon and Mr. C.K..
Above all else, Better Things is an extraordinary showcase for Pamela Adlon.  There are several scenes in the show that suggest that Sam is a better actress than the opportunities she's been given.  (There's a painful sequence in the fourth episode in which Sam is briefly selected as the lead in a new sitcom before being jettisoned in favor of a younger and hotter actress.  Sam never knows about any of this because her agent never tells her.  At first, I thought her agent's keeping this a secret from Sam would lead to some sitcom hijinks in which Sam would accidentally do something to screw up the opportunity.  But, in yet another example of the show's whip-smart writing, that's not what happens at all.  The opportunity goes away, and we see that Sam's agent was smart to have spared Sam the heartache — and also that, clearly, this exact sort of thing must happen all the time in Hollywood.)  Better Things as a whole is a fantastic demonstration of just how talented a writer and performer Ms. Adlon is.  It's an incredible declaration of her skills, and I am delighted it exists.
Some other thoughts:
* Without spoiling one of the best stories of the season, let me applaud Ms. Adlon and Mr. C.K. for the wonderful way they told a story of gender identity.  Whereas other shows would have devoted a "very special episode" to this topic, here in Better Things it is skillfully underplayed and under-emphasized, presented as just another small piece of the fabric of these people's lives.  Max says one simple sentence to Sam in the finale that is devastating in its simplicity, and in the way that a whole story is contained in just those few words.  Marvelously done.  (On this subject, I noticed with great interest how all three of Sam's kids have gender-neutral names — as does Sam herself!)  I do hope this topic continues to be explored in season two.
* There are some great guest stars this season.  David Duchovny (with whom Ms. Adlon appeared in Californication) pops up briefly for a hilarious skewering of difficult, self-important Hollywood stars.  But my favorite guest appearance is the more significant role that Lenny Kravitz has in episode three, playing a talented director and friend of Sam's who she invites to her house for an eventful dinner.  The punchline to the whole sequence is a marvelous, wordless grin that Mr. Kravitz flashes Ms. Adlon that had me howling with laughter.  A brilliantly written sequence, perfectly performed by Mr. Kravitz.
* I loved the glimpses we got of Sam's friend-group, played by a wonderful group of actors including Diedrich Bader and Lucy Davis (the original British The Office) and Alysia Reiner (Orange is the New Black).  I'd love to see more of all of them in season two.
* There's a short scene in which we see Sam wandering from room to room in her house, standing under her smoke detectors to try to determine which is the one that is beeping because its battery is dead, that could be one of the greatest things I have seen on TV in recent memory.  It's such a perfect presentation of a moment that everyone has been through, and yet it's the type of thing you don't ever see on TV.  I loved this scene so much!!
* I love the show's perfect opening credits theme song, John Lennon's "Mother."
I highly recommend Better Things.  This first season was one of the best things I have seen all year.  I loved it, and absolutely cannot wait to watch all of season two (which just started last week!).  If you haven't seen this show, I encourage you to check it out without delay.