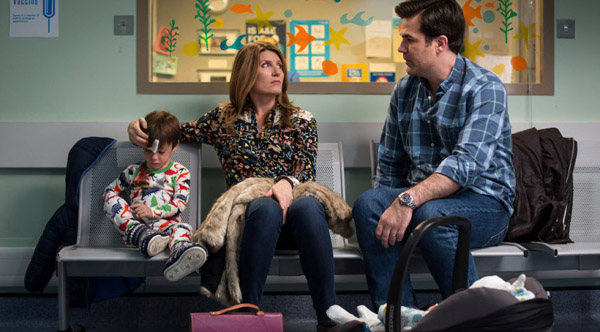 Josh Reviews Catastrophe Season Three
I absolutely adored the first two seasons (or series, in the British parlance) of Catastrophe, which I tore through in short order last year.  (Click here for my review of season one, and click here for my review of season two.)  I have been waiting with great anticipation for more episodes, and the six-episode third season did not disappoint!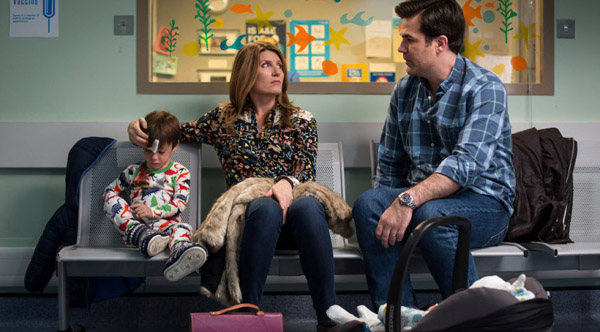 Catastrophe tells the story of Sharon (played by Sharon Horgan) and Rob (played by Rob Delaney), who hook up for a weekend of passionate sex when Rob is in England on business.  When they discover Sharon is pregnant, Rob decides to move to England and he and Sharon try to make a go of being a couple.  The first six-episode season chronicled the nine months of Sharon's pregnancy, while the second season jumped ahead a few years to show Sharon and Rob as parents to two young kids.
This third season picks up right after the end of season two, in which Rob has discovered that Sharon secretly had a pregnancy test, afraid that a drunken hookup when she was pissed at Rob had resulted in her getting pregnant.  (It didn't.)  The show makes quite a meal out of Rob and Sharon's dancing around one another in the opening episode of this season, with each having knowledge the other doesn't think they have.  It's painful but very, very funny.
Which is a great description of the show as a whole!  All of the characters in Catastrophe are flawed, and the situations they encounter are painfully real and human.  At the same time, the genius of the show is the way it's able to be howlingly funny at the same time!
If I have any quibble with season three, it's that just as in season two, it is hard sometimes to watch these characters I have grown to love be so unhappy.  Back in season one, both Sharon and Rob were scared and sometimes lost, but they weren't as put upon by life as we have seen them be in seasons two and three.  That gave season one a fun and a lightness that the subsequent seasons have somewhat lost.  But on the other hand, the show has gotten to a deeper place, which is impressive considering the short run-time of these seasons.  The subtlety with which season three explored the impact of Rob's falling off the wagon was impressive.  There's no simplistic, comedic drunkenness here.  Rob is, for the most part (things get worse as the season progresses), a functional alcoholic, and I don't recall ever seeing that explored in as honest a way on TV as it is here.  I like that, early in the season, we see Rob at a job interview in which his interviewer comments that he smells of alcohol — without our previously having seen Rob drinking.  This suggests that Rob's drinking has become a continual thing, and that realization is like a smack in the face to the audience.  It's powerful stuff, all wrapped up in a show that is consistently fall on the floor funny.  This is so hard to do well.
Somehow Ms. Horgan and Mr. Delaney are able to continue walking an incredibly fine line in which their characters are absolutely brutal to one another, and yet we still completely invest in them both as characters, and in their relationship to one another.  (Here's a great line from early in the season, in which Rob says to Sharon: "You're a fascinating person, you know that? I mean, you're multifaceted. You're a genuinely good mother—you handled that lazy doctor really well. You were calm, you asked all the right questions. Considering what a shit wife you are, it's a fascinating collision of skills.")
Once again I find myself wishing there were more than six episodes, while at the same time being so pleased that there is nary an off-note in these six nearly-perfect episodes.  The shorter episode-run allows Ms. Horgan and Mr. Delaney, and all of their collaborators, to be able to craft something very special with each six-episode season.
The second season gave a lot of attention to Rob and Sharon's friends Chris (Mark Bonnar), Dave (Daniel Lapaine), Fran (Ashley Jensen), and Sharon's brother Fergal (Jonathan Forbes).  I feels like Chris, Fran, and especially Dave got a little less time this season, but I enjoyed the way season 3 refocused itself on Rob and Sharon.  And all of the supporting characters did still get some terrific moments.  Chris' attempt at a barroom showdown with Fran's new boyfriend was a highlight!  As was Fran's description of lies in a relationship: "Lies are like a child, hiding in a cupboard. You're always going to find them. But if you wait too long, you might just find a little corpse."  And Fergal's attempted move to Spain provided a fertile ground for comedy.  After Fergal admits to fainting at a bull fight and thus feels it necessary to flee Spain, Sharon replies: "I can see how it's not funny to you, but can you see how it's quite funny to me?"  That should be the show's tag-line!
Catastrophe season 3 represents some of the last work done by the late, great, much-missed Carrie Fisher.  You have to wait until the very last episode to see her return as Rob's crazy mother Mia, but boy is the wait worth it.  Ms. Fisher is phenomenal in the episode.  She absolutely kills in a few tremendously funny comedic moments, and her final scene is a terrific dramatic scene with Rob that blew me away.  The episode is a painful reminder of how much gas Ms. Fisher still had left in her tank at the time of her passing, though it's also a lovely epilogue to her amazing career and work.  (Click here for Rob Delaney's sweet remembrance of Ms. Fisher.)
There were so many great moments in this season.  As I noted above, I loved the way the show didn't waste any time exploring Rob and Sharon's confrontation over Sharon's suspected infidelity.  After Rob reminds her that she nearly kicked him out of the house for flirting with another woman in season two, he comments: "You had the female response — to go nuclear and try to destroy our family. I'm having the masculine response — which is to bury the pain and jerk off in the basement, rather than touch you."  Rob's repeated series of terrible interviews are hilarious and horrible to watch in equal measure, and Domhnall Gleeson is terrific in a new small role as the recruiter trying (unsuccessfully) to help Rob find a new job.  I also loved Rob's confrontation with a mother at his son's school, who accuses Rob's son of biting her own.  That Rob doesn't take this lying down is amazing.  Another highlight for me was the way Sharon and Rob viewed Fran and Chris' request that they take care of Jeffrey in the event of their (Fran & Chris') deaths as an opportunity for negotiating tactics (and their dream of entertaining Jeffrey's celebrity colleagues/friends such as Daniel Radcliffe and Susan Sarandon)!
The season ended with another painful cliffhanger.  Soon after watching the intriguing ending to Master of None season 2 (in which I had to go back and watch that final shot several times, and was then eager to read people's thoughts and comments online), Catastrophe gave me another moment I had to rewatch several times.  Did Rob run a red light, or was it just bad luck?  I think it's the latter, but I'm not sure.  It was a surprisingly downbeat ending for the season, but also a perfect ending at the same time.  I hope a season four is not too far away.
If you've never seen Catastrophe, I cannot recommend this show highly enough.  Go to amazon and watch season one, and enjoy.  You're welcome!